Focusing on the Future
Wayne Knox '79, '84 (PhD) brings a multifaceted perspective — and a drawer full of such high-tech teaching gadgets as Furby — role as the new director of the Institute of Optics.
by Jonathan Sherwood
photography by Elizabeth Torgerson-Lamark
As he moves around his gadget-filled office in the Wilmot Building, Wayne Knox so adroitly clicks through his queue of roles — teacher, administrator, researcher, alumnus, entrepreneur — that it's difficult to remember he is only one person.
And ideas for how each perspective can help shape the future of the Institute of Optics come quickly to the famed program's new director. Not snap-your-fingers quickly, but speed-of-light-download-an-encyclopedia-NOW quickly.
Such high-speed synaptic switching comes naturally to an optical scientist used to thinking in terms of quadrillionths of a second.
"Everybody in optics knows who we are," says Knox. "We're the oldest optics department in the country. We've got more history than anyone. We've got almost 2,000 living alumni in many leadership positions. We're responsible for 60 percent of all the optics degrees ever granted in the country. We can't rest on that, but we can build on it."
Knox, who was named director in April 2001, fills the leader's seat at a time that some see as an important juncture when it comes to building the program's future. Founded in 1929, the Institute is widely considered one of the world's foremost centers for the study of optics. A component of the School of Engineering and Applied Sciences, the program was guided by interim leadership during the year before Knox's appointment.
As director, Knox has begun several initiatives to fill vacant faculty positions, enhance crossdisciplinary research, and underscore technology transfer.
"We needed someone like Wayne," says Govind Agrawal, professor of optics and a member of the director search committee, noting that top programs have difficulty maintaining a competitive edge without permanent leadership. "Knox is widely known in the science community, he's got the management experience, and he's as willing to focus on revitalizing optics as he is to focus on conducting his own research."
In appointing Knox, Thomas J. LeBlanc, the Robert L. and Mary L. Sproull Dean of the College Faculty, said: "He is known for both his pathbreaking research and his outstanding leadership skills. Given the importance of optical technology, both locally and nationally, and the distinguished history of the Institute, it is imperative that the University remain at the very forefront of the discipline."
The post also is something of a homecoming for Knox, a 1979 graduate of the School of Engineering and Applied Sciences (and son of Professor Emeritus Robert S. Knox, who himself earned his doctorate in physics and optics at Rochester in 1958). While still a graduate student, Knox showed some of his technical expertise and energy by earning a patent for a "streak camera " — a device that could snap a picture in a trillionth of a second.
After earning his Ph.D. from Rochester in 1984, Knox spent 17 years at Bell Labs, the division of Lucent Technologies that created the laser and transistor. While there, he directed some of the labs' most cutting-edge research, pushing the optics envelope and even setting a record in 1985 for the briefest recording light burst eight — femtoseconds — a feat that, at one point, earned Knox a spot in the Guinness Book of World Records.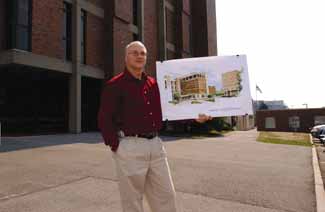 FUTURE FOCUS: Knox holds an architect's rendition of a new, 100,000-square-foot building that would house optics and biomedical engineering.
As an alumnus, Knox had been a frequent visitor and sometime advisor to the University, and it was during a routine visit in October 2000 that Knox listened as President Jackson and Provost Charles E. Phelps discussed the need for a new director for the Institute.
And he had an idea.
"I always thought I might go to a university someday," says Knox. "But Bell Labs is a difficult place to leave. If all I ever wanted to do was to work in telecommunications, then I was in the best place and never should have left. But I really enjoy teaching, and I wanted to get involved in a broader range of research."
Teaching has never been far from his mind. He taught a daily summer course at Drew University, an hour drive each way from his home, every summer for 10 years. His students were some of the top high school science students in New Jersey and for a month each summer he enjoyed feeding their hungry minds. That led to the American Association of Physics Teachers, where he helped to train the U.S. Olympic Physics team.
"This was a scary group of high school students," Knox says with a grin. "They were a wonderful group to lecture to. They're representing us against the rest of the world and they are just brilliant." Knox carried the Olympiad lecture on for three years and in 1999 won the association's award for teaching. "That was very eye-opening to me because I was recognized for physics teaching," he says, proudly pointing to the plaque on the wall.
That love of teaching rounded out Knox's qualifications as the next leader of the Institute. Students interested in the field can take a new course, Optics 101, taught by Knox himself.
The course is structured to introduce students to optics and to show them how exciting working in it can be. Knox reasons that if the students are interested and motivated to pursue optics, then they'll have much more incentive to work at the math and physics.
"I love teaching, but it's a daunting task when you are starting out, especially coming from industry. You remember what it was like to be a student, looking up to your teacher, and now you're that teacher and you're responsible for what these students learn. I think that you have to shift about 21 gears all at the same time. The faculty of the Institute have been very helpful and understanding through my transition as director — but they do say that they occasionally hear some 'grinding noises,'" he laughs.
Near Future Optics
Having trouble putting all your files on a CD? Is your hard drive filling up?
Never fear, help may come from breakthroughs in near-field optics, a branch of the science of light that specializes in imaging objects just a few billionths of a meter in size.
Some of the world's top experts, who gathered in August at the Institute of Optics for the international near-field optics conference, predict that their field will help solve many pressing technological problems.
That includes expanding the capacity of storage media commonly used in computers. Currently most computer storage is based on magnetic writing, a technology that is expected to soon reach a storage ceiling of about 200 billion bits per square inch.
Using near-field optical techniques, however, engineers could potentially raise that storage density more than 10-fold, experts say.
Researchers also expect that within 10 years, near-field techniques could improve medical diagnosis through technology that identifies individual bacteria by directly imaging the molecular makeup of cell walls, and that near-field optics will help usher in an age of nanotechnology—machines built of just a few hundred molecules.
"As we continue to miniaturize technology and pack more and more into smaller spaces, we will be trying to read patterns so small that conventional means of reading them will be impossible," says conference organizer Lukas Novotny, assistant professor of optics at Rochester. "Near-field optics can recognize smaller patterns than almost any conventional method in use today. It's already being used to peek at structures just a few billionths of a meter across."
"His course was an eye-opener to the whole field of optics," says Rupal Varshneya '05. "He has a different style of instructing. The class was part lecture and part demonstration that got the students active with optics. We would do things like look at different kinds of fruit under different colors of light and watch the way polarization affected the light."
In one such demonstration of light and its properties, Knox uses his own souped-up Furbys, the tiny furry toys that were the — must-have — child's gift of not too long ago, that can converse with each other by infrared light signals.
Varshneya had not taken any optics courses before Optics 101, but she enjoyed it so much she spent the summer working at the Laser Lab.
In addition to Optics 101, Knox has added three other new courses and increased the graduate stipend by $5,000. This fall, there were 21 new Ph.D. students and 17 master's degree students.
Knox also is looking to expand the faculty and research at the Institute. He's added three new faculty (Chunlei Guo, James Zavislan, and James Fienup), bringing the total to 16, and he is laying the groundwork for new collaboration between optics and biomedical engineering.
" When I was at Bell Labs, I used my high-speed laser knowledge to work with some biologists in a project to image living neurons in a rat brain," says Knox. "I loved doing that. We could image each neuron in three dimensions with a very high resolution, and it was very interesting to me. It was the combination of my high-tech optics working with their weird biology that just fascinated me. To me, this was just one example of the many applications of short-pulse lasers that went far beyond telecommunications. When I realized I had the opportunity to come here and work with biologists and astronomers and doctors every day, I knew I couldn't pass it up."
Looking beyond the research itself, Knox is working on a new program that would allow University researchers' to help develop technologies that have the potential to spur start-up companies, but without researchers' having to give up their valued positions at the Institute.
"With the new hires and some of the reorganizing of the administration here we've got a team with quite a business background," says Knox. "That's the first time it's been that way in a long time, and with the very strong competitive pressure we're getting from industry and other institutions, I think it's exactly what we need."
Knox plans to play to the University's strengths. With the Medical Center just across Elmwood Avenue, a new and quickly growing Department of Biomedical Engineering, and the success of researchers such as David Williams, who has pioneered a diagnostic technique to improve human vision past 20/20, Knox expects that biomedical optics will play a strong role in strengthening the Institute's position in the optics world.
Plans are in the works for a new 100,000-square-foot building that would be shared by optics and biomedical engineering. The facility would provide needed space to expand biomedical engineering and optics, as well as help facilitate faculty start-up companies.
Start-ups, if not handled properly with careful University support, Knox points out, can sap an institution of its best minds. That's because researchers who develop technology often must leave to bring that technology to market.
Not only does the University lose top researchers, but the researchers lose their academic status, often including tenured positions. Bringing his business background to the problem, Knox is starting the Center for Institute Ventures, a program designed to provide a framework for faculty to work with a group of venture capitalists to develop new technologies. At the same time, researchers could remain with the University and keep a financial interest in a new spin-off company. New Associate Professor James Zavislan has been appointed director of the center.
The effort, Knox hopes, will attract and keep the best minds in optics while bringing significantly enhanced investment, research funding, and intellectual property revenues into the University.
quot;The administration is very supportive of the program, and this indicates to me that we're on the verge of a whole new attitude toward entrepreneurial activities that could significantly benefit the community as well," he says.
He clearly relishes the chance to help focus that change. On the wall of his office is another plaque, one featuring a cartoon given to him as a going-away present from colleagues at Bell Labs. In it, a caricature of Knox stands before a blackboard on which is scrawled his favorite saying — a quote from Winston Churchill: The optimist sees opportunity in every danger. The pessimist sees danger in every opportunity.
"I see that here," says Knox. "There's optimism, pessimism, danger, and opportunity — all of it. I had to come here because, above all, there is such opportunity here. It's a very exciting time to be at the Institute, and at the University."
---
Jonathan Sherwood is senior science writer for the Office of University Public Relations.
Maintained by University Public Relations
Please send your comments and suggestions to:
Rochester Review.