Outgoing Battalion Commander Anne Marie Regan '03 offers a glimpse of life as an NROTC cadet at Rochester. By Jayne Denker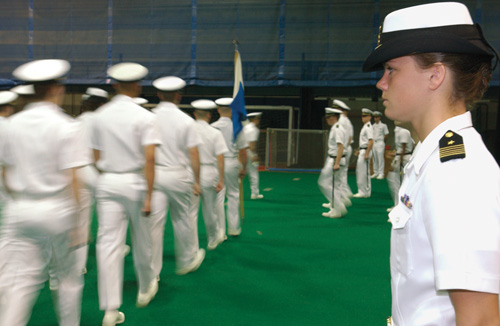 At 6:40 on a biting, snowy April morning, the River Campus is mostly deserted—except for the students dressed in dark sweatsuits with the word "NAVY" emblazoned on them. While the rest of the College sleeps, they head toward the Robert B. Goergen Athletic Center in the dim predawn light.
The students fill the gym, neatly fold their gear, stack it on top of their jackets and bags, then stand in small groups in the glare of the sodium gas lights.
Battalion Commander Anne Marie Regan '03 collects the stragglers and makes a mental note of who is arriving late. When the leaders bark orders to assemble, the students—cadets in the Naval Reserve Officers Training Corps —hurriedly arrange themselves in orderly rows, measuring the distance from one another by extending their right arms to the side, parallel with the floor. They inch apart or closer together until the tips of their fingers just touch the next person's shoulder.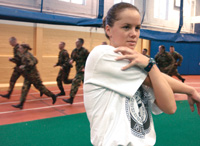 PT BRUISER: Cadets attend physical training—PT, as they refer to it—twice a week at the Goergen Center.
After calisthenics, the battalion splits up. Some head to the pool, others to the weight room. Regan, tall and thin, with an open face and a friendly demeanor, remains to run laps and sprints. The cadets start off jogging around the perimeter of the gym.
Soon the only other woman in the group begins to lag behind. Regan runs alongside, chatting with her occasionally. When they break into groups of two or three to run quarter-mile sprints, Regan becomes the female cadet's running partner and slows her own pace just enough—not to let the other woman win, but to allow the cadet to push herself to run just a little faster than she thinks she can.
"She's a freshman," Regan explains later. "She's having some trouble with the physical part of the training. I was just running with her to help her along."
A far cry from the stereotype of a bullying NROTC commander? Perhaps.
But for the political science major from Andover, New Jersey, who hopes one day to fly Navy jets, her easygoing manner and hands-on approach to leadership fit today's version of the program.
"We don't shout at people," Regan says. "You get that from the upperclassmen the first week you arrive, like an initiation. But it's nowhere near what it was like when I was a freshman. That first week isn't bad anymore, and after that, we encourage cadets and communicate with them instead of yelling at them."
Solo marine

Guy Wyser-Pratte '62 was the only Marine-option cadet in the NROTC program at Rochester in the early 1960s—not a popular time for the military on campus.
"With Vietnam starting, the Bay of Pigs . . . people weren't too happy with the military in those days," he says.
The following year he was joined by nearly a dozen more Marine options—but not yet any female cadets. While Wyser-Pratte acknowledges that some elements of the program have changed over the years, the one thing that hasn't changed, he says, is the value of the program—the quality of officer candidates it produces and the leadership training it provides.
"The common-sense leadership qualities you pick up are invaluable. Live by example—do what your troops can and have to do, give public praise but private criticism, and don't be afraid to stand up and speak. Those work in the business world as well."
Also essential to the cadets' future, he says, is the early training they receive regarding war.
"The cadets are realistic enough to understand we're in a long-term war against terrorism. It could take 10 to 15 years," Wyser-Pratte says.
His advice for the newly commissioned cadets?
"You were chosen because you set a good example. Keep on setting that example."
— Jayne Denker
Regan is one of many students who have chosen to combine academic studies at Rochester with a commitment to serve in the military after graduation. That commitment took on special significance last spring when the war in Iraq reminded the cadets that their futures could be very different from the peacetime careers they expected.
Regan also is the latest to complete a term as lead cadet, a position that has responsibility for the entire battalion—approximately 100 cadets—and whose duties include keeping track of each cadet's attendance, monitoring conduct, and knowing each one's whereabouts at all times.
It may seem like a great deal of responsibility for an undergraduate who's also studying and working at a part-time job, but Commander Mark Monti, associate professor in the Department of Naval Science, has nothing but praise for Regan.
"She's an exceptional young lady and a sound leader—'squared away,' as we put it," Monti says. "She's top midshipman, and she's earned it. She's also respected by others in the program. She's an example of what you'd expect to find in a naval officer. I suspect that two years from now you'll see her on CNN being debriefed."
Midshipman Caroline Severson '03 agrees.
"She's a good leader," Severson says. "She's involved; she speaks to underclassmen in the program."
Today's program began more than 60 years ago, triggered by another war. Although the University wasn't interested in hosting an ROTC program before World War II, after the attack on Pearl Harbor, the male population at the University dropped precipitously.
University officials reevaluated the situation and applied to host a Navy V-12 program, the predecessor of NROTC, in 1942. The first V-12 members, a total of 800 Navy and Marine cadets of the "Good Ship Rochester," as it was nicknamed then, arrived July 1, 1943, nearly tripling the campus population.
Captain Gavin Lowder, a 30-year veteran of the Navy, says that interest in NROTC is cyclical, but he expects the numbers to be on the rise again, in light of the war on terrorism and renewed patriotism since September 11 and the Iraq war.
"[Enrollment] dropped after Vietnam, went up in the '80s during the Cold War, dropped after the fall of the Soviet Union, then started on an upswing again," he says.
In recent years, the NROTC population at Rochester has averaged around 100 cadets, about one quarter of whom are female. The total includes approximately two dozen Marine option students.
Nearly all are Rochester undergraduates, but the program also accepts students from other colleges in the area that have no NROTC program of their own.
But Regan, who like most cadets enrolled on a military scholarship, almost didn't get into the program at all. In her freshman year, she found out that she had a heart valve problem that could have prevented her from following her chosen career.
What did she do about it?
"I had an operation," she says matter-of-factly.
And if an operation hadn't been possible, or if it didn't work out, and she hadn't been allowed to enter the NROTC program?
"I didn't really think about that," she says, just as matter-of-factly. "It wasn't an option."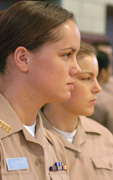 FUTURE FLYER: Regan hopes to fly jets for the Navy.
Regan's single-mindedness began after she heard appealing stories about the Rochester program from two of her cousins, Christopher Conlin '81 and Andrew Regan '91.
"The pranks, the camaraderie, it all sounded like fun," she says.
That camaraderie plays a large part in the lives of cadets on campus because they spend so much time together—in the same classes, at training exercises, even sharing dorm rooms. Five of Regan's six suitemates and all of her closest friends are cadets.
"They can be a bit wrapped up in it. It can be all they'll talk about sometimes," says Chris Smith '03, a close friend of Regan and Severson, over lunch in Danforth.
"It's not our whole lives, though," Regan protests good-naturedly.
"All the cadets are together from the first day you arrive on campus—you know one another really well," she admits.
From their "initiation" week at the start of their freshman year through graduation, the cadets' schedules are filled with drills, combat training, and required classes like military history and astronomy.
Still, they are not isolated from other students on campus. They live in dorms, not special housing, and their majors vary widely, from engineering to astronomy to English.
"A lot of freshmen don't even know there's an NROTC program on campus until the first Wednesday after classes start—we have to be in uniform each Wednesday," Regan says. "Then they're surprised and want to know what's going on."
Regan says that she and the other cadets usually don't feel set apart from other students even on a campus filled with differing political views, a diversity that was highlighted while the war was fought last spring.
The one difference between the cadets and the rest of the students, she says, is the cadets' continual awareness that they represent the United States military.
"The one time I felt uncomfortable was after the terrorist attacks, because students would ask us about the government and terrorism, and war, looking to us for answers, like we were authorities, but we didn't know any more than they did," she says.
Although the war is over, Regan and her fellow cadets remain keenly aware of how the global situation may affect their futures.
"War does not change the [cadets'] training," says Lowder. "The program is geared toward a career in the military. They know what's coming. However, there's a high degree of immediacy now."
While U.S. armed forces, including her cousins, fought the war in Iraq, Regan was confident that her plans would be unaffected by the conflict. She believed early on that the war would be wrapped up quickly and, once her two years of training in Pensacola, Florida, were completed, she would be performing the duties she expected—delivering supplies instead of flying combat missions.
Since then her views have changed.
"I don't know now," she says hesitantly. "I'm not sure what's going to happen after I'm out of flight school. I could be traveling to the Middle East.
"You know war is always a possibility," she says. "But that's what we're trained for."
Jayne Denker is associate editor of Rochester Review.
Leadership Studies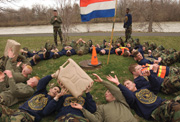 MUDDY AND COLD: . . . just the way they like it. Cadets get down and dirty in the battalion event war games.
In the final weeks before NROTC commissioning, the end-of-the-year events collect in rapid succession, inching Ann Marie Regan and her fellow senior cadets out of their school life and into their professional one. Regan's leadership role begins to wind down in April and May, but in a busy spring with a senior's typical loose ends to wrap up, such as final exams and packing, she also has duties with NROTC—not all of which are somber.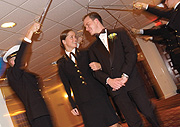 DRESSED UP: An arch of swords forms the entrance to the NROTC ball for Regan and her date Adam Simmons '03.
Regan presides over her last drill, where the cadets' marching skills are critiqued by local Marine reservists, and her last battalion event, a war game competition. She also attends the NROTC ball, where despite the dress blues, the cadets let their hair down, at least figuratively. At the awards ceremony, Regan is thrilled to win a sword in recognition of her "overall excellence."
And she faces one more responsibility: the delicate matter of choosing her successor.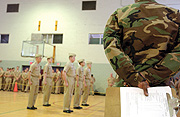 SPIT AND POLISH: In the battalion drill, cadets' marching precision is rated by two Marine reservists from a nearby base.
"It's a tough decision," she says. "You worry that you're choosing the right person, leaving the battalion in that person's hands, because you care about the cadets. I want them to have a good year next year even though I won't be here."
She believes she made the best decision, and early in the morning on May 1, the midshipmen stand again in the gym, this time for the ceremony where Regan will turn them over to her successor, Tim Daly '04.
Before she and Daly change positions beside Captain Gavin Lowder to signify Regan's relinquishing command, Reagan says evenly, "This has been a great experience. I hope the lessons we've learned this year have taught everyone how to run things next year."
WITH HONORS: Regan displays the sword she won at the awards ceremony in honor of her "overall excellence."
After the ceremony, however, she privately laments, "They're not mine anymore!"
The year culminates with the cadets' commissioning ceremony, which takes place the day before Commencement. It's an event the NROTC students prize as highly as, and some say higher than, graduation itself.
"That's when you know it's for real," Regan says, her brown eyes alight. "You're entering the real world."
Sharply attired in dress whites—the Marine option students in dark blue—the cadets march into the grand ballroom of the Hyatt Regency Hotel in downtown Rochester to finally take the oath of office they have prepared for during four years of training.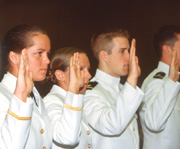 ALLEGIANCE: Regan (left) and fellow cadets swear to defend the Constitution of the United States during the commissioning ceremony.
Right hands raised, the 28 cadets swear to "support and defend the Constitution of the United States against all enemies, foreign and domestic . . . bear true faith and allegiance to the same . . . and well and faithfully discharge the duties of the office . . ." for which they are about to enter.
The audience is peppered with members of the Navy, Marines, and Army—many of them cadets' family members—there to take part in the tradition of the "first salute." After receiving a certificate, each newly commissioned officer faces a member of the armed forces chosen to do the honors, and "buys" a first salute with a silver dollar.
It's an emotional moment, especially for those students whose father or brother honors them with the first salute.
— Jayne Denker