Rochester artist and professor Allen Topolski explores the gaps between collecting and recollection in his nationally recognized work. By Scott Hauser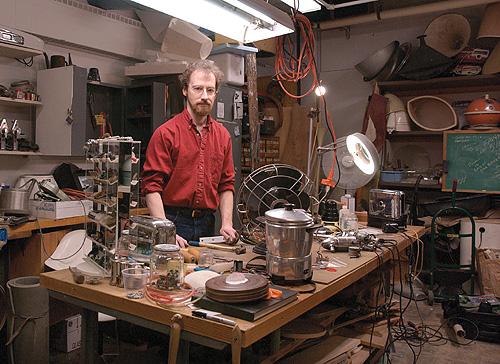 ART'S WORK: Topolski's studio in the Sage Art Center serves both as repository for objects he has collected and as workspace for creating art.
At first glance, the objects in some of Allen Topolski's recent exhibitions seem familiar. That's a blender. No, maybe it's a percolator—you know, the kind your grandmother was so proud of when she first brought it home.
Look more closely, and the sense of familiarity begins to fade, overtaken by a combination of intrigue, displacement, nostalgia, loss, curiosity, and even a little amusement.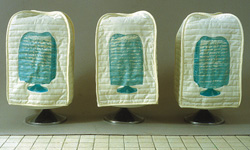 Appliances I Can't Quite Remember
Topolski, associate professor and studio coordinator in the Department of Art and Art History, has earned a national reputation as an artist who mines the gaps between often- unreliable memories of domesticity and our relationships to the objects we surround ourselves with. Recent exhibitions have included recast household objects—many of them crafted from discarded appliances collected in Rochester by Topolski—as well as other interpretations of commercial culture in the late 20th century.
"I've been intrigued by the notions of recollection and collection for a long time," Topolski says. "The attempt to recognize these as real-world objects puts viewers through the creative process that occurs with memory—what people think they remember of the world around them.
"And the inability to recognize them puts viewers through the related process of nostalgia and loss. I hope they prompt viewers to reflect on their personal experiences, on function and form, and on our perceptions of domestic life."
Lezure-Life

Houseware
Collection of Janet Wolff

Lois's Appliance
Such subtle shifts in perception drive Topolski's teaching as well, especially with students who sometimes harbor the notion that art is meant to shock viewers.
"I always tell my students that it's far better to engage people in a persuasive argument and try to draw them into a process of interpretation," Topolski says.
Topolski's work has been exhibited in solo and group shows in galleries in Dallas, Pittsburgh, and on Long Island as well as on the campuses of Pennsylvania State University, Western Kentucky, and the University of Wyoming.
In October, Topolski's solo exhibition, entitled Working, opens at the Moreau Art Gallery of Saint Mary's College in Notre Dame, Indiana. Topolski's work also has been selected as part of a group exhibition, Domestic Odyssey, which opens next March at the San Jose Museum of Art in San Jose, California.