AfterWords
Putting Liberty into Patriotism
Top lobbyist for American Civil Liberties Union says liberty needs protection in the war on terror. By Tom Nugent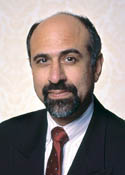 Greg Nojeim '81
Ask the top congressional lobbyist for the 300,000-member American Civil Liberties Union why he's fighting so hard to protect the rights of Americans during the war on terrorism, and Greg Nojeim '81 will surprise you with the passionate intensity of his reply.
"I chose this battleground—defending our civil liberties against encroachment by the federal government—because I love this country," says the 45-year-old Nojeim, a veteran Constitutional lawyer who often testifies on Capitol Hill. "I'm the guy who stands up at the soccer game with his hand on his heart whenever they play the national anthem.
"As an American, I know the freedoms we enjoy are what make our country great. And those freedoms are worth fighting for—especially in light of the Patriot Act, which I'm convinced is threatening to undermine our Bill of Rights."
A Rochester political science major with a law degree from the University of Virginia, Nojeim took over as chief legislative director for the nonprofit, nonpartisan organization only a few months before September 11, 2001. Six weeks after the attacks on the World Trade Center and the Pentagon, Congress overwhelmingly passed, and President Bush signed into law, sweeping antiterrorism measures.
Officially known as the Uniting and Strengthening America by Providing Appropriate Tools Required to Intercept and Obstruct Terrorism Act of 2001—or the USA Patriot Act—the measure was intended to give the justice department powerful tools to curb terrorism.
But Nojeim says many of the law's provisions run counter to the Bill of Rights. In particular, he notes, the law allows secret monitoring of religious and political groups, even if they are not suspected of criminal activity; permits the secret detention of noncitizens without formal charges; allows monitoring of conversations between attorneys and clients in federal prisons; and denies legal representation and a jury trial to Americans labeled "enemy combatants."
The ACLU last September joined with several other civil rights groups to support a bill that's designed to reduce the prosecutorial powers contained in the earlier antiterrorism law.
"The Patriot Act was an almost overnight reaction to 9/11 by Congress in the midst of the anthrax attacks that followed it," Nojeim says. "That reaction was understandable, but it's now clear that Congress went too far, too fast—and that we need to repeal some key sections in order to protect our civil liberties."
A specialist in privacy issues and criminal defense, the quietly thoughtful lawyer says his career probably got its start in Burton Hall, where he spent a year as a resident advisor.
"I learned a lot about human nature from that experience," he says. "And I also learned a lot about human rights from my political science courses and my stint as an editor on the Campus Times."
After law school, Nojeim spent five years negotiating ""mergers and acquisitions" for a high-powered D.C. law firm. While working on a pro bono case—a political asylum request from an Ethiopian who claimed to have been tortured—he developed a strong interest in immigration law.
A few years later, in 1995, he took a 50-percent pay cut to sign on as legislative counsel for the ACLU.
How alarmed is Nojeim as America struggles to find "the right balance" between security and liberty?
"I'm an optimist," he says. "But I'm also very concerned about the unprecedented new power we've given the White House and the justice department.
"The biggest danger we're seeing now is that judges are increasingly being 'written out' of their proactive role in overseeing intrusive surveillance by law enforcement agents, and the executive branch is detaining and searching people in secret.
"I'm still hopeful we can swing the pendulum back and restore balance to the system. But these are certainly dangerous times, and the task that lies before us is enormous."
1981
Peter Regenstreif, professor emeritus of political science, says he's not surprised to learn that Nojeim went on to become a defender of civil liberties and an expert on Constitutional law.
Says Regenstreif: "He spoke up often in my Politics and the Mass Media course, and he was always prepared to defend his strong opinions effectively. He didn't just 'mail his answers in'—he worked extremely hard to soak up the kind of knowledge that he's obviously using now to good effect."