Features
Bringing Balance to the NCAA
The first president of the National Collegiate Athletic Association who has not been a coach or an athletic director, Myles Brand '67 (PhD) brings his own philosophical outlook to the organization. By Ron Thomas '71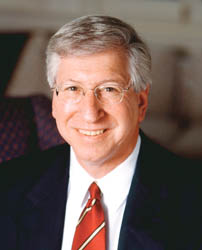 LEADERSHIP: Brand, whose appointment as president of the NCAA was announced in October 2002, received the Charles Force Hutchison and Marjorie Smith Hutchison Medal at the College Commencement ceremony last May. The University's highest alumni award, the medal is presented in recognition of outstanding career achievement and service.
As a graduate student studying philosophy at Rochester nearly 40 years ago, Myles Brand '67 (PhD) had little time to pay attention to Yellowjacket sports while he was on the River Campus.
It's not that sports were an unimportant part of his life. As an undergraduate at Rensselaer Polytechnic Institute, he had played freshman basketball and lacrosse. And as a youngster growing up on Long Island, he had played basketball and run track in high school.
But he decided not to play varsity sports at Rennselaer to better focus on academics. The onetime mechanical engineering major had found a more compelling scholarly interest—philosophy—and he had arrived at Rochester determined to pursue a career as a scholar and teacher.
"I did not follow [the Yellowjackets] at all," Brand says. "I went from my baccalaureate to a Ph.D. in 2 1/2 years, so I had my head in the books."
So it might be a bit of a stretch to say that Brand, who had gradually pushed himself away from sports as a college student to pursue the life of a professor, was destined to lead the world's most powerful collegiate sports organization.
But after a distinguished career as a professor and administrator—including serving as president of two top public universities-Brand last year became the first non-coach and non-athletic director to lead the National Collegiate Athletic Association.
As president of the NCAA, Brand heads an organization that governs 23 sports played at 1,024 colleges and universities by roughly 360,000 male and female athletes. The athletic activities range from the kings of intercollegiate sport—football and basketball—to relatively obscure rifle and fencing.
The two things such disparate schools and programs claim to have in common is the desire to win championships and to have a commendable graduation rate among athletes. But too many colleges have trouble keeping both goals in focus. As NCAA president, it's Brand's job to make sure that both are pursued with equal fervor.
What are the chances of achieving that when there's so much media attention and money—such as the NCAA's $6 billion, 11-year basketball contract with CBS Sports—at stake? Brand balks at replying in the context of winning or losing that battle.
"This is not an athletic contest," Brand says. "We want to move toward a much more balanced approach to college athletics." He points to the model exemplified by Rochester, where eight Yellowjacket teams have played in Division III championships in the last four years, yet the University had a 90 percent graduation rate for athleties in 2002, and a range of schools that balance athletic and academic issues. "The athletic approach becomes integrated in the academic mission of the institution," he says.
That's essentially the mantra Brand has preached since, as president of Indiana University, he gave an eye-opening speech at the National Press Club entitled "Academics First: Reforming Intercollegiate Athletics." In that January 2001 address in Washington, D.C., Brand warned that collegiate sports had the potential to become a "cultural embarrassment" if academics became too small a priority.
NCAA statistics showed that among scholarship athletes that entered college in 1996, 62 percent graduated within six years of entering school compared to 59 percent for the general student population.
However, Brand is concerned that among Division I-A programs, only 54 percent of football players, 42 percent of men's basketball players, and 38 percent of black male basketball players graduated by 2002. The figure for black male basketball players represents a 10 percentage points improvement over the previous year, which exemplifies Brand's desire to bring athletics and academics more into balance.
Brand also has been a strong supporter of equal opportunity in college athletics by backing Title IX, which has increased the number of women athletes since 1972, and by backing programs that he hopes will result in more black head football coaches in Division I-A and I-AA programs.
Although 53 percent of Division I-A football players are black, only five of 117 Division I-A programs have black head coaches. Brand has called that "a distinct lack of progress," and advocates NCAA programs aimed at increasing their numbers.
"We love the academic reform movement," says Stanford University's athletic director Ted Leland, whose university is one of the best at succeeding athletically in Division I without slipping academically. "The biggest challenge to athletics in higher education is not going to be financial, and it's not going to be TV contracts. It's going to be the connection to the university and how it affects students' lives. The connection has been weakened, and we hope we can bring that back."
The idea of giving college presidents a more prominent role particularly appeals to Leland because there's more oversight "from people whose priority is teaching and research, not whose priority is the ESPN basketball contract."
Brand received the authority to balance the athletic-academic teeter-totter when the NCAA named him president in October 2002, choosing him over 117 other candidates for the position. His presidency officially began on January 1, 2003.
Before that, colleges fans most likely knew Brand as the person who fired volatile Indiana basketball coach Bobby Knight four years ago. Now he has more than 1,000 institutions, several thousand men's and women's coaches, and the NCAA's reputation under his charge until his contract expires in 2007.
"Having been a college president for nearly 15 years, I've seen intercollegiate athletics as a major part of the enterprise-certainly in Division I institutions," Brand says.
The seed for Brand's career as a college professor and administrator was planted at RPI. He had planned to be a mechanical engineer until philosophy professor Robert Whallon made that subject irresistible.
"I find the intellectual enterprise of trying to understand in this critical way the world around us absolutely fascinating," Brand says. "The kind of questions you ask form the foundation of science. They are moral and ethical questions."
Whallon wasn't a famous academician, but the fact that four of the students in Brand's class became philosophy professors indicates how much Whallon influenced his students. By the time Brand graduated from Rensselaer, he knew that he wanted to become a professor. When it came time to choose a graduate school, not surprisingly, the quality of Rochester's philosophy faculty convinced Brand to pursue a doctorate on the River Campus.
From there, Brand steadily progressed up the faculty and administrative ladder. From 1972 to 1983, he chaired philosophy departments at the University of Illinois at Chicago and the University of Arizona. He advanced to the position of dean at Arizona, then left in 1986 to become a provost and vice president of academic affairs at Ohio State.
That led to his first post as a university president, at the University of Oregon from 1989 to 1994, followed by the Indiana presidency from 1994 until 2002. At Indiana, he oversaw eight campuses that encompassed almost 100,000 students, 17,000 employees, and a budget of $3.4 billion.
Throughout his academic career, and even as NCAA president, Brand has used philosophy as his foundation. "I find it applicable to all difficult problems, including intercollegiate athletics," he says. "It's helped seeing the bigger picture sometimes and not getting overwhelmed by details, and finding a moral base for decision making."
Rochester's influence was evident to Bruce Jaffee, an Indiana professor of business economics who helped interview Brand when he was a candidate for Indiana's presidency. Jaffee was a member of the school's athletic committee throughout Brand's time in Bloomington.
"He's a very logical reasoner and thinker, very analytical and thoughtful, and that reflects the outstanding training he got in Rochester," Jaffee says. "He wouldn't talk about Aristotle a lot, but his discussion is a lot like an attorney's. Everything was very logical, and he would think about the implications. The method of reasoning is very clear in the way he speaks, presents issues, argues, and analyzes."
Jaffee says that when Brand came to Indiana, he made athletics a relatively low priority in terms of time commitment.
"In a research institution, what's really important is scholarship," Jaffee says.
While Brand declines to talk about Knight—"I think it's time to move on to other subjects," he says—his very public clash with Indiana's revered coach gave him a national profile, at least in athletics.
When asked about the episode, Murray Sperber, an English professor at Indiana and frequent Brand critic, took a "what-took-him-so-long" approach. Yet Sperber admits, "No other president had fired Knight, and to his credit, Brand did do it. He didn't expect the type of heat he took. He did do it, but he didn't do it willingly."
The episode tossed Brand into the athletic spotlight and undoubtedly brought him to the NCAA's attention after former president Cedric Dempsey announced his retirement.
A little more than a year into his tenure, Brand has begun implementing his own vision for intercollegiate sports. Its main components include:
Having college presidents gain control of athletic programs, thereby following the recommendation of the 1991 report on intercollegiate athletics commissioned by the John S. and James L. Knight Foundation. How do athletic directors feel about presidents' intrusion onto their turf?
"If they're in concert and both have the same goals, it would be great to have your boss going down the same road with you and giving you all the ammunition to achieve those goals," says Mike Cleary, executive director of the National Association of Collegiate Directors of Athletics. Cleary says the relationship only becomes problematic if a president tries to run day-to-day athletic affairs or intrudes into an athletic director/coach dispute without full knowledge of the situation.
Building on increased academic standards athletes must achieve to qualify for an athletic scholarship and remain eligible in college. The NCAA raised the high school core course requirements from 11 to 13 before Brand arrived, and he credits that with increasing the graduation rate of black male basketball players. Now 14 core courses are required, and Brand would like to increase that to 16. He also supports the stipulation that 20 percent of an athlete's courses must make progress toward a degree.
Appointing a special committee to develop incentives and disincentives that will motivate schools to make academic success a higher priority among athletes. One possible disincentive is a school that falls below a certain graduation rate would be subject to escalating penalties—a warning, the removal of athletic scholarships, and ultimately banishment from March Madness, the famed NCAA basketball tournament.
That plan also would involve changing how graduation rates are determined. Currently, players who leave a program early count against its graduation rate even if they turn pro or transfer to another college and earn a diploma. Brand believes that schools should receive credit for players who depart in good academic standing. That proposal faces much resistance.
Indiana's Sperber, who has written several books about collegiate athletics, favors the current method of compiling graduation rates.
"The point is to show students and their parents what the chances are of Johnny graduating from Rochester" rather than from another school, he says. "That's a very useful statistic for a family about to lay out $25,000 a year."
Stanford's Leland is leery of trying to define good academic standing. "The potential for mischief in a system like that is extraordinary in college athletics," he says. "We have enough trouble deciding whether it's a charging or blocking foul. I don't know how we figure whether a student leaves in good standing."
Incentives, which are still being created, and disincentives are expected to be voted on by the NCAA board of directors in April.
Devising ways to give Division II and III programs more publicity, such as contracting with the College Sports Network to televise small-college national championships.
"By focusing on Division I, we lose [attention on] the 360,000 students that play in all divisions," Brand says. "There aren't many who go to Rochester and then go on to pro sports, but they all benefit from participating in intercollegiate sports. They've learned teamwork, striving toward excellence, how to have a healthy body as well as a strong mind."
Discouraging high school athletes from attending college solely to prepare for a professional sports career.
"LeBron James is a good example," Brand says, referring to the budding superstar who went directly from high school to pro basketball. "I think he did the right thing by going to the pros. He was like a musical prodigy who has the physical ability and maturity to move into the pros. Sending him to college for one year would not be right."
The prospect of implementing his program makes him feel more optimistic about the future of intercollegiate athletics. In 2001, he told the National Press Club, "I do not want to turn off the game; I just want to lower the volume."
In a 2003 speech to the same organization, Brand more optimistically stated, "Today, I say eliminate the static so that the game can be heard."
---
Ron Thomas '71 is a freelance writer and the author of They Cleared the Lane: The NBA's Black Pioneers.