Generation: First
Meet a few of the Rochester students who are charting new courses for their families. By Jayne Denker | Photography by Richard Baker
Mayra Gonzalez '09 seems well versed—even for a freshman—in the life of a Rochester student as she talks about her plans to major in mathematics, or maybe Spanish. Or maybe both. With a bright smile, she talks comfortably about the kick she gets out of telling people that she's a Los Angeles native who made a long-distance college choice because she wanted to see how the "other coast" lives.
You'd think that finding herself on the campus of a 155-year-old, selective private university was a natural, unremarkable turn of events for her and her family. And in many respects, it is.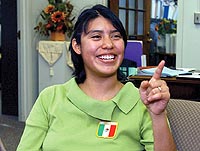 Read more from Mayra Gonzalez '09.
But Gonzalez, the oldest of six children born to Mexican immigrants, is the first in her family to enroll in a four-year baccalaureate institution. As are a sizable handful of undergraduates at Rochester, she is a "first-generation" student.
"I have friends who are immigrants, and to them, it makes no sense to even finish high school," says Gonzalez. "But I had the grades, and I was motivated. I knew I wanted to go to college."
In an age when the doors to higher education have been increasingly open to more and more families, the term "first-generation student" may seem an anachronism, but Rochester admissions leaders and others who work closely with students say the reality is that such students have long been an important part of the fabric of the University.
Jon Burdick, dean of admissions and financial aid for the College, estimates that between 12 and 22 percent of Rochester undergraduates could be considered first generation. More precise figures are difficult to come by because identifying whether students are the first in their families to go to college requires them to volunteer information about their parents' educational status on their applications. Some students may leave those lines blank.
But Burdick says Rochester has a longstanding tradition when it comes to first-generation students. And in recent years, the University has made a point of reaching out to communities that are less likely to have experience in sending students to places like Rochester, such as the College's recent agreement to offer scholarships to students who complete the International Baccalaureate program at Rochester's Wilson Magnet High School.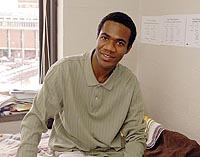 Read more from Joseph Point du Jour '07.
"First-generation students' family structure, their life circumstances, their history, and the communities they're a part of add up to something that's fundamentally unique," he says. "They're absolutely enriching the experience of every other kid who's here."
He and others agree that—on one hand—first-generation students are no different from others at Rochester, displaying the intelligence, maturity, drive, grades, and test scores to succeed. But, on the other, they face a different set of challenges, not the least of which include economic issues and the culture clashes that come with being the first in their families to chart a new course.
Joseph Point du Jour '07, who received the Delno Sisson '66 Prize from the College's Center for Community Leadership for his contributions in the classroom and to his fellow students, says he's known he's been headed for college all his life.
A neuroscience major from Brooklyn who immigrated from Haiti when he was 16 years old, he's the only one of seven children to come to America.
"I never thought of not going to college," he says. "My parents chose to come here to offer me a better life," and that included getting an education beyond high school.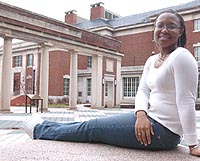 Read more from Porschea Lewis '07.
While first-generation students acknowledge that their parents are usually their biggest supporters in pursuing higher education, that doesn't mean the transition goes smoothly. Less well versed in what it takes to go to college, first-generation parents often are concerned about the costs, urging their children to live at home and attend a community college, and they're concerned that their children are breaking a tradition of staying close to family, where they can help financially and emotionally.
Gonzalez says she's often torn by her obligations. "When my mom says, 'I've got bills to pay,' I wonder why I'm here, when I could be earning money to help them."
Rochester native Anthony Plonczynski '06, who lives on campus, says his parents often ask him when he's coming home.
"There are certain aspects of college that my mother and my father, who didn't finish high school, don't understand," the political science major says. "They want you home at certain times, to be there for certain events. They think it's still high school."
Beth Olivares, director of the University's Ronald E. McNair Post-Baccalaureate Achievement Program, which helps low-income, first-generation, and underrepresented minority students pursue doctoral degrees, says such conflict is not unusual.
"Students who have parents who went to college have conversations about what college is like, and they've probably been on college campuses before," she says. "But students who come from backgrounds where that's not the case don't understand how a university works."
Rochesterian Porschea Lewis '07 says that even though her family's home is just down the street from the University, she didn't know a lot about the place.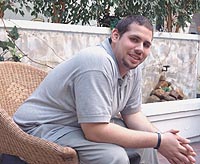 Read more from Anthony Plonczynski '06.
She took part in the Early Connection Opportunity program, a University effort designed to help students who are new to the college experience. Each year, about 30 students, about half to three-quarters of whom are first generation, stay on the campus for three weeks during the summer to learn more about campus life.

Lewis says that experience gave her confidence when school started. The program also taught her, she says, how to prepare for the workload she'd be facing, which is something that many first-generation students, especially those who come from less-challenging public high schools, don't expect.
"I can say that there's a definite distinction between somebody like me, who went to a city high school, versus someone who went to a private or suburban high school," she says. "It seems like they may have gotten a better base than I had. I did really well in high school with a minimal amount of effort. I wish I had the discipline earlier."
Rochester has several other programs to make sure students who might experience problems—whether academically, financially, or socially—don't fall through the cracks.
Many students rely on the Office of Minority Student Affairs, directed by Norm Burnett, an assistant dean of the College.
"Our counselors check on students' progress and how they're adjusting," Burnett says. "We don't deal with just academics, but with issues outside the classroom as well—helping them with their financial aid forms, checking to make sure they are joining clubs to get a balance in their college life. We work with the University Tutoring Program through the Center for Academic Support, the College Writing Center, and Learning Assistance Services to make sure these students succeed."
Part of that success includes negotiating the expectations of home and campus.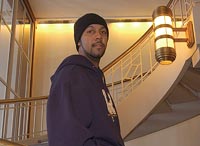 Read more from Damian Garcia '07.
Damian Garcia '07, a Trinidad native who grew up in Brooklyn, says he often has trouble talking with his mother or siblings about his courses or his interest in applying to graduate business school.
"When I go home, I have to kind of disregard my entire college life," says the African-American studies major. "We talk about movies, or how work is going. So when I do go back home, I spend a lot of time out of the house with friends who also go to college."
Olivares says many first-generation students discover that their priorities change on campus and that the shift sometimes presents challenges for them.
"It's a huge issue," she says. "You can't go back home and expect to be the same person. When you go to college, especially a place like Rochester, you become a scholar. You have a new life, and it's hard to transition back and forth."
And if it's hard to fit back in with family and old friends after obtaining a bachelor's degree, it's even tougher when these same students want to continue their education—which, these days, is essential for career success, Olivares says.
"It's difficult for first-generation students to tell their families that they want to get a postgraduate degree," she says. "A lot of families send their kids to college thinking, 'You'll get your degree—I understand that. But a Ph.D.? What the heck is that?'"
Although as a freshman Gonzalez won't be considering graduate school for a while, she says that her mother only let her go to Rochester as long as she promised to return to Los Angeles when she was done.
Plonczynski says even though his parents have had four years to get used to his being away from home, he's having a hard time persuading them that he may go even farther away to study education reform in graduate school.
"I've already had conversations with my mother, and she says, 'You can't go,' but if I have to spread my wings, it'll happen. I know I want to continue."
---
Jayne Denker is associate editor of Rochester Review.