The Power of a Name
More than 150 years ago, the establishment of one of Rochester's first named professorships gave "heart and hope for our future work," then President Martin Anderson noted. As the University launches a new series of celebrations to recognize the importance of such faculty positions, Review takes a look at a few of the scholars who share in a longstanding tradition.
In 1855, as the then five-year-old University was just starting to prove its staying power as an institution in the Rochester community, it received what was, until that point, its largest single donation.
The $20,000 gift from trustee and flour-milling magnate Gideon Webster Burbank "gave us heart and hope for our future work," then President Martin Anderson later wrote.
What was the money for? So the University could move out of its makeshift, one-building home in the United States Hotel? Maybe a down payment on an academic building?
Neither. Burbank directed that the money be used for something that has outlasted the University's physical homes on three different campuses as well as its progress from a small, regional school to a modern, nationally recognized university.
Burbank asked that his gift, when matched with gifts from others, be used to endow a fund to pay the costs of one professor's salary. He was, in short, offering to support a position for a faculty member throughout the life of the University.
But not just in any field—Burbank stipulated that the professorship be held by a scholar in intellectual and moral philosophy—and not just for any professor. The post was to be held by an academic leader: in this case, the president of the University.
The Gideon Webster Burbank Professor of Moral and Intellectual Philosophy still exists. Although it's no longer held by the president (nor is it held only by Baptists, which also was part of the original conditions), the professorship is one example of the long-running connections that tie together the people who make up the academic heart of the University—its faculty, students, and alumni.
In a celebration this spring announcing a Distinguished University Professorship to be held by President Emeritus Thomas H. Jackson, President Joel Seligman paid tribute to that longstanding connection as he launched a new tradition to recognize faculty who hold fully endowed professorships.
"It is safe to say that just as great cathedrals are built brick by brick, great universities are built chair by chair," Seligman said, noting that endowed positions are a hallmark of the University's respect for a faculty member's work. "Faculty are the most enduring aspect of a university."
Thomas H. Jackson
Distinguished University Professor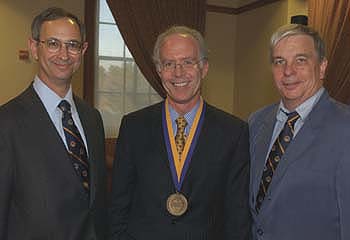 NEW PROFESSOR: Seligman, Jackson, and Provost Charles E. Phelps
In a University-wide ceremony that he hopes will become a model for a regular series of events on campus, President Joel Seligman formally appointed Thomas H. Jackson as a Distinguished University Professor in March.
The new professorship was established as an initiative of the Board of Trustees to recognize Jackson's work as a legal scholar, teacher, and as president of the University from 1994 to 2005.
In a talk delivered as part of the ceremony, Jackson said that the academic interaction fostered by universities such as Rochester results in enormous value to society that's often difficult to capture economically but that would be hard to re-create in other institutions.
Noting the example of his own scholarship in corporate bankruptcy law, work that many in the academic legal community credit with changing the way the field is understood, he said universities are places to create "basic knowledge," a kind of academic counterpart to "basic science."
He credited universities as unique in fostering and supporting the "fragile sustainability" of that scholarship.
"I cannot capture the value of streamlining bankruptcy law," he said. Similarly, he discussed his recent interests at Rochester, where he draws on scholarship in religion, law, economics, higher education, and other fields. Such ideas are not patentable or amenable to copyright, he said. "They are, in that sense, basic knowledge."
"The work is both invaluable and likely to be only produced at a university," Jackson said.
When Jackson retires, the position will be renamed the Thomas H. Jackson Distinguished University Professorship.
---
Russell Peck
John Hall Deane Professor of Rhetoric and Poetry
A nationally recognized scholar who focuses on the literature of Great Britain from the 13th through the 15th centuries, Peck has been an influential teacher and innovative researcher at Rochester for more than four decades. The founder of the Mediaeval House, he helped bring the Rossell Hope Robbins Library to Rochester in the late 1980s. The library, now home to the online initiatives of the Camelot Project and the Robin Hood Project, serves as one of the leading scholarly resources for the study of the literature and culture of the Middle Ages.
More recently, he has launched and serves as the general editor of the Middle English Text Series, a now 55-volume effort to provide scholars with definitive texts of mediaeval literature that previously had not been readily available for use in teaching and scholarship. "It really has changed mediaeval studies throughout the world," Peck says.
In addition, for 15 years he has run a program that takes Rochester students to London to study theater and organizes an annual student trip to the Stratford Festival in Ontario. He uses some of the money from the Deane professorship to support undergraduate student awards presented each spring by the Department of English. One of those awards is the Russell Peck Prize for Research in Drama.
The professorship was established in 1880 through a $50,000 gift from John Hall Deane, a member of the Class of 1866 and a member of the Board of Trustees. Today, a comparable gift would be worth about $955,000.
---
Dianne Morrison-Beedy
Brody Professor of Nursing
The principal investigator of a nationally funded program called Health Improvement Project for Teens, or HIP Teens, Morrison-Beedy '93N (PhD) is a leader in community-based nursing. She also heads a National Institute for Nursing Research–sponsored project to improve HIV awareness and prevention among adolescent girls.
The receipient of the 2005 Excellence in HIV Prevention Award from the Association for Nurses in AIDS Care, she serves as a scientific reviewer for HIV/AIDS grants for the NIH.
Sponsored by the daughters of Bernard '51M (MD) and Ruth Miller Brody '42N, the professorship was established in 1999.
---
Donna Brink Fox
Eisenhart Professor of Music Education
The creator and director of the Eastman School's nationally recognized early childhood music program called MusicTIME, Fox is the first Eastman faculty member to hold a named professorship. A highly respected music educator, she has served several administrative posts at the school, including being named interim senior associate dean of academic affairs this spring while a search is under way for the next dean of the school. She's also chaired the music education department and directed the school's summer session.
The professorship was created in 1997 through the sale of property given to the University by M. Herbert and Elsa Eisenhart. Eisenhart was a trustee and a member of the Eastman School's Board of Managers.
---
James R. Fienup
Robert E. Hopkins Professor of Optics
The first to hold the Hopkins professorship, Fienup develops algorithms that allow researchers on the ground to use starlight to "tune" the mirrors of spaceborne telescopes, such as NASA's James Webb Space Telescope that's designed to replace the aging Hubble telescope.
He previoulsy developed related techniques that were used to help fix the Hubble's infamous nearsightedness when it was first launched. He also explores unconventional imaging techniques and ways to process images in a computer, turning blurred ones into sharp ones. The technology can be used for telescopes, radar, or biomedical imaging.
The professorship was established in 2002 in recognition of Hopkins '45 (PhD), a former director of the Institute of Optics, after a committee of friends raised money to endow the position.
---
Signithia Fordham
Susan B. Anthony Professor of Gender and Women's Studies
As an anthropologist, Fordham has focused on understanding the social and interpersonal dynamics of race, gender, and identity. Her 1980s study of the ways that black students in a Washington, D.C., public high school navigated socially and emotionally through an academic system that expected them to devalue the African-American community and internalize the mores of the school in exchange for academic achievement evoked robust debate among educators. First published in 1986, the findings were detailed and expanded in her 1996 book, Blacked Out: Dilemmas of Race, Identity and Success at Capital High.
More recently, Fordham has conducted and published several other studies on African-American students and on women in high school and in higher education.
The professorship was originally established as a rotating appointment held by a nationally distinguished feminist scholar. This spring President Seligman announced plans to endow the Anthony professorship and a new professorship named in honor of Frederick Douglass.
---
Webster Pilcher
Frank P. Smith Professor of Neurological Surgery
Pilcher '83M (MD) (PhD), a nationally recognized brain surgeon whose delicate work helps epilepsy and cancer patients, sounds a little like a historian when he talks about his role as the leader of one of the Medical Center's newest departments. As chair of the Department of Neurological Surgery, Pilcher can trace the program's history to 1926 when the discipline's founder Harvey Cushing visited Rochester and later recommended William P. Van Wagenen to lead neurosurgery at Rochester under the medical school's founding dean, George Whipple. Van Wagenen trained Frank Smith, who for 20 years led the program and put it on the map. "The professorship links us all back to the beginning of the institution and to the beginning of neurological surgery in the United States," Pilcher says.
Since his appointment as Smith professor in 2002, Pilcher has overseen the program's development into a full department, which now has eight faculty surgeons who see more than 3,000 cases a year across upstate New York.
The Smith Professorship was established in 1981 through a trust set up by Smith '41M (MD), a faculty member and chair (1954 to 1974) of neurological surgery.Since his appointment as Smith professor in 2002, Pilcher has overseen the program's development into a full department, which now has eight faculty surgeons who see more than 3,000 cases a year across upstate New York.
The Smith Professorship was established in 1981 through a trust set up by Smith '41M (MD), a faculty member and chair (1954 to 1974) of neurological surgery.
---
Dorinda Outram
Franklin W. and Gladys I. Clark Professor of History
An internationally recognized historian who has written on women in science, the French Revolution, and the Enlightenment, Outram became the first holder of the Clark professorship when she joined the faculty in 1999. A wide-ranging scholar, she teaches courses on the history of science, the French Revolution, the history of the body, and on the history of exploration from Columbus to David Livingstone. Her book, The Enlightenment, is used as a college text throughout the United States and Canada and in countries as diverse as Australia and Turkey.
The professorship was established through a bequest from Franklin '30, '33 (Mas) and Gladys Clark.
---
Edward L. Deci
Helen F. and Fred H. Gowen Professor in the Social Sciences
Deci arrived at the University in 1970 interested in exploring what motivates human beings to achieve their goals. More than 35 years later, he has helped make Rochester one of the premier programs internationally for the study of motivation. He and Richard M. Ryan of the Department of Clinical and Social Sciences in Psychology developed Self-Determination Theory in the 1980s and continue their research on how people are intrinsically motivated and self-determined under conditions in which their basic psychological needs for competence, autonomy, and relatedness are satisfied.
The professorship was established in 2001 to recognized former trustee Fred '32 and Helen Gowen.
---
Clifford Smith Jr.
Louise and Henry Epstein Professor in Business Administration
Last fall, Smith's son told him that a class he was taking while studying abroad in Australia relied on Managerial Economics and Organizational Architecture as one of its texts. "He never told the teacher that he knew the authors," Smith says. The book by Smith and fellow Simon School faculty members James Brickley and Jerold Zimmerman is now in its fourth edition. And beyond its worldwide influence, Smith says the book is one example of Simon's distinctive nature as a topflight business school where faculty and students collaborate across disciplines. The book combines the expertise of Smith in finance, Brickley in economics, and Zimmerman in accounting.
One of the Simon School's most honored teachers, Smith is the first holder of the Epstein professorship. He was a former teacher of Henry Epstein while the business supply store executive was a student in the Executive Development Program. The Epsteins established the position in 1999.
---
Raffaella Borasi
Frederica Warner Professor
Nationally known for her work as a mathematics educator and innovator in professional development for teachers and principals, Borasi has led the Margaret Warner Graduate School of Education and Human Development at the University since 2001 and was reappointed as dean this spring.
During her deanship, the Warner School has quadrupled its grant support, earned national accreditation from the National Council for Accreditation of Teacher Education and the Council for Accreditation of Counseling and Related Educational Programs, and undertaken a major renewal of all instructional programs. Borasi joined the Warner School faculty in 1985.
The professorship was established in 1988 through a gift from William and Margaret Warner Scandling to recognize Frederica Warner '09, a public school teacher in New York City and Margaret Scandling's aunt.