In Class
A Look at Culture and Race
A new course helps students make connections among 'literature, history, and image.' By Jayne Denker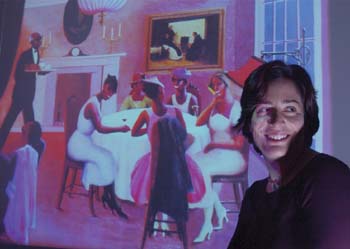 CONNECTIONS: Saab draws on art, film, and music to discuss the representation of African Americans in visual culture.
As the last few students come in from the rain on a gloomy fall afternoon, Joan Saab turns off the lights in her Morey Hall classroom and fires up the slide projector. The image of an inner-city building, its exterior covered in portraits of black civil rights leaders, writers, musicians, and athletes, appears.
But before Saab can begin her lecture on Chicago's 1967 Wall of Respect, a student in the African-American Visual Culture class asks about a movie that was just shown on campus.
Saab, an associate professor of art and art history, temporarily abandons her planned lesson for a discussion of Isaac Julien's Young Soul Rebels and the African-American filmmaker's other work. Saab lets the discussion run its course and, once everyone is satisfied, she returns to the Wall of Respect.
The digression is more connected than it seems. Saab's new course, as well as the Julien film, were part of a yearlong series, "Visual Culture and the African Diaspora," sponsored by the Frederick Douglass Institute for African and African-American Studies and the Graduate Program in Visual and Cultural Studies.
"Our program, which includes film, videos, an art exhibit, and conversations with leading American artists such as Sam Gilliam and Michael Ray Charles, provides the University and the Rochester community with diverse visual representations of people of African ancestry from Africa, the Caribbean, and the United States," says Fredrick Harris, an associate professor of political science and director of the Frederick Douglass Institute. "This course helps round out the major and minor in African and African-American studies."
With 15 undergraduate and graduate students from a variety of departments and a lot of ground to cover under the topic of "visual culture," Saab added films, jazz, and other elements to the syllabus.
"The course has all the best features of both a survey, with its range, and a seminar, with all the conversations in class," says English graduate student Jennie Lightweis, "but we talk about a lot of different types of art."
Crosslisted as an African-American studies class, the course is, in many ways, "a cultural history using visual evidence and teaching students how to make these connections among literature, history, and image," Saab says.
She reinforces the concept by covering art as diverse as slave quilts; music and poetry from the Harlem Renaissance; performance art, movies, poems, and art from the political movement of the '60s; and more modern works, including films such as Spike Lee's Bamboozled.
"One of the major insights we've come to is that all of these things are interconnected," Saab says. "When we were talking about the horrific images of lynchings, images of the war in Iraq came up, so we talked about how images provoke. When we talked about Birth of a Nation, somebody brought up [African-American comedian] Dave Chappelle. I want them to see a legacy of the past in the present."
"The topic of race is so enormous that it's difficult to address many of the issues," says visual and cultural studies graduate student Cynthia Foo. "This class and [English professor] John Michael's course, Race and Representation, has reinforced and enriched my understanding of some of the issues facing society today."