Sports: Golf
Goodridge Takes Exam—and National Title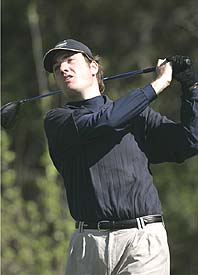 Goodridge
Taking an optics exam and playing in a national golf championship would be a stiff enough challenge if done on separate days. But undertaking both in the same day?
Stephen Goodridge '08 did just that in May, when he took the first part of his Optics 261 exam in the morning, played the final round of the NCAA Division III national individual meet, then wrapped up the exam the same night.
And Goodridge didn't just complete both tasks—he performed them well. In the golf tourney, he shot a final-round 73 to card a 72-hole score of 289 at Firethorn Golf Club in Lincoln, Nebraska, to become Rochester's first national golf champion.
His win also marked the University's first individual national title in any sport since 1988.
And his optics professor, Jim Fienup, said Goodridge did just fine on his exam, too.
"It was a full day," Goodridge said in something of an understatement. "I focused on one thing at a time. I tried to think about playing golf when I was playing golf, and I tried to think about taking the test when I was taking the test."
Fienup said Goodridge was doing well enough in the class to allow him to go to Nebraska and take the test there. The professor said balancing golf and an exam would be hard for the sophomore. "There are only a fixed number of hours in the day," said Fienup, who described Goodridge as very quiet, but he added that Goodridge "survived fine."
As a golfer, Goodridge said he felt very confident leading up to the national tourney. "I thought I had a good chance to win," he said. "It was just a matter of hitting the ball well."
The conditions at Lincoln were very windy, but Goodridge says he's a good wind player. "It's important to hit the ball solidly so the wind doesn't affect it as much," he said.
Goodridge, an optics major from the upstate New York town of Attica, chose to attend Rochester because it offered everything he was looking for.
"I wanted to go to a school that wasn't too far from home where I could still play golf and get a good education," he said.
He likes it so much that he hopes his teammates can share the experience at the national tourney in 2007.
"I'll try to repeat," he said, "and hopefully I can have the team go with me next year."
—Ryan Whirty