Common Interests
Students share their interests and experiences in more than 200 groups. Here's a look at the leadership of a few of them. Text by Enid Arbelo, Photographs by Richard Baker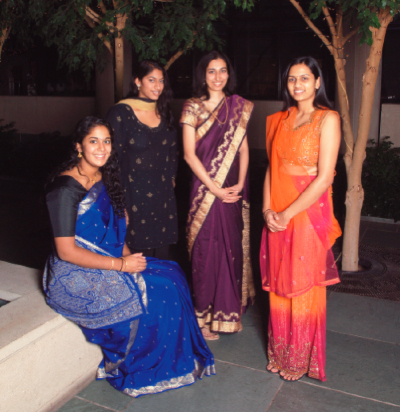 CULTURED: Amita DeSouza '07, president; Divyah Nagendra '09, cultural co-secretary; Nisha Puntambekar '07, publicity co-chair; and Niranjani Thuppal '10, cultural co-secretary
ADITI The Association for Development of Interest in the Indian Subcontinent was first established in 1985. Since then, the group's mission has remained the same: To raise awareness of South Asian culture and to share it with the campus community and the city of Rochester.
"Our office is peppered with old photographs," says Amita DeSouza '07, the president of the group. "The goal is to try and instill a sense of tradition."
With about 300 members, the group is known for its popular South Asian Expo and Mela, which highlight the culture, including sports, history, politics, and performance of India.
---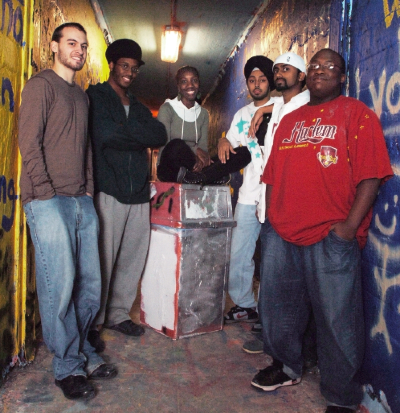 LYRICAL: Brett Stark '07, vice-president; Shane Campbell-Staton '07, performer; Latrice Akuamoah '07, secretary and community service coordinator; Sukhmit Kalsi '07, performer; Sirish Kondabolu '07, president; and Joel Kajubi '09, publicity officer
UR Hip Hop Originally started as a break-dance group in the early '90s, the group soon became an organization that shared an appreciation for Hip Hop. The group has helped inform and entertain the campus community at events such as the Hurricane Katrina benefit concert and by participating in the Power of Dance programs that bring cultural groups to city schools. The diverse group prides itself on its compelling lyrics that touch on racial, political, personal, and religious issues.
"We want to bring who we are and where we come from into our music," says Brett Stark '07, UR Hip Hop president.
---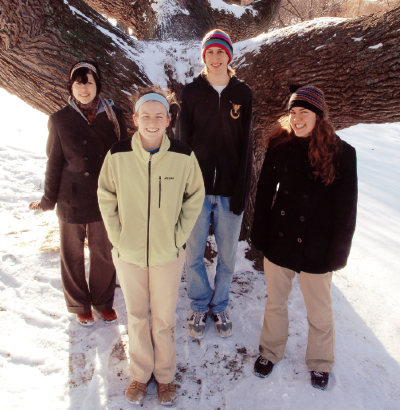 AWARENESS: Laney Widener '09, Earth Day and business coordinator; Emily Reiss '08, member and former president; Gerald Abt '08, co-president; and Sasha Bilow '07, publicity chair
Grassroots One of the University's oldest and most visible environmental action and awareness groups, Grassroots has prompted efforts to bring organic and local foods to Dining Services and advocated for the addition of environmental issues in the curriculum. The group's annual programs, such as a yard sale of dorm items that would otherwise be thrown away, focus on fun ways to encourage students to be stewards of the Earth.
"The idea is to make people aware of the consequences of their actions," says Gerald Abt '08, co-president of the group.
---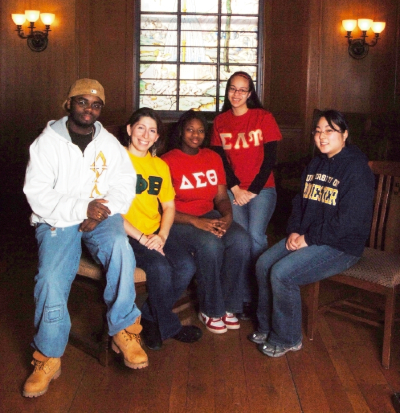 COUNCIL: Keith James '07, publicity chair; Catalina Berry '07, vice-president; Cendrine Robinson '07, president; Ana Pena '08, secretary; and Sayaka Hanada '07, treasurer
Multicultural Greek Council Established in 1999, the Multicultural Greek Council includes members of the National Pan-Hellenic Council, the National Association of Latino Fraternal Organizations, and an Asian-interest fraternity. The council represents 12 organizations that individually have between 2 and 10 members each. By joining together to organize programs, the council has a strong presence on campus. "Because there are so few of us, it provides us a forum and a place to come together and discuss problems," says Cendrine Robinson '07, president of the council. "It brings unity and encourages us to cosponsor programs."
---
Alexander Pearlman '07 would be happy to help find a student organization that's just right for you. "We've established a system that if there isn't a group that interests you, we can start one," says Pearlman, the president of the Students' Association. That entrepreneurial spirit may help explain why, this year, more than 4,000 undergraduates—the equivalent of every student in the College—take part in more than 200 groups ranging from academic clubs to pre-professional societies. The groups are funded through the Students' Association (SA), the elected body that officially represents undergraduates in the College to the administration. For students like Pearlman, the groups offer chances to diversify their interests and experiences. "When people share common experiences, that's where personal growth develops," he says. Anne-Marie Algier, director of Wilson Commons Student Activities, says the mission of SA is to enhance the college experience by giving students a place to take on leadership roles, delve deeper into academic pursuits, or just simply relax. "We believe that it's a really important component in student life," she says. "In an academically rigorous environment like we have here, students need to have balance," she says. While much of student life is based on assessment, student groups offer a less demanding alternative. "(Student groups) are a place where they can make mistakes and the stakes are not too high," Algier says. "If you do fail, you will learn a really good lesson."
Pearlman agrees: "There's no grade associated with it. It's all about self-motivation."