An Alarming Success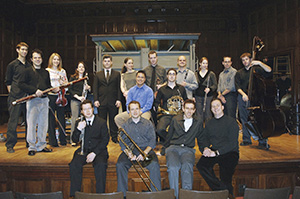 SOUND SYSTEM: Founded as an offshoot of the Eastman student ensemble Ossia, the group Alarm Will Sound tries to gather from across the country at least once a month for concerts and rehearsals.

Known for its virtuoso performances, the Eastman-born ensemble Alarm Will Sound has a mission to 'take new music out to the world.'

When Alan Pierson '06E (DMA) and Gavin Chuck '04E (PhD) gathered 20 Eastman musicians in 2000 to perform works of composer Steve Reich, they dreamed that the group, an outgrowth of the student-founded ensemble Ossia, might gel and continue playing on the cutting edge of contemporary music well into the future.

Six years later, 18 of those original members are still with the group, named Alarm Will Sound, which has been acclaimed by the New York Times as "the future of classical music" and "the very model of a modern music chamber band."

Pierson and Chuck came up with the name one day while working out in a Rochester gym. Chuck says he noticed the emergency exit with the warning: Alarm will sound!

"It conveyed a sense of urgency, which was appropriate because we had a mission to take new music out to the world, and we wanted to do it urgently," says Chuck, an assistant professor of music at the University of Michigan. "We wanted people to take notice."

Take notice they have as audiences across the country have flocked to listen to an adventurous repertoire that ranges from arrangements of 14th-century works to the intricate rhythms of Conlon Nancarrow to pop-influenced works with electric guitars and dance remixes. Several of the performers also are composers.

In December, the group returned to Kilbourn Hall for its first concert since 2001, and this March returns to Carnegie Hall for its second concert there in little more than a year.

The group has developed a following among New Music devotees in New York City. Last October, they played a two-night stand at The Kitchen, a venue on Manhattan's West Side for experimental artists. The performance included a piece with kazoos, works by Ligeti and Benedict Mason, and three of Nancarrow's complex studies written for the player piano, which had been arranged for instrumentation. In one piece, every musician was playing a different beat, so they each had an earpiece with a particular meter piped in from a computer.

"We're taking music that wasn't supposed to be played by humans," Pierson told the audience. "We've figured out the sounds and now we'll make them live."

The band's recordings include works by Reich, recorded at Eastman in 2001, and Acoustica, a spellbinding 2005 release that features music written for computerized equipment that's arranged for acoustic instruments.

Pierson first met Reich while majoring in music and physics at MIT in the mid-1990s. They reunited at Eastman and Pierson wrote his doctoral thesis on Reich's music.

Reich calls Alarm Will Sound the premier large ensemble for new music in the United States, noting that several European countries have similar groups that are subsidized by their governments.

"It's an ensemble of absolutely first-rate musicians who can play in an astoundingly wide range of styles and play them all the way they should be played," says Reich.

While Alarm Will Sound has found success, it's not enough for its members to devote their careers solely to the band. The members make a living as musicians and teachers around the country—in New York, Michigan, Ohio, New Jersey, Missouri, Pennsylvania, and Maryland—and come together at least once a month to play or rehearse. At Dickinson College in Carlisle, Pennsylvania, the group's artistic home since 2004, the band members are musical artists-in-residence.

With musicians spread across the country, it's up to Pierson and Chuck to provide leadership. Chuck handles the finances and management while Pierson is Alarm's music director, focusing both on their next performance and what they may play five years from now. Alarm's other members participate in moving the ensemble forward as well, suggesting projects that may become a piece in an upcoming concert.

"We've created a band that plays together in the deepest way," says Chuck. "We grew up artistically together at Eastman and we've ended up being more adventurous and taking musical risks together. We are all friends, and are in it for the long haul."

Wilson is a frequent contributor to Rochester Review.