A Film Debut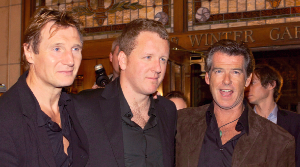 STAR POWER: Actors Neeson (left) and Brosnan (right) signed on to star in Seraphim Falls, the first feature film directed by Von Ancken '87 (center) after reading Von Ancken's screenplay for the Western epic.
David Von Ancken '87 knows a thing or two about delving into the psychological motivation of characters caught in suspenseful situations.
An established television director for CBS crime dramas CSI:NY, Without a Trace, Cold Case, and Numbers as well as for the HBO series Oz, he's known for his ability to capture the different ways that people behave in tense circumstances.
For Seraphim Falls, his debut as a major motion picture director, Von Ancken turns those same skills to the 19th-century American West. The era, he says, provides the perfect backdrop for exploring what makes human beings act in the ways that they do.
"I wanted to make a simple parable about violence begetting violence and about the desire for revenge," Von Ancken says. "It's a primal, elemental chase movie, but it's also about finding out what's important and when to let go of things so you don't destroy yourself."
Released in January by Sony Pictures and Samuel Goldwyn Films, the movie is, as Von Ancken describes it, an "old-school western" with very modern themes. Written by Von Ancken and screenwriter Abby Jacques Everett, the movie is set in the Ruby Mountains of Nevada in the period shortly after the Civil War.
The story hinges on the psychological aftermath of a war atrocity. The movie revolves around a Union Army officer named Gideon who is chased by a Confederate colonel named Carver who has vowed to take revenge for what he sees as a crime against his family.
Von Ancken's story and screenplay attracted high-profile interest early on. Acclaimed actor Liam Neeson signed on for the role of Carver and award-winning actor—and former James Bond—Pierce Brosnan signed on as Gideon. Angelica Huston plays a key supporting role.
The cinematography was overseen by John Toll, the Academy Award–winning camera man behind Braveheart, Legends of the Fall, and The Thin Red Line.
Von Ancken says one challenge of the production was that nearly all of the filming—46 out of 47 days—was shot on location in the mountains of New Mexico and Oregon during the fall and early winter of 2005. At the mercy of the weather and, in some cases the altitude, he hoped the onsite filming would add a layer of authenticity to the performances.
"I wanted it to be real," he says.
A history major at Rochester, Von Ancken took only one film class as an undergraduate.
"And that was the only film class I ever took," he says.
After graduation and a brief stint as a real estate appraiser, he launched his career as a filmmaker and director by shooting commercials and music videos. In the 1990s, he directed several off-Broadway plays.
In 2001, he directed a short film called Bullet to the Brain, based on his own adaptation of a short story by Tobias Wolff, that won several awards, including the top prize at the Million Dollar Film Festival, an online film festival sponsored by Universal Studios.
Viewers selected Von Ancken's movie as one of the five best of the year. Filmmaker, independent film's main publication, named him one of the "25 New Faces of Independent Film" for 2001.
Von Ancken says he has long been intrigued by the period in which the movie takes place. He spent six months researching the era and writing the story before turning it into a screenplay.
The idea of making a western seemed natural.
"To me, the best westerns have a mythic nature to them," he says. "Anytime you take two men and strip them to their primal essentials, you have a myth.
"Once you get into nothingness, you're left with the person you're looking at—yourself, and there's a mythic quality to that."
—Scott Hauser