'House' Mover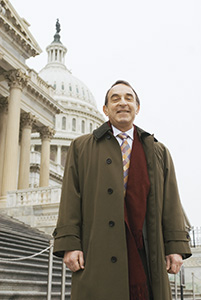 TRANSITION TIME: Richard Meltzer '69 was chosen by California Representative Nancy Pelosi, the new Democratic Speaker of the House, to help oversee the transition to a Democratic majority in the House of Representatives after last fall's midterm elections. A longtime Washington attorney, Meltzer has divided his career between private practice and several staff roles on Capitol Hill.
In the economy of Washington, D. C., expertise is a highly valued currency. Just ask Richard Meltzer '69. His own expertise in Congressional matters takes him from Capitol Hill to what he calls "civilian life" in a legislative services firm, and back again.
Most recently, Meltzer was on Capitol Hill to oversee the transition of power in Congress in the wake of the 2006 elections.
Meltzer was chosen by new Speaker of the House Nancy Pelosi of California to serve as the top aide to the Democratic transition team.
"I work closely with House officers, the administrative arm of the House," he says of his advisory role that involves decisions on budgeting, equipment, personnel, and room assignments.
As transition coordinator, Meltzer worked with Pelosi and Representative Mike Capuano, a Democrat from Massachusetts, in planning for Democratic control of the House in the 110th Congress.
"This is only the third transition in 75 years," Meltzer noted this winter as the change was under way, "so there's not a lot of experience in doing these things, and we're learning as we go."
An English major at Rochester, Meltzer taught high school English for three years before heading to law school. In 1975, he went to Capitol Hill for the first time to serve four years as chief legislative assistant to then Representative Abner Mikva, a Democrat from Illinois.
Since then Meltzer has crafted a career that carries him between the offices of Washington Council Ernst & Young and Congress. On Capitol Hill he has held a number of pivotal appointments, including chief counsel to the House Natural Resources Committee, staffer for the Select Subcommittee Investigation on the United States Role in Iranian Arms Transfers to Croatia and Bosnia, and chief Democratic counsel to the House Select Committee on U. S. National Security Concerns with the People's Republic of China.
While Meltzer wasn't a student of politics as an undergraduate, he traces his career back to his days at Rochester.
"You couldn't really be in school then and not be interested in politics and government," he says.
He credits Hayden White and others then on the history department faculty with helping students make sense of tumultuous times and imagine roles for themselves in government and politics.
"The world was an exciting and scary place, and these guys helped to put it in order," Meltzer recalls. "And that has kind of stayed with me."
Meltzer married classmate Judith Levy Meltzer '69 two weeks after graduation. Daughter Cassie '02, third of their four children, followed her parents to the University but chose the mirror image of her father's experience. Cassie graduated with a major in political science and today is a teacher.
With work on the transition complete, Meltzer plans to return to his firm—for now.
"I think I might be getting close to holding the record for moving back and forth," he says.
—Kathleen McGarvey