Television Specials
Faculty Featured in Spring PBS Programs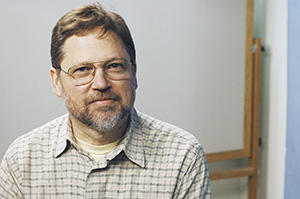 BROADCAST NEWS: Supalla (above) is featured in Through Deaf Eyes; Butler (below) discusses evangelist Aimee Semple McPherson in Sister Aimee.
Set your TV recorders—two Rochester professors, Ted Supalla and Anthea Butler, are featured in programs airing on PBS this spring.
Supalla, director of the American Sign Language Program, appears in Through Deaf Eyes, a film on the history and experience of the deaf community in the United States since 1814. The two-hour documentary explores issues surrounding the culture, language, identity, technology, education, and the experiences of deaf people.
In the film, Supalla, who is also associate professor of brain and cognitive sciences and of linguistics, discusses the "Supalla family accent," his family's unique use of American Sign Language.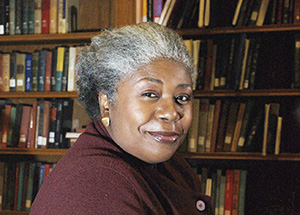 Butler, an assistant professor of religion, arranged the initial contact and meeting between film producers and church leaders for Sister Aimee, a documentary on early 20th-century evangelist Aimee Semple McPherson.
Besides serving as a consultant, Butler was interviewed on film at the Angelus Temple. She discusses McPherson's massive preparations—including police escorts and pre-appearance photo opps—for her healing and preaching tours, which often featured elaborate drama productions.
Through Deaf Eyes is scheduled for national broadcast at 9 p.m. on Wednesday, March 21. Sister Aimee will air as part of the American Experience series at 9 p.m. on Monday, April 2. Check the listings of local PBS stations for exact broadcast date and time.