Faculty
Pioneering Inventor Named to New Professorship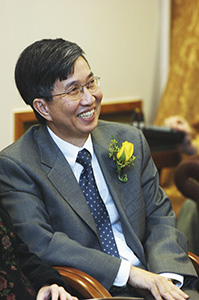 LIGHT LEADER: Ching Tang, considered the father of a technology that has spawned a new generation of vibrant, energy-efficient electronic displays, joins the College faculty as the first Doris Johns Cherry Professor.
Whenever Ching Tang visits his native Hong Kong, he cannot help but marvel at the stunning display of lights that illuminates the commercial area around the island country's famous harbor.
Dotting the landscape are the glowing names of Kodak, Sony, Sharp, Hitachi, Samsung, and the names of other corporate giants that have a special resonance for Tang because they all are working to commercialize one of his major advances as a scientist. Each company is developing applications based on his breakthrough work on organic light-emitting diodes (OLEDs), a technology that allows glisteningly sharp flat-panel displays that use less energy and are thinner than current displays.
"All these companies have something to do with OLEDs," Tang says. "This is my hometown, and I like that."
Considered the father of the OLED industry, Tang is an internationally regarded pioneer whose work in OLEDs, solar cell technology, photovoltaics, and other fields have had broad influence. The holder of more than 70 patents, he is a fellow of the American Physical Society, of the Society for Information Display, and was recently elected a member of the National Academy of Engineering.
A longtime researcher at the Kodak Research Laboratory in Rochester, he joined the faculty of the College of Arts, Sciences, and Engineering this year as the University's first Doris Johns Cherry Professor with appointments in the Department of Chemical Engineering and in the Department of Chemistry.
"Our commitment to new alternative energy sources and flat-panel displays will be greatly enhanced by Ching's leadership in these fields," says Shaw Chen, chair of chemical engineering. "Other programs across engineering and the sciences will also be well served by the interdisciplinary nature of his research."
The University celebrated Tang's appointment as the first Cherry professor with a ceremony this January. Named in recognition of a gift from a 1943 graduate of the College (see page 9), the professorship is the latest in a series of appointments designed to highlight the achievements of Rochester faculty.
Tang published his major work on OLEDs in 1987, calling it a "very simple concept" that took years to perfect.
"You turned it on, and you watched it die in front of you," he noted of his early work.
But by 2000, Kodak had introduced a five-inch display based on the technology, and in 2007, Sony hopes to introduce a 27-inch OLED TV.
In 2005, CNN named the development of OLEDs as the 17th most important innovation of the past 25 years. During a brief presentation, Tang, who as a youngster was a student in a village school that had no electricity, highlighted the people who have influenced him along the way to becoming one of the world's leading researchers of the study of light.
He paid special tribute to his wife, Leslie Schwartz, a 1975 graduate of the University.
"I knew if the place was good for her, then it would be very good for me," Tang said of taking the new appointment.
—Scott Hauser
---
In addition to the appointment of Ching Tang as the first Doris Johns Cherry Professor at the University, several notable Rochester faculty members were named to existing professorships.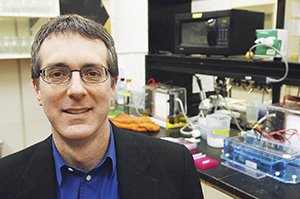 H. Allen Orr, professor of biology, has been named the Shirley Cox Kearns Professor. Announced in 2000, the professorship honors Shirley Kearns, the wife of David Kearns '52, a former chairman of the University's Board of Trustees and current senior trustee.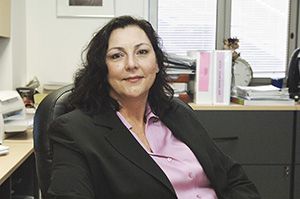 Joanne Larson, a professor and chair of teaching and curriculum in the Warner School, has been named the Michael W. Scandling Professor. The professorship was created as part of William F. Scandling's multimillion dollar gift in 1993 to the University and honors his son, Michael. In recognition of Scandling's 1993 gift, the school was renamed in honor of William Scandling's wife, the late Margaret Warner Scandling '44.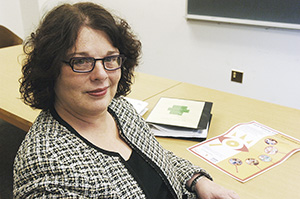 Lucia French, a professor of counseling and human development and of teaching and curriculum in the Warner School, has been named the Earl B. Taylor Professor. The professorship is named for a 1912 graduate and onetime school superintendent who directed summer session and founded the former Division of University Extension in the 1940s. The University's Taylor Hall also is named for him.
---
University Was 'Family'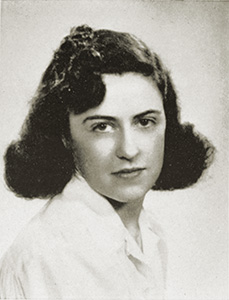 NAMESAKE: Doris Johns Cherry '43
A quiet, unassuming woman who rarely talked about herself, Doris Johns Cherry '43 surprised even her closest friends with her estate gift to the University.
"The U of R meant a lot to her," says Bethyne (Bunny) Pink Wagner '43, who first met Cherry when they were students in the then Women's College on Prince Street. They remained friends until Cherry's death on January 17, 2005. "Our social group of friends there was family, and more like family than she'd ever known."
The group of students, who played bridge regularly in Cutler Union after lunch, continued to get together after graduation. The remaining members still meet a couple of times a year for lunch.
An economics major and a member of the Theta Eta sorority, Cherry returned to the University in 1950s, when she worked for eight years in the benefits office. She later joined the Rochester law firm of Wiedman & Wiedman, where she worked until the mid-90s.
Friends recall Cherry as an incredibly independent woman whose stylish hair began turning white in college, shortly after her mother's death.
"She always gave an appearance of being—and she was—a lady," says Jane Schmitt '43.
Most of all, she is remembered as a loyal friend who joined committees when asked, including serving as communications chair for her 50th reunion.
Says Schmitt: "She was just a nice person to have around."
—Robin L. Flanigan