School of Medicine and Dentistry
Bluegrass and Bedside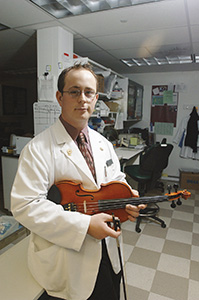 HANDS-ON: Medical student Taylor Buckley, who plans to specialize in the study of hands as an orthopedist, released his first CD of original songs and his own arrangements of bluegrass and jazz standards in 2006.
Medical student Taylor Buckley '04 balances music and medicine. By Enid Arbelo
By the age of 4, Taylor Buckley '04 was sawing away on his fiddle in the family band. And by the time he entered high school, the Roundup, Montana, family was on its second CD.
"Music has been in the family a long time," he says of his childhood immersion in the sounds of traditional folk, bluegrass, and swing. "I was kind of born into it."
Today Buckley, a student in the School of Medicine and Dentistry, wants to be an orthopedic surgeon and specialize in understanding hands, a part of the human body that he's become particularly interested in as a musician.
Meanwhile he keeps music in his life. Last summer, he released his first solo album, titled Big Green Field.
The album ranges from traditional and contemporary bluegrass to jazz and features several original compositions. His mother, Jeanne, sings the vocals on two songs, and his brother, Reid, a senior in high school, plays the trumpet on the jazz standard, "I'm Going To Sit Right Down and Write Myself a Letter."
"There were a lot of musicians that I got to work under and be around, so I know that helped me incorporate a lot of different styles into my music," Buckley says. "Musically, the album is a pretty diverse set of tracks."
When Buckley first decided to go to medical school he feared that the demands of studying would mean putting his favorite pastime on hold. Finding a place for music took some time.
"All throughout school I wanted to maintain a balance," he says. "To be able to do this project the second year of medical school. . .and actually pull it off—I'm pretty proud of that."
When Buckley came to Rochester as an undergraduate, he didn't venture out into the music scene.
But as he began to feel a little more at ease with college life, he started meeting musicians who shared his interest in bluegrass and made his way into the unfamiliar territory.
Soon he joined a band called Lost Time. Although the band members aren't college-aged—most are married and middle-aged—Buckley found his place among the group. And he has been playing at summer festivals statewide ever since.
About three years ago, Buckley reconnected with April Verch, a Canadian fiddler, whom he met as a teenager attending fiddle camp in western Canada. Together, they composed music and became friends. When Verch needed a guitarist for her band's northeastern tour during the summer of 2003, Buckley packed up his gear and spent eight weeks touring from Nova Scotia to Boston.
"To go on the road and play full time is something I always wanted to do," he says. "But I also knew I wanted to go to medical school."
This year Buckley is taking time off from medical school and doing research as a student fellow in the musculoskeletal research center. After graduation, he plans to keep music as an integral part of his daily life.
"At the end of the day, a happy doctor is going to make a good doctor."
---
Ramblers Picked for International CD
The Midnight Ramblers, an all-male Rochester a cappella group, are one of only seven collegiate ensembles—and only one of 18 worldwide—chosen to appear on the international a cappella compilation album titled Sing Three.
The Ramblers' performance of the song "Question!", originally recorded by alternative metal band System of a Down, was selected to close out the 18-track album. Joshua Hatcher '08 is the soloist.
Sing Three was distributed by the Alliance for A Cappella Initiatives, a nonprofit organization dedicated to showcasing the best in a cappella around the world. In order to be chosen, the Ramblers had to submit their tracks to a rigorous selection process.
The album, along with other CDs, can be ordered online at www.midnightramblers.org.