Professional Development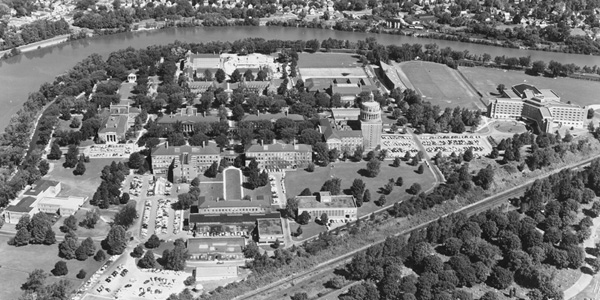 Calling it one of the most significant academic developments in the University's history, Rochester launched new professional schools in business, education, and engineering in 1958. To celebrate this milestone year, we'll explore where those programs are today and where they hope to go in the future. In this issue, leaders of Simon and Warner talk about their plans. Look for engineering in the fall.
By Scott Hauser
When the change was announced in February 1958, it was described as "the most significant academic development at the University since the opening of the Eastman School of Music in 1921 and of the School of Medicine and Dentistry in 1925."
After two years of study by a faculty committee and following the approval of the Board of Trustees, Rochester administrators introduced a reorganization plan that would create a new College of Education, a new College of Engineering, and a new School of Business Administration.
President Cornelis de Kiewiet noted that with their new stature, the units would have more autonomy to pursue their academic development and programs. But he also recognized that elevating the programs to a new professional and graduate school status would put them in a better position to attract outstanding faculty and students and to earn greater financial support from business, the federal government, and private foundations.
The moves also bolstered Rochester's position as a research university made up of academic units devoted to particular fields.
Recalling the theme of the campaign that helped pave the way for the merger of the men's and women's colleges on the River Campus in 1955, de Kiewiet told the Campus Times that the new schools would "change the profile of the University."
"They are, however, part of a larger program of creative change," he said. "[The University's] program of strengthening graduate studies is in line with the nation's need for men and women with the highest academic qualifications."
As Rochester celebrates the 50th anniversary of that creative change, we ask the deans of two of the University's most prominent programs where they hope to lead their schools in the future.