The Art of Translation
A new academic program—and a new publishing house—are giving Rochester students the opportunity to take a global view of literature.
By Kathleen McGarvey
Susannah Snider '08 was facing a conundrum familiar to literary translators, but for the senior Spanish and comparative literature major from Iowa City, the situation was new—and intriguing.
An intern at Open Letter, the University's new publishing house dedicated to international literature, Snider was asked last fall to translate an excerpt from Isaac Rosa's Spanish novel ¡Otra Maldita Novella Sobre la Guerra Civil! (Not Another Damned Book about the Civil War!).
She quickly realized that she would have to deviate from the literal translation.
First, she figured, American readers wouldn't realize which civil war the title refers to, so she inserted the modifier "Spanish" in her English version.
But the content of the book presented trickier problems.
"The book talks about the clichés of Spanish Civil War literature," Snyder says. "It was really hard to get across that those are clichés" to an audience unfamiliar with works the Spanish author assumes readers will know.
"The biggest challenge is trying to get not just the words but the tone and the style," Snider says. "It's a balance between faithfulness to the original text and capturing the tone of the work, because sometimes you sacrifice one for the other."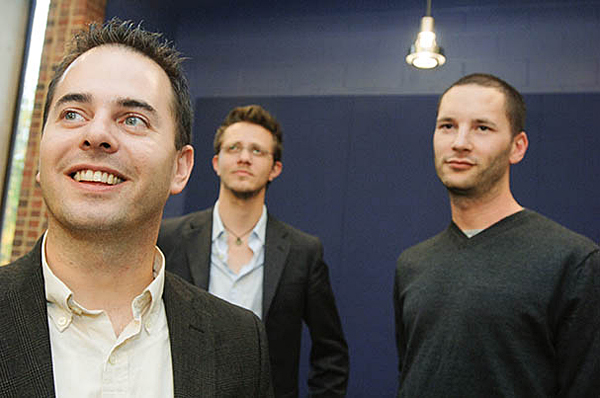 Learning how to reconcile those competing priorities—and appreciating the balances between them—is an apt description of the art of literary translation, say practitioners. Long familiar to editors, scholars, and readers of literary work in translation, the questions of metaphor, meaning, and idiom across languages will be increasingly familiar to Rochester students, too, thanks to a new undergraduate certificate in literary translation offered by Arts, Sciences & Engineering.
In conjunction with the new interdisciplinary program for undergraduates (plans for a graduate certificate program and a master's degree in literary translation are also in development), the University established Open Letter to publish notable literary works in translation, cultivate an audience for translated literature, and give students an introduction to professional translation and publishing.
Chad Post, director of Open Letter, says the programs aim "to help train a new generation of literary translators, to expose students to the intellectual issues present in translation, and to help create a desire to explore and appreciate literature from other parts of the world."
From the perspective of U.S. readers, there's plenty of work to appreciate. Only about 3 percent of all books published in the United States are works in translation.
Launched in the summer of 2007, the new press has 14 books under contract. Its publications will appear beginning in September, with one book coming out each month (see sidebar).
"We're one of the only nonprofit publishers to be housed at a university that isn't doing academic books," says Open Letter editor E. J. Van Lanen. "They're books for the trade market," which means that readers will be able to find them in their local bookstores.
Nevertheless, the bonds between Open Letter and the University's academic literary translation program are tight.
"Chad Post began working with students from the day he arrived on campus," says Thomas DiPiero, senior associate dean of humanities.
Because Open Letter is a nonprofit publishing house, editors are able to select the books they publish based on their sense of the volumes' cultural value, rather than their marketability.
"We don't have to restrict ourselves to publishing only those books that are most likely to appeal to a wide audience," Van Lanen says. "We think, is it something special? Is it going to have an impact?"
The partnership with Open Letter makes Rochester's program unique among university translation programs. Internships with the press provide students in the certificate program with hands-on experience in translation publishing.
"The partnership is part of what generates the excitement of students and faculty in the program," says Joanna Olmsted, dean of arts & sciences. The program draws on the interests of people in such varied departments as English, modern languages and culture, and religion and classics, she adds.
Through the program, students learn not just about translation but also about their role as translators.
"They're cultural ambassadors," says Post. "Students' work with the press can also help establish connections to publishers, booksellers, authors, and other translators, relationships that will be valuable for students who choose to pursue translation professionally.
"That's something the program can expose students to that I don't think is possible at any other translation program in the country," Post says. Students will leave the program with experience both in "the practice of translation and the business of publishing," he says.
The academic component of the program, meanwhile, helps students investigate another two-fold dimension of translating: the relationship between theory and practice.
John Michael, professor and chair of the Department of English, developed and taught Studies in Translation, a new core course for the undergraduate certificate program.
As he led students in what he calls a "hybrid course that combines theoretical issues with the practice of translation," Michael helped students recognize the aesthetic and ethical questions that underpin the act of translating literature from one language to another.
"There's a certain pleasure in being able to translate," he says. "It's sort of like being able to swim, to immerse yourself in another language."
But, he says, there's always a question at the center of translation, one "that you can't really answer but instead need to keep negotiating: When you're translating, are you trying to present a text that will be foreign to its readers or to produce a text that will be familiar to them?"
He says students are enjoying the intellectual questions raised by translation, including the key ones of latitude and obligations of the translator.
"You're trying to capture something almost intangible in your experience of the text in another language," Michael says. "It's not a case of just duplicating, because you can't. It's always a question of reinvention."
Rhea Lyons '08, an English and Spanish major from Greenwood Village, Colo., is pursuing a certificate in literary translation. A student in Michael's course last fall, she's interning this spring with Open Letter.
In the course, Lyons says, students read various translations of a single text as well as the original.
"It's cool to see which problems each translator chooses to tackle," she says. "I personally prefer the ones that preserve the metaphors.
"Making an author's voice available in a different language is the biggest challenge in translation," Lyons adds.
Post says most people acknowledge that an original text and its translation are two different things. At Open Letter, "we try to retain the flavor, but we also want to make sure we're reaching as wide an audience as we can."
How the problem of readability and faithfulness is resolved, Van Lanen says, "is unique to each situation."
But he says that there are some constants.
"I always think good translations are sort of transparent, that after you've been reading it, you forget it's a translation. So as an editor, you try to remove the obstacles to transparency."
When editing a contemporary work in English, he notes, the editor can always discuss issues with the author.
"With a translation, it comes to you already a little bit unalterable" because editors can't fully know the significance of any changes they might make.
But Van Lanen enjoys the limits translated texts can impose on an editor.
"It's a nice constraint to have, because when you're editing in English, you have more freedom and it's more difficult to know where, or how, to start."
Lyons, who is considering publishing as a career, shares that enthusiasm.
"You don't know how much fun translation is until you do it."
Kathleen McGarvey is an associate editor of Rochester Review.