A New Kind of Summer School
High school students in Rochester's newest summer program get a richer taste of college life by learning—and living—on the River Campus.
By Joseph Sorrentino
Since both his parents are doctors, Christopher Botash often thought he might want to become a physician himself. But the 17-year-old from Manlius, N.Y., had his share of questions.
"I know what they do, what that kind of life is like," Christopher says of his parents, Ann and Robert Jr. "But I don't see a lot of the hospital and don't know a lot about pre-med."
So where does an aspiring—if questioning—doctor go to learn more about medical science?
Christopher, along with his twin sister, Katherine, signed up for Rochester On Campus, a new precollege summer program designed to give academically talented high school students a chance to live on the River Campus, take classes, and learn more about themselves and about college.
The program, which kicks off its third year this summer, is part of a growing trend among universities nationwide to offer experiences that give young people a more engaging sense of what it's like to be a college student.
"I wanted to get the experience of college before actually going off to school," says Katherine. "We both liked Rochester and were interested in applying. We decided to go and take some courses."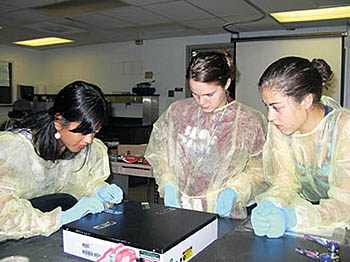 The two siblings are far from alone in their interest in experiencing college life early. While the academic mythology says that residential campuses empty themselves each May as graduating seniors head off to new jobs and returning students head home until the fall, for nearly 20 years, Rochester has offered a range of summer courses for middle and high school students.
Rochester On Campus, administered by the College's Office of Special Programs and Part-time Studies, offers a new take on that approach. As its name implies, the program gives students a fuller picture of college life by allowing them to stay in dorms on campus—away from their parents—for up to four weeks from mid-July to early August.
While at Rochester, students take courses that introduce them to college-level topics but that are also geared toward their interests.
Learn More
The 2008 edition of Rochester On Campus runs from July 14 to August 8. For more information, visit www.rochester.edu/osp.
This year's catalog includes classes such as "What's Up, Doc? Exploring the Pre-Med Experience," "Musical Theater: Broadway and Beyond," "Can You Hear Me Now? How Humans Perceive and Localize Sounds," "Build a Mobile Robot," "Digital Art," "As Easy as Saying Sushi: An Introduction to Japanese," and "Forensic Files: The CSI Phenomenon."
First offered in 2006, the program enrolled 31 students from more than 10 states and four countries last summer and expects about double the number of students this summer.
Gayle Jagel, director of the Office of Special Programs and Part-time Studies, says the residential nature of Rochester On Campus expands the possibilities for the program enormously.
Allowing students to live on campus makes enrolling in the program more feasible for families outside the immediate Rochester area, giving it a broader geographical reach.
But it also makes the program richer as a learning experience.
"Adding a residential component allows a student to live on campus and, essentially, be a college student," she says.
That appeals to many families, including families of alumni such as David '78 and Diane Marshall Ennist '78, whose daughter, Claire, took part last summer.
The Maryland resident has been accepted to Rochester, where she'll play basketball and, probably, major in English.
"We're thrilled with her being there," says Diane, who was inducted into Rochester's Athletics and Recreation Hall of Fame in 2006 as a former member of the Yellowjacket basketball team. "She was really excited to be on campus, checking it out for herself. It's like it's a chance for us to do it all over again, and we're having a lot of fun with it."
Richard Feldman, dean of the College, says such connections help build ties across the life of the University.
"It helps build a sense of tradition, a connection to the University," he says. "It does give a sense of belonging."
Adds Jagel: "This deepens the relationship between the initial graduate and the next generation. It gives them a common experience, a bond between generations. A parent can tell their child they walked through the same hallways, across the same quads."
To help oversee the students, each dorm floor has a summer resident assistant, who plans activities and day trips and is available to offer some direction to students.
For courses, students may choose one- or two-week noncredit classes or may take classes for credit through Rochester's "Taste of College," a four-week program for students interested in getting an academic headstart on their college careers.
One of Rochester On Campus's goals is giving students a chance to explore their career choices in depth.
"A lot of what we offer are 'Careers In . . .' classes," says Andrea Galati, the program manager for Rochester On Campus. "In 'What's Up Doc,' a student gets a real taste of being a med student or MD. They're in the hospital, they talk with surgeons, and they talk with med students."
Christopher Botash signed up for that one and for a class called "Natural Born Killers," a course in microbiology that focused primarily on diseases. Both helped him clarify his academic goals.
"The program really opened up a door for me," he says. "Med school does seem overwhelming, but I feel like I'm ready to try it."
And while his experience also convinced him to apply to Rochester, his sister Katherine, while enjoying her time on campus, decided to apply elsewhere.
That doesn't surprise or disappoint Jagel.
"We never designed the program as a recruiting tool," she says. "We designed it as a tool for students to experience college life, to help them clarify their educational plans."
Students also learn about themselves—and their families.
"I had to do my own laundry, wake up for class; I pretty much had to do everything myself," says Evan Sun of Scarsdale, N.Y., who enrolled for three weeks last summer. "This really helped show me I can handle being on my own."
The program also gave him some surprising insights. "I actually appreciate my parents more now."
While some participants may have a sense of the direction they want to go in their studies and careers, others, like Janine Desoi, are less sure.
She took an unusual mix of classes: Musical Theater and Rochester CSI.
"I wasn't sure if I'd be interested in taking science in college, but the teacher was really good," says the Maine native. "I'm probably going into biology."
Giving students the chance to see the possibilities available in an academic setting is one of the main goals of the program, says Jagel. Rochester On Campus models its academic approach on Rochester's highly regarded curriculum in which students take responsibility for mapping out an academic program based on their interests and the passion they have to pursue them.
"We want students to appreciate that mix of freedom and responsibility, because students who love what they learn become deeply invested in their studies," she says.
And, like most college students, they become invested in each other.
Many graduates of Rochester On Campus keep in touch by e-mail, phone calls, and private groups on Facebook.
"My roommate and I still keep in touch," says Claire Ennist. "She's applied to Rochester and if she gets in, we're going to be roommates. I didn't expect that kind of friendship in one week."
The children aren't the only ones who experience a difference.
"We definitely saw some changes in him when he got home," says Christina Lai-Sun, Evan's mother. "He was more independent; he seemed a little more mature.
"It's always difficult when a child goes away," she says. "But now, when he does go away for school, I'll be better prepared."
Joseph Sorrentino is a Rochester-based freelance writer.