Making a 'Racket' for Rochester
With a roster drawn from all corners of the globe, the Yellowjacket squash team is returning to national prominence.
By Ryan Whirty
Hameed Ahmed '11 began playing squash as a kid because his father operated a squash club near their family's home in Finland.
"I played my first tournament when I was 6," Ahmed says, "and ever since haven't been able to stop."
Yohay Wakabayashi '10, meanwhile, also learned the game at a club with his father: The youth would visit the Tokyo American Club in his native Japanese city before playing competitively at a boarding school in Massachusetts.
Englishman Jim Bristow '10 tells a similar story. The sophomore visited a squash club in Torquay, England, with a friend when he was 8 years old. It didn't take long for him to be bitten by the squash bug.
"When I started to beat people a lot older than me," he says, "I realized I was quite good and started playing tournaments."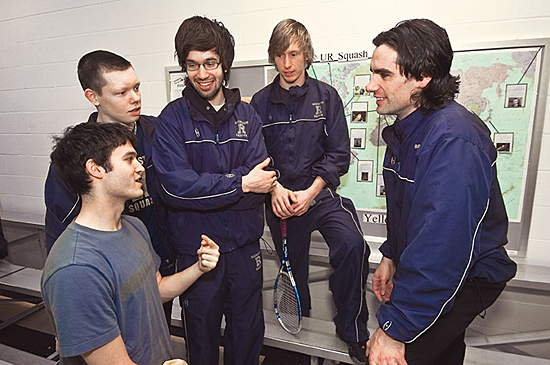 But despite growing up and learning the sport in three different countries, Ahmed, Wakabayashi, and Bristow all somehow ended up in Rochester—in a region known for its snow, not its squash—and now find themselves playing for the same club.
That club is the Yellowjackets varsity squash team, a program that has a rich tradition of success, but that over the past decade or so had not been prominent on the national scene, much less internationally. Over the last few years, though, the Yellowjackets have undergone a rapid and remarkable rise through the American collegiate squash ranks.
Coming from all corners of the globe, the young men are restoring Rochester as a squash power.
A final season ranking of No. 10. The program's first-ever Liberty League championship. Repeat honors as the country's most improved team. A pair of All-Americans. It's all been achieved by the Yellowjackets over the past two years, and they believe they're not done yet.
At the center of the whirlwind of success is Martin Heath, a modest, cheery Scotsman who arrived in Rochester after a stellar playing career of his own and who took charge of the program by recruiting talent from around the world.
As Wakabayashi simply puts it: "Martin is a very special person to the UR squash program."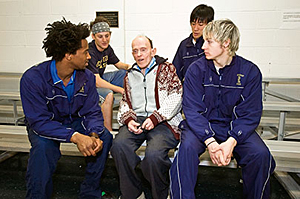 The successes were a trickle at first. In 2006, six months after Heath became head coach, the Yellowjackets won their second straight Conroy Division title at the Collegiate Squash Association championships.
A year later, the Yellowjackets had shown such improvement—including a No. 16 national ranking—that they were bumped up two brackets at the CSA team championships. Their solid showing earned the Barnaby Trophy as the most improved collegiate team.
But things really started to snowball during the fall 2007 campaign. In November, the Yellowjackets put on a squash clinic at the Liberty League championships, dominating their four opponents en route to the program's first league crown.
In January, Rochester scored major road wins over Bates and Bowdoin, which were both ranked ahead of the Yellowjackets at the time of their matches. With those victories, the team jumped seven spots to No. 7 in the CSA poll, the program's highest ranking ever.
The Yellowjackets eventually improved to 13–1 before entering the 2008 CSA team championships in February. Playing in a higher bracket, Rochester held its own against the nation's best teams before ending the season with a 15–3 mark and a final ranking of No. 10. Rochester had officially taken a spot in the collegiate squash elite, finding itself among such powerhouses as Penn, Princeton, Harvard, Trinity, and Williams.
In just two years, the Yellowjackets had gone from Liberty League contenders to Liberty League champions, from No. 25 in the country to No. 10.
"It's been a meteoric rise," says Rochester Athletic Director George VanderZwaag. "It may be unprecedented. Other teams are clearly seeing us as a top-10 team."
Adds Heath: "It's fantastic that we've come so far in a short amount of time."
Squash, Anyone?
The sport of squash traces its roots to the early 19th century when it evolved from other British racket games like racquets and fives. Squash got its name when boys at boarding schools found that a punctured racket made a "squashing" sound and allowed for a wider variety of shots.
Similar to the generally American game of racquetball, squash is played on an enclosed, 32-by-21-foot court with a racket and a small, hollow rubber ball.
As with racquetball, a squash game is started with one player serving the ball off the front wall, the other player returning the serve, and then the players taking turns hitting the ball off the front wall, or rallying. Players must strike the ball before the ball bounces twice and, with their hit, must strike the front wall without letting the ball hit the floor. Points are scored if one player fails to do either.
A key difference from racquetball involves where the ball can hit the front wall. In racquetball players are allowed to land the ball anywhere on the wall, but in squash the ball must strike below an "out" line 15 feet high and above the top of an 18.9-inch-high "tin" at the bottom of the wall.
Usually played to nine points and in best-of-five matches, squash is a physically demanding sport, requiring excellent aerobic endurance. Striking a ball and placing it so your opponent can't return it also requires a great deal of skill.
"I love squash simply because it's you and some other guy in a small box fighting to win every point by maneuvering each other around the court," says Yellowjacket team member Jim Bristow '10. "It's like a combination of chess and boxing with a racket and a ball."
—Ryan Whirty
In the late 1950s, Tom Forbes '59, a member of the Rochester student council, wondered about the possibility of starting a squash team. He approached Peter Lyman '47, the coach of the varsity tennis team at the time.
"He said, 'You look like the closest thing to a squash coach here,'" Lyman recalls.
Those were the humble beginnings of not only the Rochester squash program, but also the squash coaching career of a man who, in 1999, received the Lifetime Achievement Award from the National Intercollegiate Squash Racquets Association. Lyman would serve as head coach of the squash team for more than 40 years before retiring in 2000.
By the time of his retirement, Lyman had brought the Yellowjackets as high as No. 11 in the national polls three different times, and he mentored multiple All-Americans, such as Paul Muntner '91 and also Rishad Pandole '96, who is widely regarded as one of the best players in Yellowjacket history.
Another of Lyman's charges, Tim Londergan '65, was named a Rhodes scholar while excelling at No. 1 singles for the Rochester squash team. Steve Rumsey '85 joined the squash team despite never having played before; he went on to win the Rochester district singles title.
As he reflects on his long career and the accomplishments of earlier teams, Lyman says the current squad is poised to maintain those lofty standards—and maybe set some of its own with Heath's guidance.
"He's gone beyond what any of our teams did," the retired coach says. "The current team is probably the best team we've ever had here."
That respect goes both ways. While Lyman lauds the program's youngsters, the current coaches and players maintain a keen appreciation of the tradition they are upholding.
"He was the team," Heath says of Lyman. "It's impossible for me to live up to that legacy. I have the utmost respect for Peter and what he's done."
The team's current members frequently have opportunities to interact with that storied history—Lyman and other alumni routinely attend matches to offer enthusiastic support.
Ahmed says when the Yellowjackets see Lyman and past players rooting them on from the stands, it spurs them to do well.
"The squash program definitely has a long history, and obviously there is some pressure," Ahmed says. "But then again, it's so nice to see old alumni, together with coach Lyman, coming to watch our matches and cheer for us. So it's positive pressure, and that motivates at least me personally."
On the back wall at the squash courts in the Goergen Athletic Center hangs a large map of the world. Pasted at points on the map are photos and biographical information of each member of the varsity squash team.
From each picture runs a thread that leads to each player's native country on the map. For Ori Goldman '09, the string points to Israel, while for Alamdar Murtaza '08, the line goes to Pakistan. The strings crisscross the map in what seems a random web.
But the internationalization was a key part of Heath's plans. The map also features a photo of Heath, whose string runs to Scotland. In the accompanying biographical info card, Heath is asked why he came to Rochester and what his goals are.
His answer? "Wanted to create a diverse, international, and successful squad."
In just two years, Heath has achieved all three, and some might argue, the last goal has been achieved as a direct result of achieving the first two.
"Martin has brought in great international players," says Frederick Reid '11, a freshman from Ajax, Ontario. "We've been getting great recruits this year, and the team has been skyrocketing. Every player on the team brings an aspect of the game to the team. We all learn from each other."
"That is absolutely by design," Heath says of his squad's international makeup. "It's important to get different cultures and ways of thinking. It's a great experience for the kids to be in that international landscape."
Heath has been able to attract and recruit prime international players because he was one himself. In addition to winning multiple national championships in Scotland, for many years he was a member of the Professional Squash Association's world circuit, spending six straight years ranked in the world top 10, reaching as high as No. 4.
But in addition to garnering accolades for his on-court achievements, Heath's experience traveling the world has helped him forge friendships and connections with squash players, coaches, and enthusiasts all over the globe.
Now as head coach, Heath is taking advantage of those connections, employing them to contact and recruit players from areas of the globe where squash is a much more popular sport than in the United States.
"He was a great international player, and he's retained a high level of respect," VanderZwaag says. "As a result, we're starting to attract the best players from around the world."
VanderZwaag says Heath brings even more to the table when he sits down with a potential recruit—Rochester's reputation as a world-class academic and research university.
"The best players take us seriously as an institution," VanderZwaag says. "The reason they've chosen us is because of our academic standing. The selling point for them is our strong pursuit of academics."
Heath's players agree that quality academics form a key component of the squash program. They also find unity by learning as much as they can about each teammate's background and culture.
"The team is a lot of fun," says Ahmed. "With around 10 different nationalities, you hear many interesting stories and learn new things about several countries. Everyone comes along with everyone and adds something special to the group."
The team's common goal is as unequivocal: The Yellowjackets all want to become one of the best programs in the country, one that could challenge for a No. 1 ranking in the not-so-distant future.
Ahmed points out that several of the country's top-ranked teams—including 10-time national champ Trinity—are coming to Rochester next season. "I think that's a sign that everyone's taking us seriously and sees us as potential challengers for the title."
Heath's goals are a bit more modest. He's hoping for a top-four finish in the near future. But, even he adds, "If we're that close, we should give it a go to No. 1."
Both Heath and the players are excited about the program's incoming freshmen recruits, and with Heath's continued ability to attract topflight international players, success could be sustained for many years to come.
And, inevitably, that's what the program's recent success comes back to: Heath's abilities as a coach.
Lyman, who knows a thing or two about being a good squash coach, agrees.
"It's a great inspiration to have him here," says Lyman. "Coach Heath is doing a tremendous job."
For Heath, the program's future success depends on spreading the news about Rochester squash. He says that with so many positive attributes—international diversity, excellent coaching, alumni support, world-class academics, and, of course, exponential improvement on the courts—Rochester should become synonymous with top-level squash.
"We're getting the word out," he says. "We're trying to change people's perspectives. We want to make this a school squash players really want to come to."
Ryan Whirty writes about sports for Rochester Review.