Q & A
Meet the Chairman
Rochester is poised to grow, become better recognized, and rise among its peers, says Ed Hajim '58, the new chairman of the Board of Trustees.
By Scott Hauser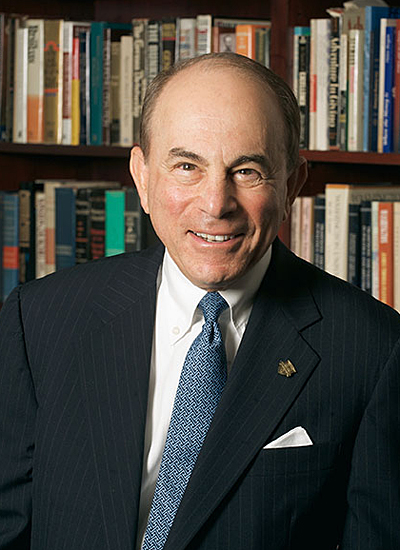 In his address to graduating students this spring, Ed Hajim '58 offered a four-part strategy to guide the Class of 2008 as they embarked on a new chapter in their lives. With a nod to legendary football coach Lou Holtz, he said, "Find something to do; find someone to love; find something to believe in; and find something to look forward to."
A longtime University volunteer who has served as a trustee since 1988, Hajim is looking forward to a new chapter in his own life as he begins his tenure as the chairman of the Board of Trustees. He succeeds G. Robert Witmer Jr. '59, who served as chairman from 2003 to 2008.
Hajim, who earned his bachelor's degree in chemical engineering, is chairman and CEO of MLH Capital, an investment firm that he launched in 2002 after a remarkable career as a senior executive for some of the nation's top companies in the financial industry. The 2007 recipient of the Hutchison Medal, the University's highest alumni award, he has served the University for more than 30 years in a variety of capacities, including as the chairman of the Sesquicentennial National Reunion in 2000.
He also has been a major supporter of cocurricular and academic programs, particularly for students in Arts, Sciences & Engineering and at the Simon School. He chaired the campaign to support the construction of the Robert B. Goergen Athletic Center, and the Edmund A. Hajim Alumni Gymnasium in the center is named in recognition of his gift to the campaign. He also has provided leadership support for the Simon School's Summer Business Institute for juniors, seniors, and recent graduates.
"Ed Hajim brings a remarkable energy, wisdom, and vision to his role as chairman," says President Joel Seligman. "He is an accomplished and dedicated leader who epitomizes the engagement of an alumnus who will take our University to unprecedented levels."
Hajim shares some thoughts about his new role.
Why did you agree to take on the responsibility of board chairman?
It is a chance to give back and exercise my passion for education, which has been my primary focus of nonprofit activity. I, like George Eastman, believe that "education is the solution to almost everything." In addition, the prospect of working with Joel and the outstanding team he has assembled to help build on the platform that has been put in place over the last 10 years is very exciting. I think we can really make a difference in the future of the University.
What are your goals as chairman of the board?
My first goal is to support Joel, his team, and our outstanding faculty in any way I can. Second is to help the board continue its hard work, its creativity, and to raise the financial resources necessary to carry out the strategic plan. There are many specific goals, but they all lead to the University becoming better recognized for the outstanding place it is and the exceptional job it does for its students.
As someone who has been actively involved with the life of the University for more than 50 years, how would you assess Rochester now? What do you see as the University's strengths? Where do you see its challenges? Its opportunities?
The University has always done a very special job of educating its students, which is accomplished by an excellent faculty. Our strengths are the quality of education, our size, multidisciplinary educational capability, and our ability to expand given our significant amount of contiguous unused land. The University is now somewhat smaller than its peers and therefore, it is time to carefully begin to grow. The University's major challenges are to become better recognized for its many outstanding qualities and to raise the necessary resources to carry out its new strategic plan. If we can effectively carry out our plan, we can carefully grow, become better recognized, and rise in the ranks among our peers. With the exceptional administrative team, faculty, and board we have in place, our opportunities are almost unlimited.
As board chairman, what is your role in leading the University to capitalize on those strengths and take advantage of those opportunities?
I see my role as making sure we fully utilize the outstanding strengths of our board to facilitate the implementation of our strategic plan. This includes being sensitive to all of the issues that a plan like this raises. Along with the board, I will monitor our progress in hopes of taking the University to the next level while continuing to produce the educational product that we are all proud of. The most important element at this particular point in time is making sure we raise the financial resources required to take advantage of those opportunities and overcome the challenges that are ahead of us.
What do you tell people when they ask about Rochester for their children's education?
You should look at Rochester because it is a place at which your son or daughter can get an outstanding education that is as multidisciplinary as he or she wants in a nearly perfect setting. (Only the weather prevents us from getting a "10"!) The Rochester curriculum, which allows each student to develop a course of studies based on his or her passions within our cluster system, is particularly attractive. In addition, our size enables students to participate in many different sports (both varsity and club) and to have significant responsibility in activities of his or her choice. The latter provides training and skills which complement the academics and help produce a more complete educational experience and preparation for life after Rochester.
You were a student on the River Campus when the College for Men and the College for Women merged. Are there lessons about the University that you took away from that milestone?
In my sophomore year I was on the Integration Committee and was a strong proponent of moving the women to the River Campus. I have always been a strong supporter of the idea that women and men learn best when they have many opportunities to work together. The decision by the University to merge the campuses was farsighted in that our society has benefitted immensely from the increase in women's participation and leadership in all parts of the business, academic, and public sectors.
As an undergraduate, you were named to the Keidaean honor society, chaired the finance committee for student government, and founded a humor magazine, UGH. What do you tell students today about balancing academic and extracurricular life?
I am very enthusiastic about participation in extracurricular activities as it gives one the opportunity to develop "people" skills and to gain organizational and administrative experience. For me, I had the unique opportunity of starting something from scratch (UGH, the University's first humor magazine) which provided lessons that can only be learned through such an experience. I tell students that exercising your passion outside of the classroom is almost as important as inside, and by doing both you will create a much more enriched and fulfilling experience.
How would you encourage alumni to help shape the University's future?
We hope to give all alumni an opportunity to lead and participate in activities in which they have an interest and where they believe they will make a difference. We are also in the process of raising the University's profile, which we hope will encourage those alumni who haven't joined "Joel's army" to volunteer. We hope to build momentum by accomplishments which will foster a "coming together" of all our alumni.