Soul Searching
How does faith—and the interaction between faith communities—influence student life at Rochester? In many ways, say students.
By Robin L. Flanigan
Photographs by Richard Baker
Faith at Rochester takes many forms.
A lifelong companion providing comfort away from home. A rocky relationship tested by social pressures and a newfound sense of independence. An experiment that evolves into a steady source of inspiration and guidance.
"It's clear to me that for many students, it's an important part of their lives—and in a variety of ways," says Richard Feldman, dean of the College. "By and large, students thrive when they're connected to some smaller group on campus. That can be a fraternity, an athletic team, a club . . . and for many, it's a religious community."
Promoting Interfaith Dialogue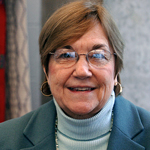 Allison Stokes says she has felt a special connection to Rochester and its students since arriving last fall as the new director of the Interfaith Chapel
For students in Arts, Sciences & Engineering, the touchstone for those communities has been found in the Interfaith Chapel, which houses programs for students from a wide range of faith traditions.
Built in 1970—with its inscription from Isaiah 56:7 as "a house of prayer for all people"—the chapel was one of the first student-centered, university-based initiatives designed to emphasize the importance of faith in the lives of students, regardless of denomination or tradition, says Allison Stokes, who was named director of the chapel and of the M. K. Gandhi Institute last fall.
Stokes, who has held chaplaincy posts at Yale and Vassar, says many universities since the mid-1990s have struggled to find ways to adapt their largely Christian chapels to fit the needs of a changing student population. But for the past 40 years, the focus at Rochester has remained on providing members of individual faith communities with ways to connect with other students of that faith and to provide opportunities for students of different faiths to interact with students from other traditions.
Those interfaith and inter-religious connections have become increasingly important as the population of undergraduates has become more diverse and includes more international students, Stokes says.
"Especially over the last decade, universities are making more effort than ever before to help students reflect, question, confront, and worship based on their religious beliefs," Stokes says.
Last December, a first-of-its-kind longitudinal survey of more than 14,000 students at 136 universities across the country by the Higher Education Research Institute at UCLA found that while attendance at religious services among freshmen drops off, by the time they are juniors, most students believe that "integrating spirituality" into their lives is very important.
"Many students are emerging from the collegiate experience with a desire to find spiritual meaning and perspective in their everyday lives," the study's authors note. "The data suggest that college is influencing students in positive ways that will better prepare them for leadership roles in our global society."
Those findings jibe with what Stokes sees on campus.
"The opportunity to explore and share questions of faith is a phenomenal educational opportunity," Stokes says. "When students come in—whether they have been active in their faith communities or not—a world opens up for them in terms of their spiritual beliefs as they meet people whose worldviews and beliefs are completely different from their own.
"That difference becomes a gift; it becomes an opportunity to celebrate and to learn about other people," she says. "It's a piece of what the University is all about."
Stokes says she's been surprised, too, by how much richer and deeper the faith of most students becomes as they interact with students from other faiths.
"As other students ask questions about faith or traditions or religious practices, students often have to spend some time really thinking about why they believe what they believe," she says. "They come to a deeper appreciation of their own faith."
Stokes says while students may not always describe themselves as "religious," they often describe themselves as "spiritual," an aspect of their outlook on life that's important to their identity.
"The University needs to be concerned about the whole person," Stokes says. "It's not just the life of the mind. Just as we provide athletics and recreation programs because we care about the life of the body, and we provide counseling and other services because we care about the mental well-being of students, we should pay attention to the spiritual well-being of students as well.
"That's what students are looking for today—to integrate the entire person."
Here is a glimpse of a few of those students.
Robin L. Flanigan is a Rochester-based freelance writer.