New Cancer Center Dedicated
The James P. Wilmot Cancer Center's new building bolsters Rochester's place among treatment and research programs.
By David Dorsey '75
When Carol Vigren was diagnosed with sarcoma 20 years ago, her life was turned upside down.
After surgery in Rochester, the Canandaigua, N.Y., resident uprooted herself and resettled in Bethesda, Md., for specialized treatment available only at the National Institutes of Health. The ordeal required her to live far from home for months. Her husband, David, a Kodak executive, had to remain in Rochester during the week.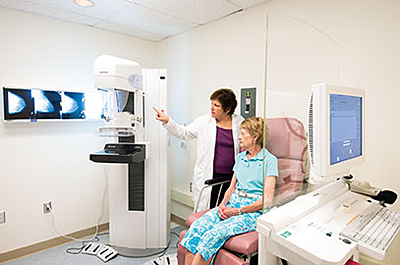 "I relocated to Bethesda and lived there for the summer," she says. "I had a daily cycle of treatment. I stayed in a hotel and rode public transportation to and from the hospital. Every day was radiation and every month or so was chemotherapy. And I flew home on weekends. Dave was able to come stay with me during chemo, and other caregivers flew in to stay with me during the week."
It Takes a Community
The dedication of the new home for the James P. Wilmot Cancer Center this spring marked the successful completion of a $42.5 million comprehensive campaign to fund the expansion of cancer care and research in Rochester.
Cochaired by James Ryan Jr. and Judy Wilmot Linehan, the campaign benefited from private donors, corporations, and foundations.
Linehan took a leadership role as part of her family's commitment to advancing cancer care and research. Her father, James P. Wilmot, established the James P. Wilmot Foundation, which funds ongoing fellowship training in cancer care and research.
The Wilmot family and the James P. Wilmot Foundation jump-started the campaign with leadership gifts totaling $5 million, and donated another $3 million to help close the campaign. John Wallis (Jack) Rowe '70M (MD), former chairman and CEO of Aetna, donated one of the single largest individual gifts of $5 million.
Other large donations came from the Davenport-Hatch Foundation, Harold and Joan Feinbloom, and Henry and Dorothy Hansen. The largest corporate gift to-date is $6 million from Excellus BlueCross BlueShield. Xerox Corp. and Bausch & Lomb also made major gifts. The local congressional delegation secured $6.75 million in federal funds.
Last summer, when Vigren discovered she had breast cancer, she found at least one blessing: She would be able to get state-of-the-art treatment less than an hour from her home at the University's James P. Wilmot Cancer Center, where she would be seen by a team of researchers and clinicians working closely together.
"That's a combination you don't often find," says David Vigren. "And it was in our own back yard. Once we knew the nature of the center, plus the people who would be treating Carol, it was a no-brainer."
That's a sentiment Medical Center scientists, physicians, faculty, and clinical staff who focus on cancer expect to hear more often now that the Wilmot Cancer Center has formally opened its new, 164,000-square-foot facility this spring.
A centerpiece of the Wilmot Cancer Center's five-year, $65 million plan to position itself as a leading cancer center, the building is a key component of the Medical Center's overall strategic plan, which includes an emphasis on cancer research. The plan calls for recruiting more than two dozen new scientists and clinicians and recommends expanding programs in lung, breast, prostate, and colon cancers as well as lymphomas and leukemias—traditional strengths of the Wilmot Cancer Center.
"Rochester will become one of the leading destinations for cancer care," says Richard Fisher, director of the center.
The culmination of a two-year construction process, the building is the new home for a multidisciplinary team of 400 doctors, scientists, and clinical and research staff who see about 10,000 patients a year, a number that has grown dramatically over the past five years.
The new building, which serves as the southeast anchor to the Medical Center, consolidates for the first time the Medical Center's cancer care and translational research programs into a single location.
The consolidation will benefit patients and better advance the science of cancer research, say doctors, medical scientists, and clinical staff.
Kristin Skinner, an associate professor of surgical oncology who oversaw Carol Vigren's treatment, says bringing together a team of specialists—surgeons, radiation and medical oncologists, radiologists, pathologists, and nurses—helps evaluate each individual patient's treatment options and reduces diagnostic delays to less than 24 hours in most cases. And patients no longer have to make multiple appointments with several specialists.
Skinner is the first director of the Comprehensive Breast Care Center, a 5,000-square-foot suite designed to improve the care of women with breast cancer that's modeled on a program Skinner developed at NYU. The center is the first of its kind in upstate New York.
"The breast cancer center was designed to bring everything together in one place, and patients can be sure they are getting the right thing done at every stage," says Skinner. "We are the only center in this region with an established team of experts that works together every day."
Bringing research and clinical resources together in a collaborative environment also encourages interaction among researchers and physicians, says Craig Jordan, an associate professor of medicine who is leading efforts to understand the role of cancer stem cells and to develop ways to destroy them.
An important part of turning research into clinical treatments—one of the core aspects of translational science—requires finding ways for clinicians and researchers to understand each others' work and see the connections between them, Jordan says.
"When you share the same office space and coffee pot, ideas can spread quickly and effectively," he says.
That means patients have the opportunity to participate in clinical studies involving new drugs and therapies that might not be available to most cancer patients.
Jordan's team, for example, has isolated a chemical derived from a common wildflower known as feverfew that is showing promise as a way to destroy leukemia stem cells.
"Without eliminating these stem cells, it's like pulling out a weed but leaving the root," Jordan says. "Once tests are done on a drug using this chemical to show it isn't harmful, we'll probably be one of two or three centers where patients can participate in the initial trials."
The work is part of a larger, innovative effort to look at—and treat—cancer at Rochester, he says.
"We're one of the first to have a formal cancer stem cell program, along with Harvard and Stanford," Jordan says. "If you live in this region and you need treatment for cancer, this is a phenomenal place."
It's a place that also recognizes that patients and their families need a comfortable and caring environment.
"At every step of the three-year planning process, we've asked nurses and patients how to improve the experience of treatment," says Catherine Lyons, associate director of clinical services.
Many of those suggestions have influenced the center's liberal use of windows and interior glass to allow natural light as far into the building as possible.
The building also features free Internet access, a patient resource center, and artwork chosen for its ability to enhance mood—key elements of a structure designed to create a caring environment.
"Our experience here has been wonderful," says David Vigren. "We didn't just choose the center because it was close. As we did our research, it became apparent that the breast clinic here was equal to the leading centers in the country."
Carol Vigren agrees: "I felt this is where I should be going."
David Dorsey '75 is a Rochester-based freelance writer.