Coaching the Six-Million-Dollar Men
By David McKay Wilson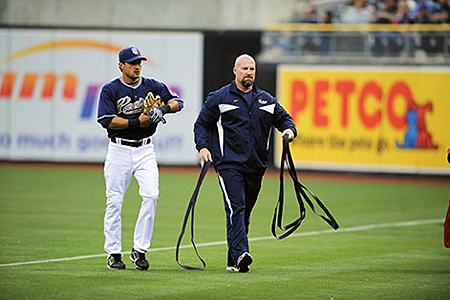 Peavy pitches every fifth day, so Malone, the Padres' strength and conditioning coach, has designed a workout routine between starts to strengthen his legs, boost his stamina, and keep his arm in shape to throw fastballs more than 90 miles an hour. It worked in 2007 when Peavy won the Triple Crown, recording the most wins and strikeouts and having the lowest earned-run average in the National League.
"Jim has challenged me like I've never been challenged," says Peavy, who, under Malone's tutelage, does squat lifts with 350 pounds. "He's a competitor, too, and his fire and intensity can inspire."
"Jake is one of my golden boys," says Malone. "He goes to the weight room, turns on the country music, and gets after it. He wants to be the best he can be and help his team win."
For Malone, working with Peavy is part of a career that began soon after graduation from Rochester, where he played defensive tackle for the Yellowjackets football team. That fall, he stayed in Rochester as an assistant football coach, where he began developing training regimens for college athletes.
Nineteen years later, he's among the top practitioners in the field of strength training for athletes, which has grown dramatically over the past two decades in colleges and on the professional level. Malone, who travels with the Padres during the 162-game season, is part of a team of professionals, which includes team physician Jan Fronek '78M (MD), that collaborates to keep the high-priced talent healthy and on the field.
"I work with the players to prevent injury," says Malone. "We call it pre-hab. You have to be proactive before someone gets sidelined."
Professional sports is a high-stakes gambit, with Peavy, for example, earning $6 million this year.
"Wins and losses mean dollars and cents," says Malone. "I'm doing everything I can to make the players stronger and more durable. The most important thing is to get the position players to get 500 to 600 at-bats and try to get that pitcher to make 34 starts."
Malone's journey to the major leagues took a circuitous route. After a year as an assistant football coach at Rochester, he had several year-long stints with college football teams—at Princeton University, back to Rochester, down to Albright College in Reading, Pa.—before he was reunited with former Rochester football coach Ray Tellier at Columbia University.
There, he was an assistant football coach under Tellier while earning his master's degree in applied physiology. By 1996, he was Columbia's head strength coach. But by the next spring, he began his climb up the ladder in the professional baseball world. He was a strength coach in the minor league systems of the Cleveland Indians and Kansas City Royals before getting his big break in 2002 when the New York Mets hired him as strength coach for their $100 million payroll. But the team did poorly that year, and he was let go, along with much of the team's staff.
"In professional sports, ownership can be fickle," he says. "They fired everybody and started all over again."
He went back to the Cleveland Indians minor-league system for three years before getting the call in 2006 to join the Padres. He began his third season in San Diego this spring.
While in high school and college, Malone competed in weightlifting competitions. Though he hasn't competed in a decade, he still works out. At 6 feet tall and 255 pounds, with a shaved head and goatee, he looks more like a professional wrestler than a baseball player. But he keeps in shape: Last year, he bench pressed 500 pounds.
He runs with the players as well, opting to keep pace with two of the Padres' future Hall of Famers—reliever Trevor Hoffman and pitcher Greg Maddux, who are both about his age.
"I like to run with the old guys," says Malone. "They tend to be a bit more forgiving."
David McKay Wilson is a New York–based freelance writer.