Student Life
Rochester Team Wins College Bowl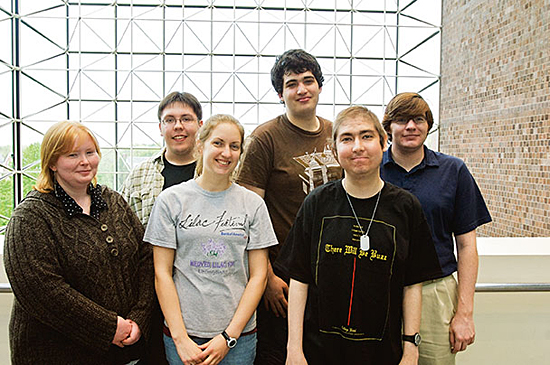 For the first time, a University team has won the College Bowl national championship. Five Rochester students defeated teams from 15 other universities to capture the silver cup at the National College Bowl Tournament in St. Paul, Minn., this spring.
Members of the winning team are Rebekah Greene, captain and an English graduate student from Rochester; William Finan III '11, a mechanical engineering major from Irondequoit, N.Y., who was named an All-Star player; Eric Keihl '08, a history major from Livonia, N.Y.; Laura Nemeth '10, a biochemistry major from Fairport, N.Y.; and Benjamin Seitelman '11, a political science major from Highland Park, Ill.
The team was coached by Jack Schermeyer '04, and advised by Stacey Fisher, assistant director of student activities. Schermeyer participated in the University's campus tournaments in 2000 and 2004 and coached the 2005 and 2006 teams.
To be ready to answer questions on topics ranging from Andreas Vesalius (the founder of modern human anatomy) to gypsum (the most common sulfate mineral), team members attended weekly practices to review sample questions and refine strategies.
Schermeyer, who plans to continue as coach, had high expectations after the team's victory at the Region 2 competition over such opponents as RIT and SUNY Brockport.
"Typically points-per-game and points-per-tossup are the big stats to compare across regions and across teams, and we were right at the top for that," he says. "So the expectation and the hope was really to make the playoffs."
"Our students give us many reasons to be proud of their intellectual achievements, both in the classroom and in their extracurricular activities," says Dean of the College Richard Feldman. "This national championship in the College Bowl is yet more evidence that we have at Rochester some of the very brightest and most able students of any university in the nation. We are very proud of their accomplishment, and of the hard work and dedication that made it possible."
—Katina Antoniades