Musicology
The iPod of the Renaissance
Music professor Honey Meconi studies social influence of rare music manuscripts.
By June Avignone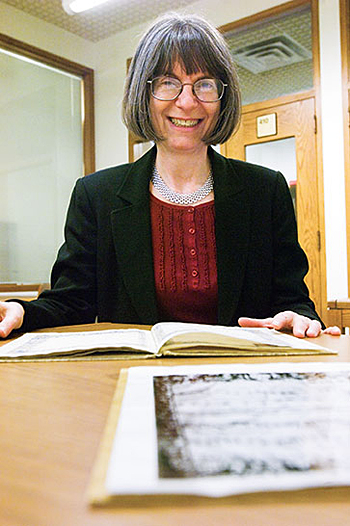 When Honey Meconi was a Harvard graduate student in Brussels in 1981, she got her first look at an authentic 16th-century illustrated musical manuscript. She was hit "full force with the unreal power" of the chansonnier, she recalls.
"It was a unique jewel, glorious colors, with so much time and attention put into it that it was still shimmering, centuries and centuries later," says Meconi, a professor both in the College Music Department and at the Eastman School. The manuscript featured chansons, or French secular songs, by the Renaissance composer Pierre de la Rue. Until then, she had only seen black-and-white microfilms of the one-of-a-kind creations.
Now, more passionate than ever about the beauty of chansonniers and the rich stories they possess, Meconi, who specializes in music before 1600, plans to research and write a history of such masterpieces. The recipient of a National Endowment for the Humanities Fellowship, Meconi will spend the coming year studying manuscripts in Europe, especially Paris, and the United States.
Chansonniers, in general, she says, functioned as rare opportunities for individual expression within the world of book ownership.
"Every chansonnier is done by an independent artist for an individual, and often featured decorated initials and detailed borders on parchment, a much costlier material that is so nice to the touch," she says.
"Today we just crumple up a piece of paper and that's it," says Meconi, who compares chansonniers to "early iPods." "Each chansonnier reflects the choices of an individual, as does each iPod, in contrast to a modern commercial CD that has choices made for the purchaser." The early equivalent to the commercial CD is the printed chansonnier, which appeared in 1501, and essentially signaled the end of individual choice, she explains.
Meconi will carry out part of her research at Eastman's own Sibley Music Library, the largest academic music library in North America, where she will examine a 15th-century chansonnier with eight surviving folios. The Sibley chansonnier is unusual, she says, because it is a palimpsest, a parchment manuscript that has had its original layer scraped away and new material added in its place.
By literally uncovering the layers of the past in the palimpsest, Meconi plans to bring the social relevance of the chansonniers to the surface as well. More than six different scribes added music to the Sibley palimpsest, which Meconi has dated to the 1470s, using ultraviolet light to recover some of its original music. Shining ultraviolet light on a palimpsest reveals all the layers at once, so it can be very hard to tell the different layers apart, she says. The next step is to take the manuscript to a high-tech facility for specialized photos revealing layers that are "stripped away."
Meconi's upcoming book, to be titled A Cultural History of the Chansonnier, will show how illuminated manuscripts helped to reflect and shape social values and served as secular equivalents to books of hours, which featured prayers and psalms.
The texts of chansons, which range from expressions of bitter unhappiness to depictions of romantic love, reveal much about behavior of the day, says Meconi, who is also the director of the Susan B. Anthony Institute for Gender and Women's Studies at the University.
"You learn about hierarchy of the times, such as if you are a knight or member of the nobility it is okay to use certain language to try to bed the shepherdess or lower-class woman spotted in the field," says Meconi. "But there were different songs of respect for singing about love to a woman from the upper class or nobility."
Vessels of culture and pieces of art in themselves, the manuscripts' appeal outlasted even that of some of the music they contain.
Says Meconi: "They remained objects of desire long after the music ceased to be performed."
June Avignone writes about the humanities for University Communications.