Alumni Gazette
To Lift All Boats, Row Together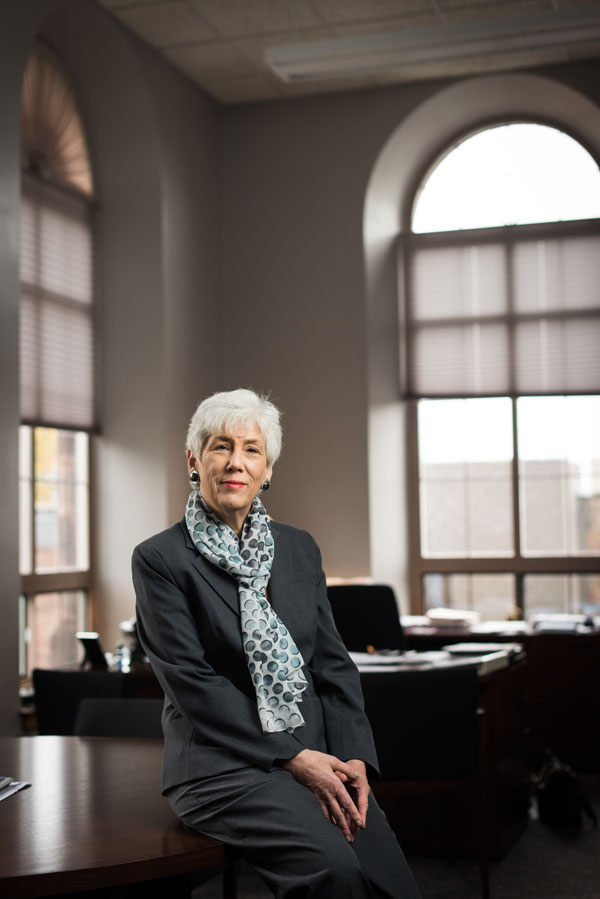 When Fran Weisberg '75 stepped into the role of president and CEO of the United Way of Greater Rochester last March, the region was reeling from news that Rochester topped one of the last lists any community wants to lead.
Following up on a report it had completed in 2013, the Rochester Area Community Foundation looked more deeply into Rochester's high poverty rate to discover that Rochester had the highest rate of extreme poverty of any comparably sized city in the nation. Nearly a third of Rochester residents lived in poverty, and half of those lived in extreme poverty, defined as less than half the poverty level.
The dismal statistics stood in contrast to the general economic health of the metropolitan area, all things considered, given years of massive layoffs from Rochester's "Big 3" of yesteryear, Kodak, Bausch & Lomb, and Xerox. In the past two decades, high-tech spin-offs, and universities such as Rochester and RIT, have helped maintain a critical mass of skilled and well-compensated workers who've fueled new developments, kept schools well-funded, and attracted high-end retail—but largely in the suburbs.
Weisberg finds the contrast troubling. "If we have a community in which we accept that we have the secondhighest child poverty rate in the U.S. and there are a bunch of high-tech folks who live in [the suburbs], I don't think that's a community we would want to be and have."
A week after her appointment, she stood with New York State Assembly Majority Leader Joseph Morelle, Rochester Mayor Lovely Warren, and Monroe County Executive Maggie Brooks as the three political leaders announced the formation of the Rochester-Monroe Anti-Poverty Initiative, a broad-based alliance under the umbrella of the United Way. The initiative brings together representatives from academia, private industry, and labor, and is seeking substantial input from people living in poverty in order to gauge how best to use community resources.
"I feel very honored to be here at the head of United Way, right now, to really figure this out," Weisberg says. "We have a very committed community, but internally and externally, everybody's all over the map. And what I'm going to try to do is truly get us rowing in the same direction."
Weisberg has a long history in the area of bringing disparate groups together in the service of community-wide goals, as well as prioritizing the needs of marginalized populations. She's the former CEO of Lifespan, a nonprofit organization that serves the aging, the frail elderly, people with disabilities, and their caregivers. Before she was selected for the top job at the United Way, she led the Finger Lakes Health Systems Agency, one of more than 200 such agencies created after passage of a federal law in 1974 to encourage regional health planning, but one of only a few still in existence today.
Kathy Mulholland Parrinello '75N, '83N (MS), '90W (PhD), chief operating officer of the University's Strong Memorial Hospital, represented the Medical Center on the board of the agency during Weisberg's tenure as executive director.
"They probably wanted to kill me sometimes," Weisberg says of Parrinello and other Medical Center administrators. The Medical Center was among three health systems in the county at the time, and all three had plans for expansion. All three plans would be reviewed by the agency.
As Parrinello recalls, "The Medical Center at the time hadn't historically had to go through a community-wide process quite like this." But she says the process helped the Medical Center in the end, and offers insight into how Weisberg addresses challenges.
Nearly everyone agreed that there was a shortage of hospital beds in Rochester. "They were all, in themselves, appropriate requests," Parrinello says of the plans of then Strong Health, Unity Health, and Rochester General. "But instead of trying to look at those applications one by one, [Weisberg] said, 'Hey, they're all similar, we have three of them from the three systems, let's look at them collectively.' " Whereas the hospitals might have competed with one another for a new market, leading to higher costs and risking overcapacity, "we worked through a process to determine what was the right number of beds. And in fact, we walked away with a significant increase to our capacity that was endorsed by the region. So I think in many ways it gave a lot more credibility to us in the community."
Parrinello and Weisberg were classmates at Rochester, though they did not know each other at the time. Parrinello says she was "one of those library rats." Weisberg was deeply involved in a number of causes, including helping mobilize students to support union drives among campus workers. "I worked in Danforth Dining Hall," Weisberg says. "I loved those women. I was close to them." She helped found a group to connect students to community service. "We just started mobilizing people to become volunteers out in the community," she says.
Born and raised in Baltimore, Weisberg elected to stay in Rochester following graduation. Her first job was at the Peace and Justice Education Center, which eventually folded into the organization Metro Justice. She worked with the federal program, Vista, as well as Action for a Better Community. She's fond of saying "I came to Rochester for college and I never left."
"I believed it was a small enough, and an open enough, community that you could really make a difference. And that's what I've done my whole time here."
—Karen McCally '02 (PhD)