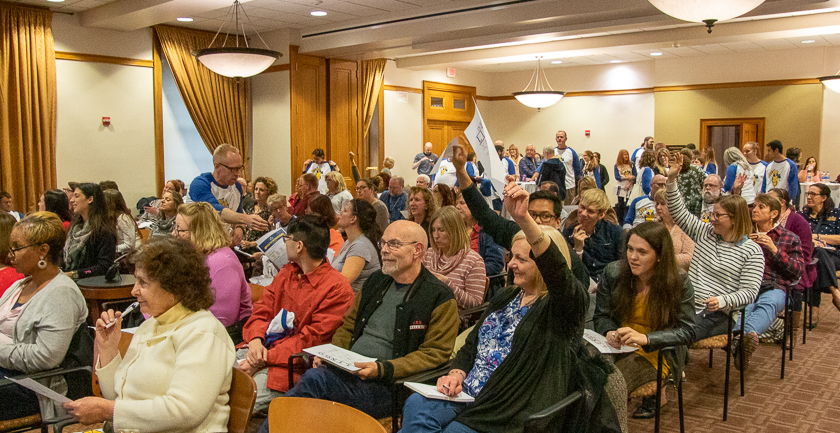 Packed House for November 6th, 2019 Community Forum – Ice Cream Social
Ice cream, games and prizes provided attendees an opportunity to gather and review project progress, event horizons, and the project implementation's key concepts. The event offered University Staff members to have a casual project discussion with the UR Student Team and Project Champions. The event was hosted in the heart of the University's River Campus at the Rush Rhees Library's Hawkins-Carlson Conference Room and helped participants prepare for when the system is released to the public, this February, and support options available to users.
Program Director, Samantha Singhal's presentation (link to PPT and video) included the following updates about the roll-out, end-user support options and how to identify the support team on campus by their bright yellow UR Student polo's and name badges. Students, Staff, and Faculty will be able to easily identify the UR Student Support team to answer your questions on tasks you will perform in the system such as; viewing teaching schedules and rosters for Instructors and Fall 2020 student registration prep for Administrators and Advisors.
As we roll-out the new system in a phased approach to all users, we discussed the need for patience and persistence as the project and support team rolls out more functionality in the system. What you see when you log on for the first time may change in later months as it will continually be improved upon. Stay informed. Pointed communications will be provided to you detailing new functionality with a way to provide feedback to the team.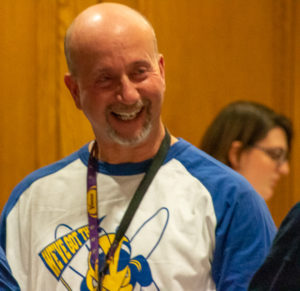 Michael Salisbury (Data Warehouse), enjoys interacting with others at the Community Forum
Here is some of the upcoming functionality in UR Student:
In December 2019, schools will be able to manage their Fall 2020 Course Catalog and Course Schedules.
Beginning In February 2020, Students will be able to complete onboarding documents, register for Fall 2020 courses and view their completed history of course credits.
In February 2020, Faculty will be able to view their Fall 2020 Course schedule and rosters as students register for Fall 2020 classes.
Beginning In July 2020, students will have a clear view of the total account balance that is fully-reflective in real-time, the full gamut of financial activities including new and outstanding charges, aid/benefits/awards/waivers/ discounts/disbursements, payment-credits, and refunds.
Beyond UR Student's Support teams' bright yellow polos, to best help the community in adoption of the new UR Student system, a number of training classes are running this month for those that manage courses. Other classes will be offered this January for Administrators and Registrars, February 2020 for Advisors and Student Finance in June 2020. As Staff and students begin to use the system in February, the footprint and accessibility of the UR Student Support will substantially increase, which includes an operating space within the Gleason Auditorium at the Rush Rhees Library. The auditorium will be available during daytime hours until the required support response needs subside. Support office hours will not fully be extended into the late evening, so Evening Instructors will be given special appointments for morning priority support, in form of an appointment.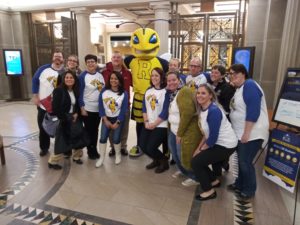 After Ice Cream – Rocky the Yellow Jacket Arrived to Take Photos with Community Forum Participants
Near the end of the event, some participants managed to grab a quick selfie with Rocky the Yellow Jacket Mascot.
If you have any questions about this event or how to prepare using UR Student in February, please contact us.