Show Us Your Town: Houston
Show Us Your Town: Houston
Home to nearly 1,200 alumni and friends, Houston is one of the country's friendliest and most diverse cities, say members of the University community who live and work in the East Texas city.
Meet Your Guides
Members of Houston's growing network of alumni and friends in Houston, Gonzalez, Frazier, Burger, and Robinson meet for a photo in Buffalo Bayou Park, a 160-acre green space that stretches along a 10-mile waterway in the heart of the city. Opened to the public in 2015, the park is one of the country's great urban green spaces, says Robinson.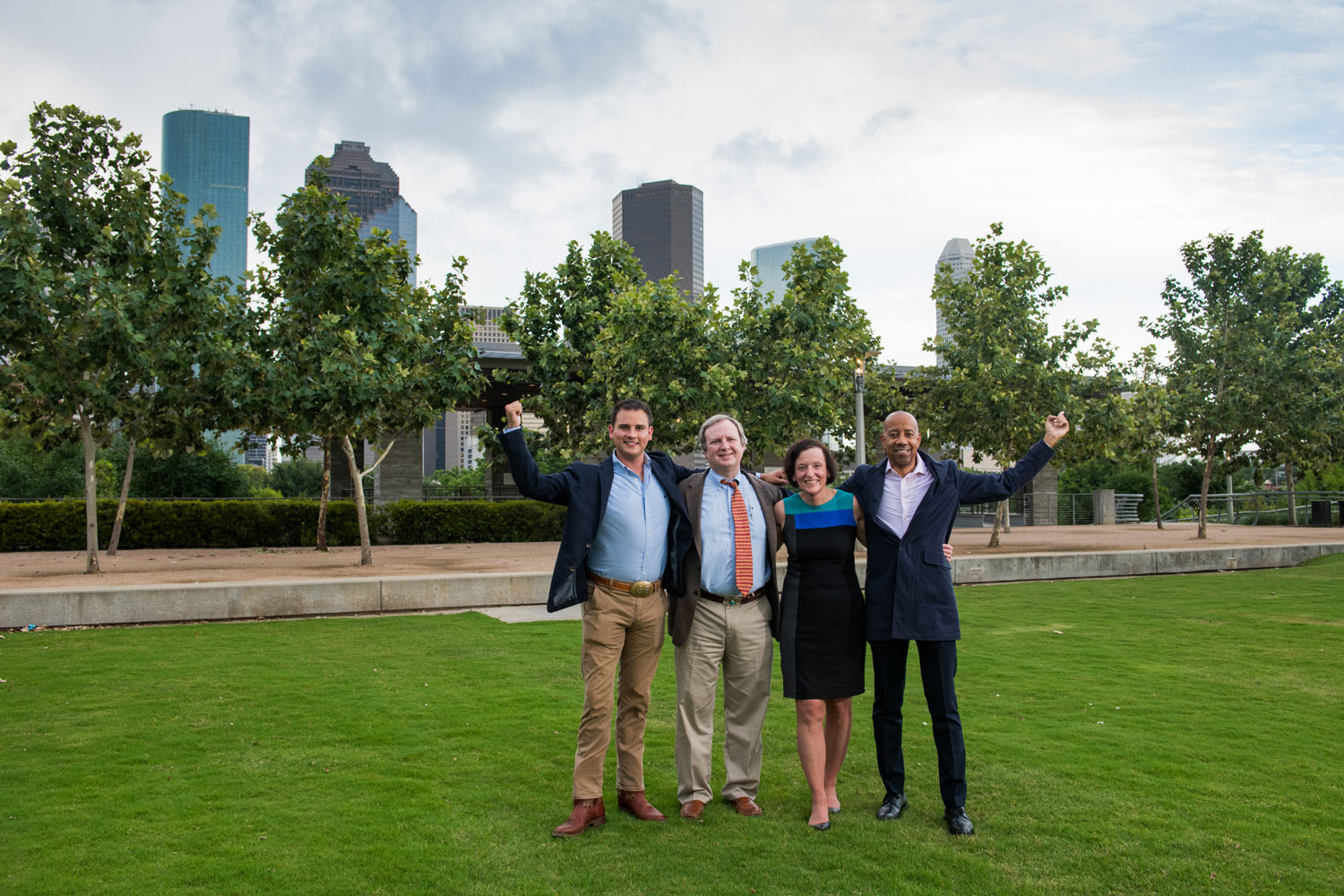 Longtime Texan
J.J. Gonzalez '11 is a real estate lawyer whose family has taken part in livestock shows throughout Texas, including Houston's iconic rodeo.
Music Maven
A sixth-generation Texan and Houston native, arts manager Todd Frazier '92E knows the secret hot spots for music in the city.
Houston Home
On her "second rodeo" in the city, executive leader Barbara Burger '83 says she's found a home in Houston.
Family Favorites
Corporate finance manager Ebon Robinson '01S (MBA) and his family seek out Houston's many parks and museums.
Barbara Burger '83
"This is my second rodeo in Houston," says Burger, who arrived six years ago from Northern California. "I love it here—it's an incredibly welcoming, inclusive place. When I came back, everyone made me feel right at home." A University trustee and the president of Chevron Technology Ventures, Burger first lived in Houston from 1997 to 2000.
Burger is also a member of the Houston Network Leadership Cabinet, a growing group of alumni and friends committed to celebrating their connections and building their network. "I embrace where I live, and here in Houston, there is so much to do and there are many ways to make a difference. I've seen that in my role at Chevron, in the community, and as part of the Rochester alumni network here."
"Houston is growing so fast, and will soon overtake Chicago in terms of population," she says. "People come from everywhere—for jobs and opportunity, and because the city is, on average, very affordable. The expression 'dream it, do it' is really the mind-set here."
Todd Frazier '92E
Frazier is system director of the Center for Performing Arts Medicine at Methodist Hospital, part of the Texas Medical Center. Known as TMC, the complex brings together clinical and research programs of Rice, Baylor, the University of Texas, and other universities, as well as prominent hospitals and health care organizations into the world's largest medical center.
A native Houstonian and a sixth-generation Texan, Frazier says his favorite places represent the soul of the city, a perspective that first blossomed at the Eastman School of Music.
"I left Eastman wanting to broaden the definition of professional success beyond the traditional orchestral and teaching roles," he says. "This is why I have been so committed to developing music programs within the health care environment—there is such great potential there."
J.J. Gonzalez '11
Gonzalez grew up in McAllen in the Rio Grande Valley, just a few miles from the Mexican border and five hours south of Houston. He moved to Houston to expand his law practice in 2017.
"The people of Houston are what make it such a great city," says Gonzalez.
A scholarship student who served as 2011's class president, Gonzalez was active on campus in fraternity life and LGBTQ initiatives. He spent a semester in Ecuador and did a Take 5 program in which he studied Islam.
"Rochester changed my life," says Gonzalez, who practices real estate law. "A lot of the things I love about Rochester, I love about Houston. Both are filled with exceptional, inspiring people."
Ebon Robinson '01S (MBA)
Like Burger, Robinson is on his second tour of Houston, having arrived last year after spending four years in Brazil with Chevron, where he's business finance manager.
Houston has the kinds of opportunities in energy and finance that Robinson was looking for when he enrolled at the Simon Business School.
"Simon didn't offer this as a concentration, but they saw potential in it, gave me a scholarship, and believed in me," he says. "I'm forever grateful." He also knew of Rochester through his grandfather, Harry Bray '38, one of the University's earliest African American graduates.
When Robinson isn't spending time at home, he and his family can be found at their favorite Houston locales.
Houston Regional Network
Houston is home to one of the University's regional networks, which offer alumni, students, parents, and friends opportunities for networking and volunteering.
Providing ways to engage with other members of the University community, the networks organize social events and outings, help welcome new alumni to an area, interview and mentor students, and serve as social media ambassadors.
For more information on activities an programs in Houston, visit Facebook.com/ groups/URHouston.
322 School of Arts & Sciences
149 Hajim School of Engineering & Applied Sciences
135 School of Medicine and Dentistry
114 Eastman School of Music
101 Simon Business School
18 Warner School of Education
11 Eastman Institute for Oral Health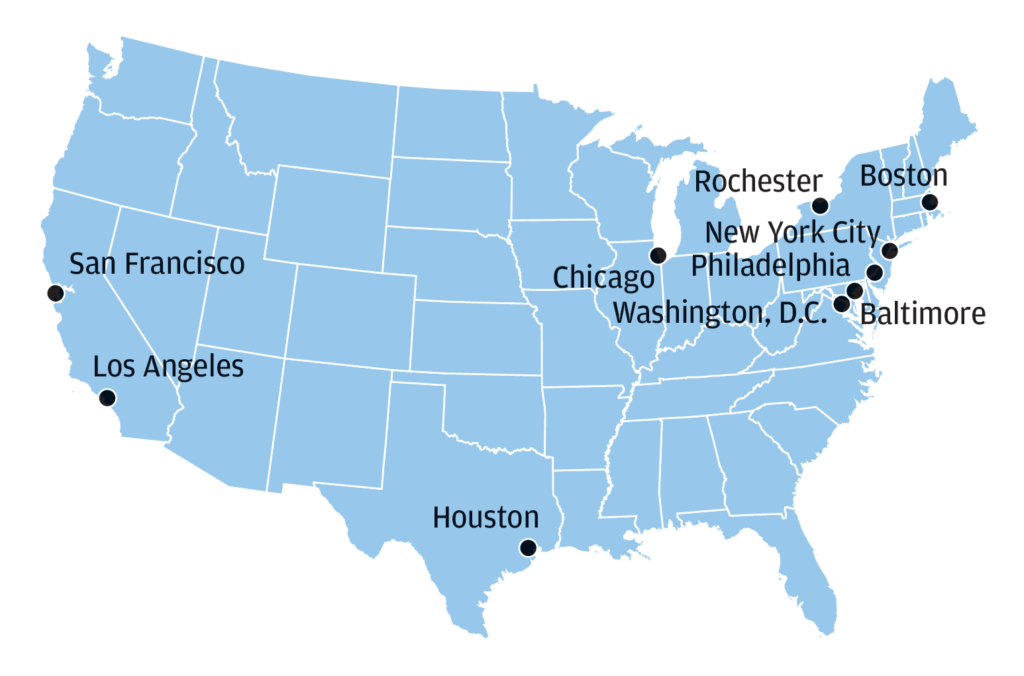 Regional Networks and You
Based in metropolitan and geographic areas across the United States and internationally, the University's regional networks organize social events, networking opportunities, and community service projects for alumni, parents, students, and friends close to home.
For more information on how you can get involved, visit Rochester.edu/alumni/regional-network.
— Kristine Thompson
This article originally appeared in the summer 2019 issue of Rochester Review magazine.