Show Us Your Town: Los Angeles
Show Us Your Town:
Los Angeles
Famous for its embrace of dreamers and storytellers, the nation's second largest metropolitan region is much more than palm trees and movie stars, say some of the 2,700 or so Rochester alumni who call it home. With a strong economy, a bustling downtown, and, yes, a creative mojo that's second to none, Los Angeles has earned its role as a cultural and commercial crossroads, a place that defines the Southern California lifestyle.
Here are some of our alumni guides' recommendations for what to do and see in LA.
Sean Allen '11S (MS)
Recruited from the Simon Business School as an engineer and team lead for the oil and energy company Andeavor Logistics, Allen moved to California in 2011.
"If you have a strong drive, you'll thrive here," he says. "LA is filled with a lot of highly motivated people who inspire me every day."
It's an ideal place to live, he says.
"San Diego is only two hours south and Mexico is just 15 minutes from there. Napa Valley and Northern California aren't too far away either. Then there's LA itself, with a lot to do right here."
A) Baldwin Hills Scenic Overlook
6300 Hetzler Road, Culver City
Allen enjoys taking visitors to the Baldwin Hills Scenic Overlook, also known as the Culver City Stairs. Hike 250 steps up to a 500-foot peak for 360-degree views of the city. "Some of these cobblestone steps are two and three feet wide," he says. "Hundreds of years ago, there was a village here and now just these steps remain."
B) Pho Ever Restaurant
2228 Rosecrans Avenue, Gardena
Allen recommends Pho Ever for authentic Vietnamese fare. "When you walk in, you feel like you're on a street in Ho Chi Minh City. Your food is even served in traditional, small metal bowls." For Japanese, try Wokcano (multiple locations). According to Allen, it serves up the best crabmeat fried rice ever. It also offers the unusual, from salsa dancing to piñata parties to reverse happy hours.
C) In-N-Out Burger
9149 South Sepulveda Boulevard
Allen, who is also a licensed real estate agent, often takes visitors to an iconic In-N-Out Burger located about a thousand feet from a runaway at the Los Angeles airport. "While eating a burger, you can look up and see a plane about 200 feet high in the sky."
D) Dockweiler Beach
12001 Vista del Mar, Playa del Rey
"You can't visit Southern California and not go to the beach," says Allen. With three miles of shoreline, Dockweiler Beach features 40 bonfire pits available on a first-come, first-served basis.
"If you want one, get there early, or be open to sharing a pit with another group or two." If you can't get a pit, just enjoy the beach or take a hang-gliding lesson.

Wallis Nash '15
After graduating from the University as a double-major in international relations and anthropology, Nash taught for a year in China. Then she earned her master's in public administration from the University of Southern California. Today, she works as a management analyst at Pasadena City Hall, which doubled as Pawnee City Hall in the hit sitcom Parks and Recreation.
"My job is very similar to Amy Poehler's character, Leslie Knope," says Nash, who is a member of the LA Network Leadership Cabinet and leader of the new LA Women's Network. "I help manage the city's capital improvement budget, which supports our transportation, public works, and parks programs."
P) WB Studio Tour
3400 Warner Boulevard, Burbank
Nash recommends taking in a tour of the famous Warner Brothers studio. "You see everything from Batmobiles to the gazebo from The Gilmore Girls to the café from La La Land." After the tour, she likes to dash over to Portos (3614 W Magnolia Blvd, Burbank), a family-run Cuban bakery famous for its potato balls – deep-fried balls of mashed potatoes stuffed with meat.
Q) The Original Farmer's Market
6333 West 3rd Street
To experience the city's cultural and dining diversity, Nash enjoys the Original Farmer's Market. "It's so LA to see an Iranian woman selling traditional food next to Bob's Coffee & Doughnuts, which is next to Nonna's Empanadas," she says. She recommends that visitors go to Zia Valentia, where they can get coffee served in waffle cones. Check out the French Crepe Company, too. Her favorite is the la poissonière, which is filled with smoked salmon, scrambled eggs, capers, and chives.
More Parks and Rec
R) Hollywood Sign, Griffith Park
4730 Crystal Springs Drive
S) Manhattan Beach
1400 Highland Avenue
T) Reunion Park
43234 LA-445, Ponchatoula
U) Hollywood Bowl
2301 North Highland Avenue
For those who love being outside, hike up to the Hollywood Sign from Griffith Park. Or, venture to Reunion Park, where you might catch celebrities walking their dogs. Check out Manhattan Beach, too. "It's a great place for families, easy to get to, and much closer to LA than the often-touted Malibu Beach, which is an hour north of the city."
If there's time, take in some tunes at the Hollywood Bowl." This is a great live music venue that features sings-alongs to movies like Grease and music-and-film concerts with the LA Philharmonic," adds Nash. "Bring a picnic or get one there."

Nick Brandt '98
"For me, LA is the embodiment of the American Dream," says Brandt, a member of the University's LA Network Leadership Cabinet. "It's beautiful here year-round, and it's a place you can grow and become whatever you want to be."
As a writer, Brandt has crafted screenplays, comic books, and even musicals. His most recent work, Glass Ceilings, takes the stage in Los Angeles in March, and his graphic novel Joshua Jace: Minimum Wage Henchman is currently available digitally and in print.
L) The Getty Museum
1200 Getty Center Drive
Brandt recommends a trip to The Getty. Inside, tour an impressive collection of paintings, sculptures, and decorative art. Outside, take in the gardens. "If you need creative inspiration and a jolt to the soul, this is the place. I once wrote an entire screenplay sitting in the museum's courtyard."
M) Rockwell Table and Stage
1714 North Vermont Avenue
Enjoy live musical performances and great food. "I may be biased because some of the songs from a few of my musicals have been performed here, but it is a great venue that offers something for everyone." Take in burlesque shows, musical parodies, theme nights with Broadway talent, and more. Brandt notes that Jeff Goldblum regularly plays jazz there, too.
N) Grab a Beer
N Golden Road Brewery
5410 West San Fernando Road
O) Bruery Terreux
1174 North Grove Street, Anaheim
Raise a glass in Glendale at the Golden Road Brewery. If you have children, they can enjoy an outdoor game and play area. Bring your dog, too, as four-legged friends are welcomed. Brandt, a Buffalo native, has high standards for his chicken wings and recommends the ones at the brewery – but, as a true western New Yorker, just blue cheese for him, no ranch.
Brandt also recommends the Bruery Terreux for a pint. Located not far from Disneyland, the craft brewery specializes in sour beers – fruit-oriented, with a hint of cherry, peach and a bit of tartness – that are brewed onsite. Patrons can also order regular, barrel-aged, and imperial beers, which are brewed at a sister location nearby so as not to cause cross-contamination.

Jeff '85E and Joan Beal '84E

A composer for film, television, and concert hall, Jeff Beal has received 19 prime-time Emmy nominations and has won the award five times. He and his wife, Joan Beal, a University trustee, studio singer, and vocal contractor for film, media, and television, have lived in the Los Angeles area since 1992.
A few years ago, the couple purchased an apartment in the heart of LA. "Downtown is home to our concert halls, museums, restaurants, jazz clubs, renovated movie houses, and lots of exciting new developments, as this once-abandoned area is being revitalized," says Joan.
As city dwellers, the Beals are enjoying their time in what is becoming a walkable city. "The accessibility is great, and it provides a central place to collaborate with directors, editors, and other musicians," adds Jeff.
Downtown LA
E) Grand Central Market
317 South Broadway
F) Horse Thief BBQ
324 South Hill Street
G) Angel's Flight
350 South Grand Avenue
H) Broad Museum
221 South Grand Avenue
I) Disney Concert Hall
111 South Grand Avenue
J) Bradbury Building
304 South Broadway
K) bluewhale
123 Astronaut Ellison South Onizuka Street
The couple recommends taking a walking tour of downtown, starting at Grand Central Market on South Broadway. "This large indoor marketplace features many vendors and restaurants," says Joan. "You'll find great egg sandwiches, falafel, tacos, and coffee." Jeff particularly likes the Horse Thief BBQ. "My assistant and I go there as often as possible and get all the things Joan tells me not to eat," he says. "The pulled pork is amazing."
After that, head to Angel's Flight, which is next to the market on South Grand Avenue. "You have two options here," says Joan. "You can take a steep set of stairs up to Bunker Hill or ride a convenient trolley nearly 300 feet." (She notes that if you take the stairs, you can eat more at the market.) Then, continue on South Grand to the Broad Museum, known for its collection of contemporary art (and free general admission) and the Disney Concert Hall, an iconic building designed by Frank Gehry. "You don't need tickets to go into the hall," says Joan. "Acoustically, it has the best sound, comparable only to Kilbourn Hall."
If time allows, meander over to the Bradbury Building on Broadway. The historical landmark is open to the public and has been featured in TV shows and movies. For music, head to bluewhale, a jazz club tucked away in Little Tokyo. "Have a drink and soak in the talents of some of the best musicians out there," adds Jeff.
Los Angeles Regional Network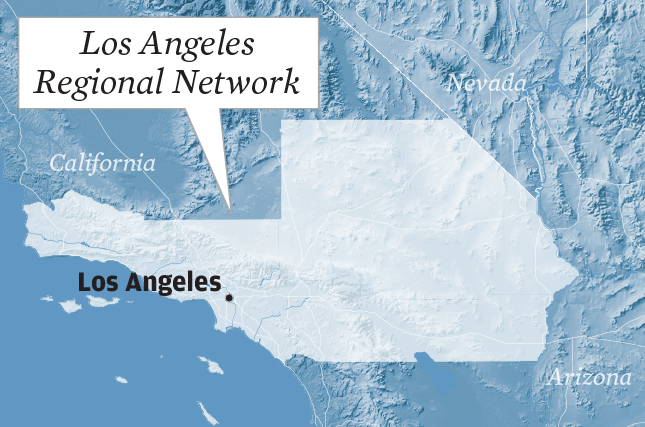 LA is home to one of the University's regional networks, which offer alumni, students, parents, and friends opportunities for networking and volunteering.
The networks organize social events and outings, help welcome new alumni, interview and mentor students, and serve as social media ambassadors.
2,704 alumni
218 current parents
263 students
Alumni by School
1,213 School of Arts & Sciences
331 Hajim School of Engineering & Applied Sciences
407 Eastman School of Music
344 School of Medicine and Dentistry
101 School of Nursing
261 Simon Business School
60 Warner School of Education
42 Eastman Institute for Oral Health
Regional Networks and You
For more information on activities and programs in Los Angeles, visit Rochester.edu/alumni/regional-network/los-angeles. For more on the University's other regional networks, visit Rochester.edu/alumni/regional-network.
— Christina Gandolfo, 2020
This article originally appeared in the winter 2020 issue of Rochester Review magazine.