Happy 90th Birthday, Ray Ettington '51!
Happy 90th Birthday, Ray Ettington '51!
Not even a pandemic could stop him and many others from celebrating his birthday
About a year ago, Ray Ettington's four daughters started planning a 90th birthday party for their father. Family and friends spanning the globe were going to make the trip to Rochester to celebrate Ray's big day.
But then, the pandemic came.
Ray's daughters changed course quickly. Knowing an in-person party couldn't happen, they came up with a few, new celebratory ideas. First, they wanted to flood their father's mailbox with birthday cards—preferably handmade ones, which have always been his favorites. They hoped he'd get at least 90 of them to commemorate his birthday. The four women also started planning a virtual party so that family and friends could join in from a safe distance.
"Our father is a gem," says Barb Ettington, one of Ray's daughters. "Celebrating his 90th together, even in this virtual world, was a remarkable gift to us all."
The cards
"People in my apartment's mailroom started to wonder if I was sick or something," says Ray. "All of a sudden, I was getting so many cards and they were coming from all over the country and the world."
The birthday card campaign was a success—Ray ended up receiving 218 cards. Some of them were quite unusual, too. For instance, a grandson made him a card out of duct tape and even created a picture of the family's cottage on Keuka Lake out of it.
The mayor of Ponca City, Oklahoma, sent him a card, too.
"I lived in Ponca City until I was the grand old age of five," says Ray. "I was pretty surprised when the mayor sent me a card that said, 'we miss you, come back soon.'"
Ray also received letters and cards from Rochester's Mayor Lovely Warren, University of Rochester President Sarah Mangelsdorf, and a number of University staff, students, and graduates, most of whom were associated with WRUR—the University of Rochester's radio station.
Ray credits a successful nearly 40-year-long IBM career to his WRUR experience with public speaking and advertising sales. He is also proud, as station manager, of having extended WRUR opportunities to the women's campus of the University. (Back then, women were on the Prince Street Campus and men were on the River Campus. The campuses merged in 1955.)
Photo gallery of some of the cards sent to Ray Ettington
The party
While the cards were still flooding in, Ray's daughters were planning the Zoom party. In preparation, they invited guests to "ask 90-year-old Ray a question." And the questions poured in.
What was your favorite candy? Favorite place to live? Secret to happiness? Favorite daughter? (He never answered that one.)
More than 50 people attended the Zoom party on May 28th. As the guest of honor, Ray appeared on the screen, donned in a festive party hat, with a wall of birthday cards behind him (see photo above, at right). He proceeded to answer some of the submitted questions. Then, he took his party guests on a trip—a virtual tour—to Caracas, Venezuela which was the answer to the question "what was your favorite place to live?"
Oh, the place we'll go
For years, Ray has been creating "virtual vacations" as a hobby.
"Back in 2000, I decided to take my first virtual vacation to Borneo. I spent a month researching the Internet and creating an hour-long PowerPoint presentation that included video, stills, blogs, music, and narrative. All of this piqued my interest in geography, history, music, technology, and public speaking."
Before the pandemic, Ray gave his virtual tours to retirement and nursing homes, a veterans hospital, schools, family, and friends.
Ray's daughter, Barb, adds that in the early days of the pandemic, her friends in the New York tri-state area felt quite isolated. "But dad stepped in and would take them on a trip somewhere via Zoom," she says. "It helped them feel more connected."
Technology has helped Ray and his nine-year-old great grandson in California get to know each other too. "Since Aden is learning remotely from home, I took him on my "seven wonders of the ancient world" and "seven wonders of the natural world" trips, and another on Glenn Curtiss and the history of early aviation," says Ray. "This pandemic has been hard, but it's also brought me closer to a lot of people like Aden. I call this the silver lining."
A recent virtual vacation was a bucket list trip around the world with seven one-hour PowerPoint visits to Japan, Mongolia, Siberia, Russia, Norway, Iceland, and Greenland. The itinerary was based on a $90,000 22-day National Geographic tour by private jet.
Next up? Ray is working on a visit to Scotland, virtually. "About six years ago, I picked up the fiddle, which I used to play as a child," he says. "I've been working on some Scotch fiddle tunes, which gave me the idea."
Adds Ray, "The cards, the party, all of it really blew me away–and I don't even feel a day over 89."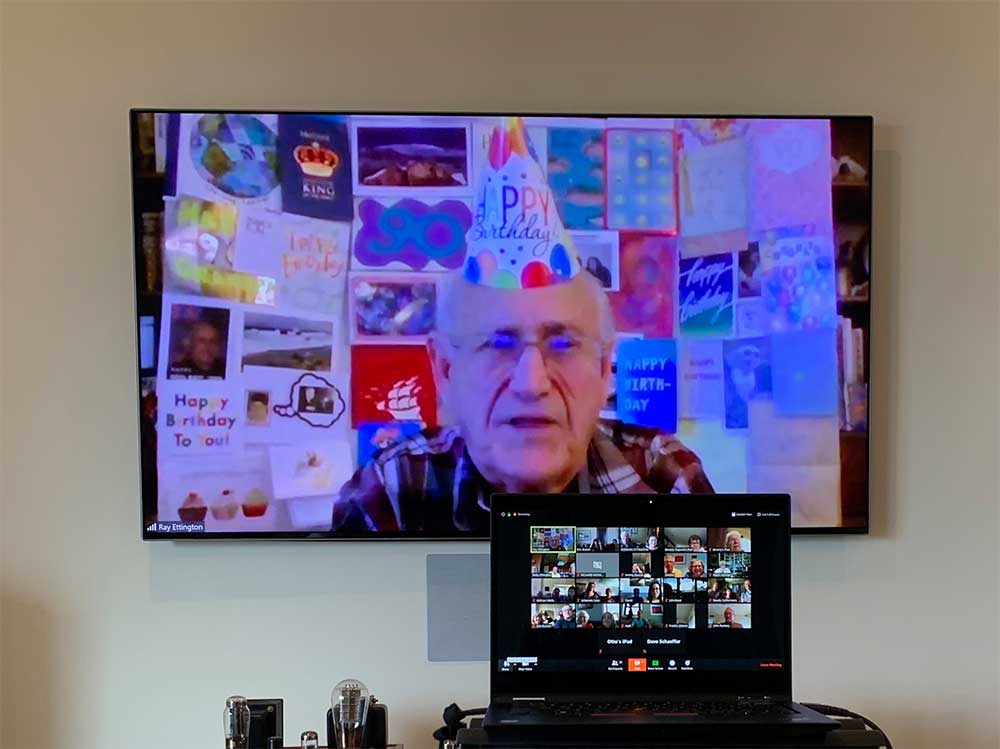 Questions for 90-year-old Ray
What is your favorite candy?
I always loved Milk Duds. When I was a kid, I'd go to the movies every Saturday morning and that was my thing.
What is your secret to happiness?
Optimism, sense of humor, and helping other people. And, having four wonderful daughters.
What was your favorite place to live?
Caracas, Venezuela. I worked for IBM, in sales and marketing for nearly 40 years. When I was about 28 years old, IBM sent me there for two and a half years. It was one of the most exciting times of my life.
When did you first wear corduroys?
That was a surprise question from one of my grandchildren. I can't remember the first pair, but I do remember the last one. I was at our Keuka Lake cottage with a plumber who noticed I was wearing them. He told me that he was happy to see they were coming back in style. I never wore them again.
— Kristine Thompson, June 2020