A Student Shines: Alan Jimenez '25
A student shines: Alan Jimenez '25, Recipient of the Steven and Randi Piaker Family Endowed Scholarship
The Piaker Family Scholarship was established as part of the Nataraj Challenge, which began during the University's Together for Rochester campaign. In just one year, the Nataraj Challenge raised $2.6 million and created 22 new, endowed scholarships—including this one—in support of the University's equity, diversity, and inclusion goals.
---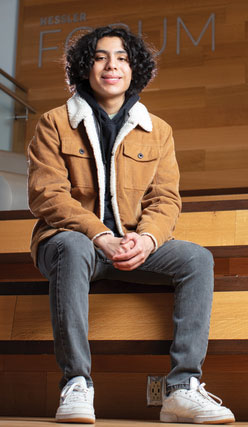 Growing up about an hour north of Chicago in a small town called Round Lake, Alan Jimenez '25 aspired to go to college, especially after an eighth grade field trip to a local campus. Watching the students there allowed him to imagine himself as a college student someday.
Jimenez's parents—Mexican immigrants—wanted him to go to college, too. Getting a scholarship helped make it possible for him to attend the University of Rochester, Jimenez's top choice. "My parents always emphasized academics," he says. "To this day, they continue to motivate me—my mom even sends me daily motivation texts."
In his senior year of high school, Jimenez learned about the University from his school counselor. "I was really intrigued by the Rochester Curriculum and that I could dive deeply into my major and still have room in my schedule to explore other interests," he adds.
Jimenez's first class in computer science is both challenging and inspiring. He and a classmate are creating a Super Mario-like video game for their capstone project this semester—an effort that Jimenez describes as both "fun and hard."
Besides delving into computer programming, Jimenez is already exploring new interests both in and outside the classroom. His love of music prompted him to sign up for a music class. He's learning about treble and bass and what kinds of chords complement various melodies. He loves it so much he's considering trying an instrument for the first time. While fluent in English and Spanish, he's also hoping to learn another language during these four years.
When he's not in class, Jimenez can typically be found studying in the Gleason Library or Carlson Library or exercising in the gym. He's been a part of soccer and volleyball intramurals, and he enjoys pickup dodgeball games on Saturday nights.
Recently, Jimenez met his scholarship donors, the Piakers, via Zoom. "We talked about how the campus has changed, their advice for getting through final exams, and sights to see in New York City, as I'm planning a trip with some of my new college friends soon. It's amazing to me that they gave me a scholarship. They didn't even know me, yet they believed in me and wanted to support me. I can't thank them enough."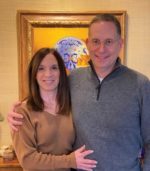 "My experience at the University was truly life-changing; it made me stretch academically and, at the same time, offered a nurturing environment that promoted personal growth and resulted in lifelong friendships. My wife, Randi, and I consider it a privilege to give back and help qualified young adults fulfill their dream of attending the University of Rochester."
– Steve Piaker '84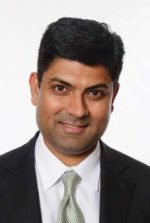 "Now more than ever before, we are all acutely aware of the challenges faced by historically underrepresented groups in our country. Courtney and I established this scholarship challenge hopeful that others would step up, and we are glad that so many have joined us. It is so clear to us that when a collective community comes together, we can better help our most talented and diverse students pursue their aspirations and to do so free of undue financial hardship."
– Naveen Nataraj '97, University Trustee
Get involved
Consider establishing or supporting a scholarship and help deserving students get a Rochester education. Contact Lisa Hall, Executive Director of Advancement, for more information.
— Kristine Kappel Thompson, Updated April 2022