Favorite Spaces with Herb Smith '91E
Favorite Spaces with Herb Smith '91E
In his dynamic home office, Smith finds and inspires joy and creativity.
Smith picked up his first trumpet when he was nine years old. Today, the Olds Ambassador rent-to-own brass horn can be found, along with dozens of other trumpets, in Smith's basement home office. Adorned with many objects that ground, inspire, and entertain, Smith's favorite space is as dynamic as he is.
STOMP-sounding, junkyard-found hubcaps hang from the ceiling. Existential books written by yogis and philosophers are tucked among scores of music. Photographs and sculptures of Black musical legends like Louis Armstrong, Dizzy Gillespie, and Duke Ellington rest on nearby walls and shelves—smiling, encouraging, and inspiring the music that Smith and his students make there.
Smith also performs with Gateways Music Festival, a collaborative initiative with Eastman that connects and supports classical musicians of African descent. Committed to bridging racial divide through music, in 2020 he started.
Born and raised in Cincinnati, Ohio, Smith came to Rochester to attend the Eastman School of Music—and he never left. He's been with the Rochester Philharmonic Orchestra (RPO) for more than 20 years and, today, is its third trumpet and a periodic guest conductor. He has also played with the Buffalo Philharmonic many times and frequently conducts for the Syracuse Symphoria.
Herb City Trumpets, a music education and mentorship program for Black teenagers and boys. The group operates through ROCmusic, a city-run initiative designed to give underrepresented youth music instruction.
For me, music is everything—it has taken me wherever I've been and leads me wherever I should go. —Herb Smith
A few of Herb's favorite things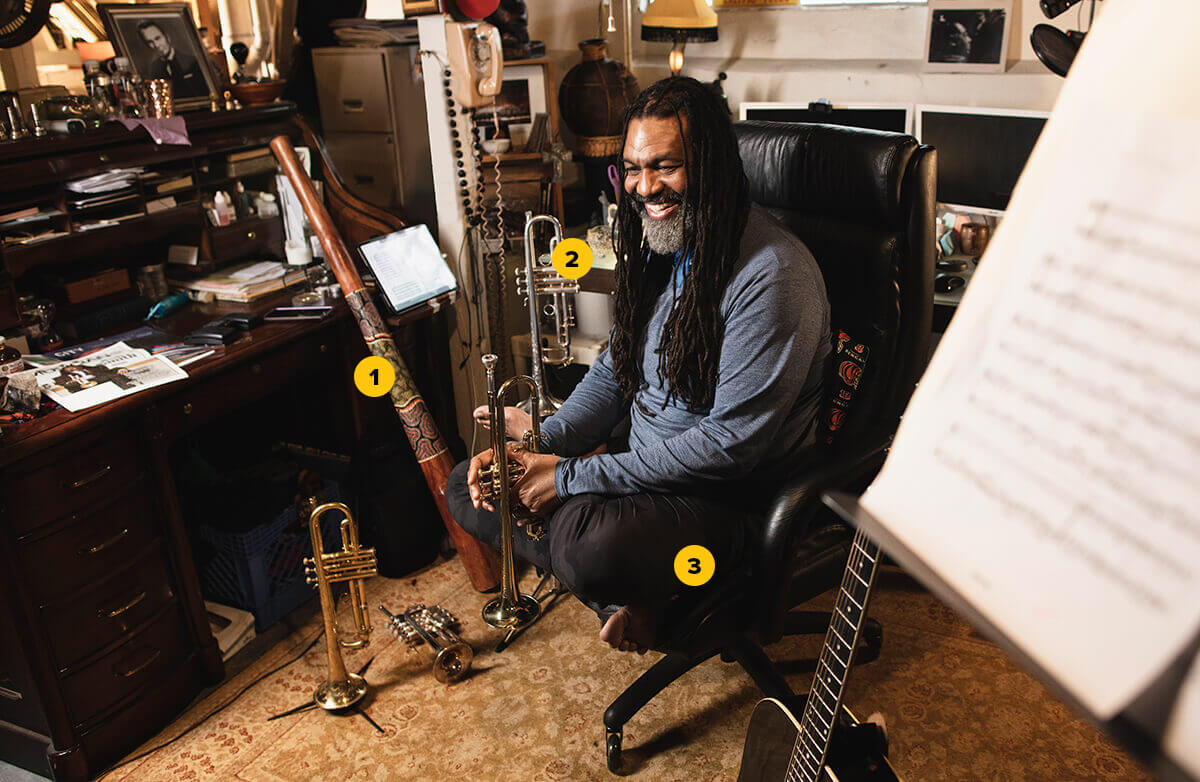 1. The didgeridoo. A traditional Australian instrument named for the sound it makes. Smith found it years ago at an unlikely place: Eastview Mall. To the surprise of the store's staff and customers, Smith started playing it, using the same vibrating, lip-buzzing technique that makes the trumpet sing.
2. Smith's beloved Bach trumpet. A few years ago, Smith was invited to tour the Bach factory in Indiana. He arrived with an empty trumpet case just in case he found an instrument that spoke to him. He did.
3. Lotus: a favorite yoga pose. As an avid yoga practitioner, Smith often begins each day before dawn on his mat. He often plays, practices, and performs barefoot, too.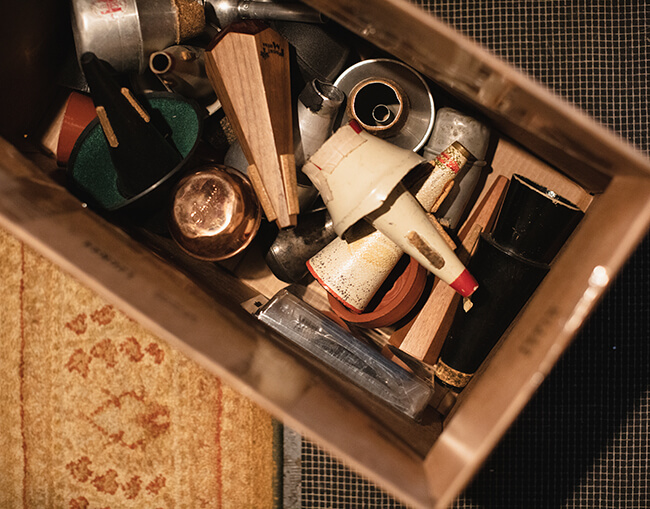 A box of mutes. Made of brass, metal, fiber, or cardboard, mutes come in a variety of shapes
to elicit different musical sounds. Straight mutes have a distinctively nasal sound and are used
in both classical and jazz. Harmon mutes—also called wah-wah mutes—were a favorite of Miles
Davis (a favorite of Smith's). Plunger mutes make a similar wah-wah sound and can be easily
sourced. Go into any hardware store, purchase a standard rubber sink plunger, and just put a
hole in the center of it to complete your mute.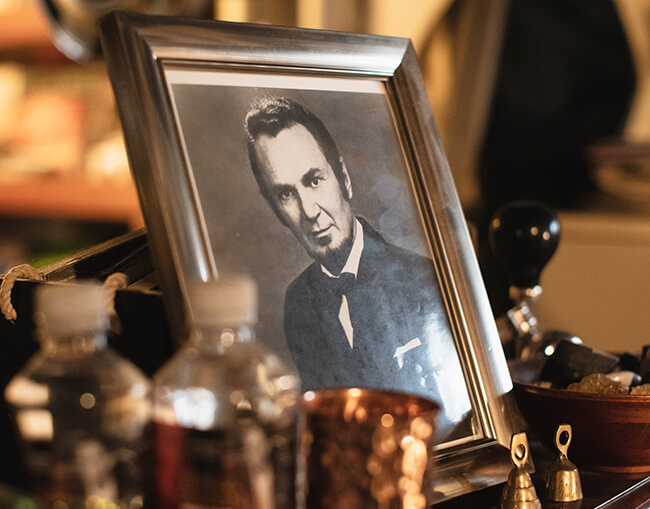 Photo of Jerzy Semkow, RPO's principal conductor from 1985 to 1989. Semkow and his clear vision for music inspired Smith, as a trumpet player in Semkow's orchestra and as a then-aspiring conductor. The two water bottles in the foreground feature Ward Stare, RPO's conductor from 2014 to 2021. Both men inspired Smith and modeled, for him, the qualities of an excellent conductor.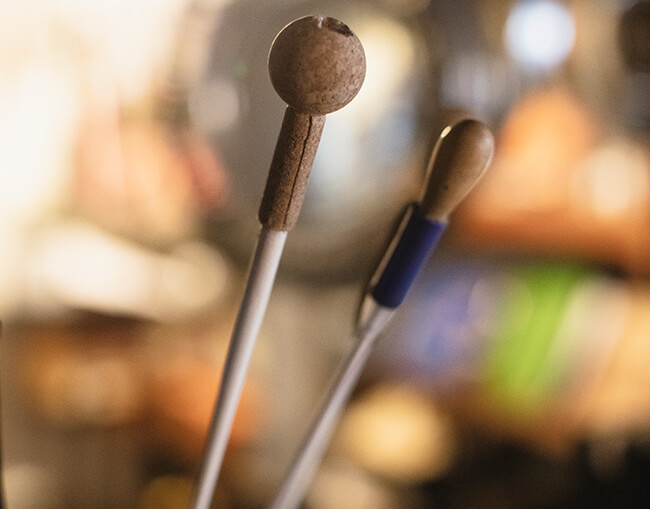 Handcrafted conductor batons. Christopher Seaman, RPO's conductor from 1998 to 2011, gave Smith the personally handcrafted baton on the left. The one on the right came from Amazon but didn't work for Smith, so he attached a pen's grip to make it fit his hands. Jerry-rigging that baton was the catalyst for Smith to now order through PaGu Batons in Buffalo. Similar to Ollivanders, the wand shop in Harry Potter, customers select the size, style, and preferred wood type for their wished-for baton.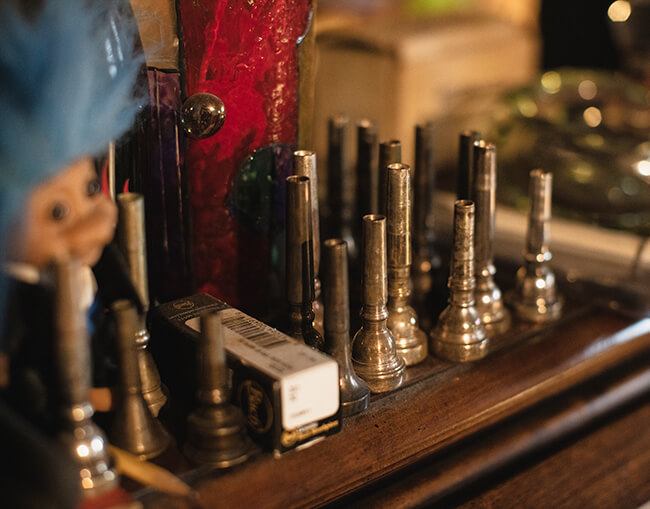 The mouthpiece graveyard. Overseen by a blue-haired troll, these mouthpieces rest on a musical altar of sorts atop Smith's classic rolltop desk. The mouthpieces either were left behind by students or just lost their luster over the years.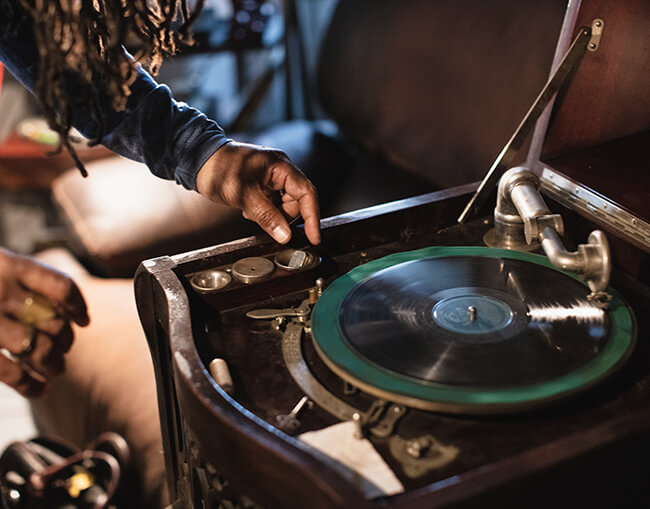 Sonora windup phonograph record player. A friend of Smith's no longer wanted this conversation-generating 78 rpm-playing antique—but Smith did. He often cranks it up and plays some of the old records stored inside, like "Hot Jazz with Jelly Roll Morton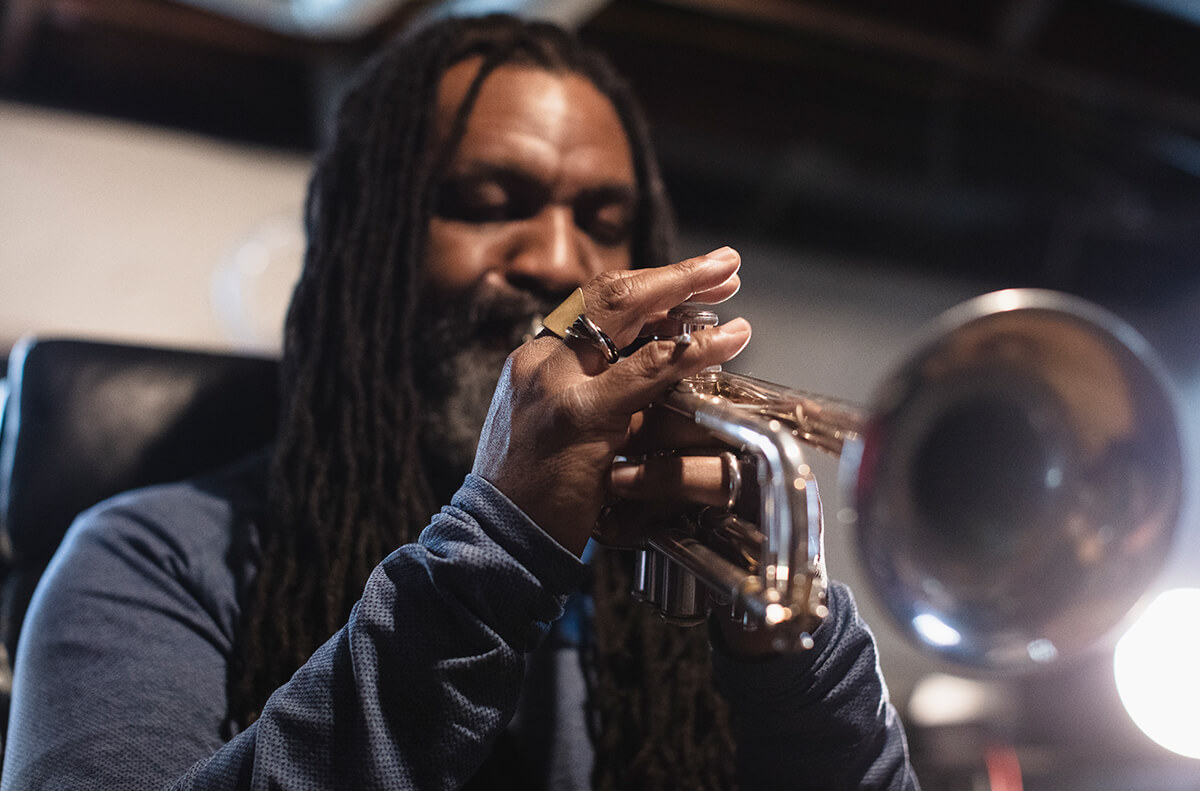 Tune in
Smith hears music everywhere: in the hum of a car engine, in the drizzling rain, and even in the thoughts that play over and over in his head—like when he misplaced a friend's book and kept thinking to himself: "Dammit Walpole, I ain't got your book." That phrase inspired a tune that he and the Freedom Trio recorded a few years ago. Give it a listen and see if you can hear the words beneath the notes.
Find inspiration
Eastman's Centennial Celebration
Find this story and more good things for University of Rochester alumni and friends in the summer issue of Buzz magazine.
— Kristine Kappel Thompson, May 2022
Photography by Matt Wittmeyer