For Your Health: Stretch Yourself
For Your Health: Stretch Yourself
Sitting in one position for too long, especially with poor posture, can take its toll on your body. It's important to take breaks to relieve stiffness, reduce pain, and boost mobility. You don't need to bend over backward to loosen up though. Try these simple stretches and you'll be on your way to a better quality of life.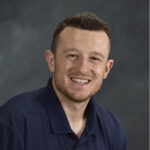 "Incorporate these movements into your daily life to increase flexibility and improve mobility. This will mean less pain, which too many of us experience, especially as we age. Start simply by taking just a few minutes a day for these stretches. If you need a reminder, schedule time in your calendar or set an alarm on your watch or phone. The idea is to familiarize your body with proper positioning. Then, from there, slowly move into each stretch. Focus on doing each one correctly and know that you're creating healthy habits that will benefit you for years to come."
Conner Lorenzo, MS, ATC, CSCS, SFMA
Program Coordinator
UR Medicine Fitness Science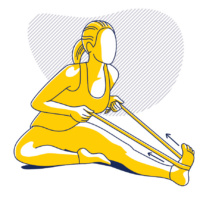 Leg Stretch
Sit with one leg extended and the other tucked in with your foot resting against your thigh. Reach toward your ankle to feel a mild stretch at the back of your thigh. Make sure to tuck your chin to your chest. Use a strap, belt, or scarf as needed to guide and not force a position. Hold for 15 to 30 seconds. Repeat two times on each leg.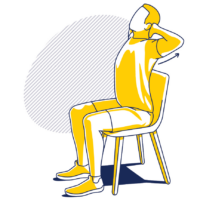 Back Extension
Sit in a chair and clasp your hands behind your head. Gently arch your upper back, looking up toward the ceiling. Try not to arch your neck. The goal is to get movement from your upper back and not your neck. Repeat 10 times.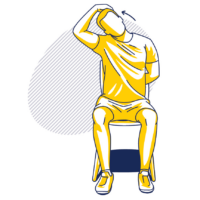 Neck Stretch
Sit up tall in a chair and put your right arm behind your back. Using your left hand, gently reach over to grasp your right side cheekbone and tilt your head toward the left. Hold for 15 to 30 seconds. Repeat three times on each side.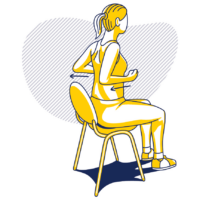 Shoulder Squeeze
Sit up tall in a chair with your arms by your sides. Squeeze your shoulder blades together, opening the front of your chest, and hold for five seconds. Repeat 10 times.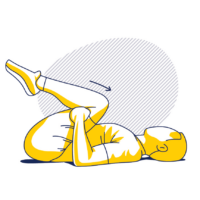 Double Knee-to-Chest
Lie on your back with your knees bent and your feet flat on the floor. Gently pull both knees up toward your chest, with your hands on the backs of your thighs. Rock side to side and back and forth for an additional stretch. Hold for five seconds and repeat 10 to 20 times.
Remember to check in with your healthcare provider if you have a concern about ongoing or worsening muscle pain.
Life in Motion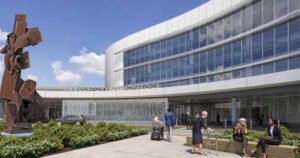 Opening in 2023, UR Medicine's Orthopaedics & Physical Performance Center at Marketplace Mall will offer easy access, the latest and best approaches to care, and a full range of musculoskeletal services for patients of all ages and abilities. It will also offer innovative programs such as Fitness Science, which uses movement analysis and training, nutrition consultation, and mental skills coaching to help athletes, performing artists, and others optimize their performance.
Outside the building's main entrance, a 14.5-foot sculpture by internationally renowned local artist Albert Paley will greet patients. Made from steel, the piece—titled "Moment"—features curling waves and contrasting geometric angles and reflects the facility's architectural theme of a life in motion.
"Albert's sculpture is beautiful, compelling, and ideal for this space," says Paul Rubery, MD, the Marjorie Strong Wehle Professor in Orthopaedics and chair of the Department of Orthopaedics. "It helps us to enter into a new era of orthopaedic care for our community and region."
"I'm extremely pleased to have my artwork be a part of this new space," says sculptor Albert Paley. "I describe 'Moment' as a time of transition ushering in a new dimension. It gives me much pride that the sculpture will be prominently placed outside the main entrance to welcome patients and families. I hope it enhances their experience and offers an opportunity for reflection during their visit."
Learn more
UR Medicine Orthopaedics & Physical Performance Center
UR Medicine Fitness Science
This story originally appeared in the fall 2022 issue of the Buzz. Illustrations by David Hildreth.
— Kristina Beaudett, November 2022