Training orthopaedic surgical residents: P. Christopher Cook, MD
Training orthopaedic surgical residents: P. Christopher Cook, MD
Supported in part by the William and Judy Thorpe Endowment
As a surgeon, P. Christopher Cook, MD, the Dr. C. McCollister Evarts Professor in Orthopaedics, chief of the pediatric orthopaedic division, and head of resident training for orthopaedic surgery, has dedicated his career to helping children with bone issues. These issues span infections, birth defects, spinal deformities, and trauma to bones and joints from all causes, including sports injuries. He knew this would be his life's work after an orthopaedic rotation during medical school.
"That rotation set my career path," says Cook. "Combining my interest in both pediatrics and orthopaedic surgery has allowed me to help children in a hands-on way, both of which were, and remain, important to me." Cook knows the difference that excellent training can make. That's why he not only works with children but also with surgical residents.
In his supervisory training role, Cook is responsible for overseeing resident education, curriculum, and well-being, as well as the application process. The resident training program offers learning opportunities across all orthopaedic specialties, too, and is very selective. Every year, up to 800 medical students apply for the eight available spots. Cook and department leadership interview about 120 applicants, then pare down to fill the coveted positions. His goal is to make sure that residents become competent, well-rounded surgeons who are well-versed in patient care and surgical skills.
"We offer our residents a variety of state-of-the-art training programs that helps them gain the essential surgical skills they need before entering the operating room to work on real patients," he says. "It's a distinguishing aspect of what the orthopaedic department offers, and it draws the most qualified residents."
These labs, and the equipment in them, rely heavily on funding from generous donors such as William P. Thorpe '81M (Res) and his wife, Judy. For instance, in the current Kenneth DeHaven Skills (KEDS) Laboratory at UR Medicine's Sawgrass Surgical Center, the Thorpes' funding has allowed residents to learn techniques such as drilling a pin into bone and practicing arthroscopy using simulation software. (Arthroscopy is a minimally invasive surgical procedure that DeHaven, the first chief of sports medicine in the orthopaedics department, helped pioneer. It is now practiced worldwide for joint repair and ACL reconstruction.)
The Thorpes' gift will also make a significant impact on what will be offered in the new Orthopaedic & Physical Performance Center. The KEDS Lab will move to a space four times larger at the new location. "In the new KEDS Lab, our orthopaedicc residents will get to practice a variety of techniques including using equipment such as sawbones—these are composite bone models designed to simulate real bones," says Cook. "Residents will also train using a variety of virtual reality programs, which will allow them to practice and observe what they are doing as they are doing it and make corrections along the way."
The Thorpes' support will facilitate innovative collaborative learning at the new center, too. Experts like Cook will be able to link various classrooms to the UR Medicine's 150-person auditorium and to operating rooms so people can work and learn together no matter where they are.
Adds Cook, "As with computers, which tend to double in speed and power every 18 months or so, there's a constant need for us to bring in new equipment and techniques. The Thorpes' generosity helps us do that and keeps us on the cutting edge of surgical technology and training."
UR Medicine's Orthopaedic & Physical Performance Center
The new UR Medicine's Orthopaedics & Physical Performance Center at Marketplace Mall in Rochester, NY, which is slated to fully open in late 2023, will offer easy access, the latest and best approaches to care, and a full range of musculoskeletal services for patients of all ages and abilities. This includes all the expertise, facilities, and equipment needed to diagnose and treat bone, muscle, spine, and joint conditions. It also includes an array of medical imaging, physical therapy, sports medicine, athletic training, injury prevention, and nutrition/mind-body wellness services. Everything will be available under one roof, too, which will create an orthopaedics campus unlike any other in the Northeast. Philanthropy like the Thorpes' has provided vital support for the center and the education and training that will happen there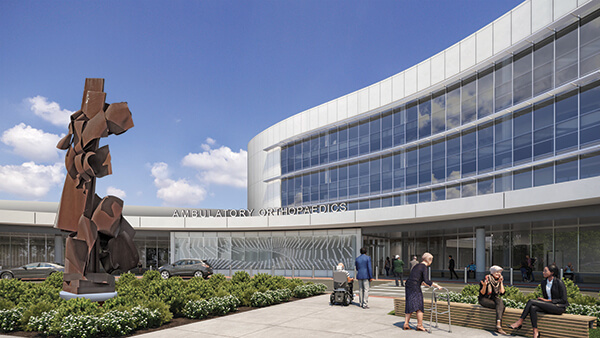 "Judy and I are and remain grateful to those institutions from whom we received our education and preparation for work life. I did not attend the University, even though I grew up in Rochester. But I did my orthopaedic residency there. I felt well trained and very respectful of all my instructors—Drs. Evarts, Burton, DeHaven, Jackman, and many others. Judy and I are fond of having included the University in our grateful giving. I know many others are likewise so grateful." —William P. Thorpe '81M, (Res) and Judy Thorpe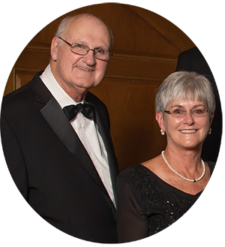 Support orthopaedics
Your philanthropy will help provide our community with best-in-class orthopaedic treatment and care. Contact Dianne Moll for more information.
— Kristine Kappel Thompson, March 2023