What's cooking?
Jill Chodak, MS, RD, CDN, a clinical dietitian at UR Medicine's Center for Community Health & Prevention, offers up the following healthy snack recipes. Each one is easily customizable and contains fiber, protein, and healthy fats, which together help satisfy hunger and control blood sugar.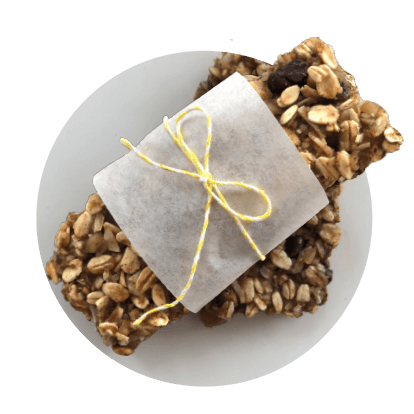 Gluten-free oat bars
This simple go-to snack is packed with nutrients. The coconut and chocolate chips add texture and a little sweetness.
Number of servings: 10-12
Prep time: 10 minutes
Cook time: 20-30 minutes
2-3 cups gluten-free oats
2-3 ripe bananas
½ cup applesauce (optional)
½ cup chopped walnuts (or nuts of your choice)
½ cup gluten-free chocolate chips
½ cup unsweetened shredded coconut
1 tbsp ground flaxseed
1 tsp ground cinnamon or 1 tbsp pumpkin pie spice
Mix all ingredients into a bowl until all are incorporated, and the mixture is soft. Spray a casserole pan with non-stick spray and cook in the oven at 350 degrees for 20 to 30 minutes. Serve warm or let cool and store in the fridge for up to a week, and then eat cold.
Cucumber circles
These flavorful, easy-to-assemble, bite-sized snacks are great midday or as appetizers.
Number of servings: 20
Prep time: 15 minutes
Cook time: none
1 large cucumber, sliced into circles
(and peeled as desired)
1 container of flavored hummus
such as roasted red pepper
1 bag of unsalted, roasted cashews
(or any kind of nut)
Arrange cucumber circles flat on a serving plate. Place about 1 tbsp of hummus on each, then add a cashew on top. Top with parsley and/or serve on an everything bagel for extra flare.
Ants on a log 2.0
This spin on a classic childhood snack is easily adjustable based on dietary restrictions, allergies, and preferences.
Number of servings: 6-8
Prep time: 10 minutes
Cook time: none
1 head of celery washed, with stalks cut
horizontally into 3 equal pieces
1 jar of peanut butter or 1 container of light cream
cheese or vegan cream cheese with chives
3 tbsp cocoa powder (if using peanut butter)
1-2 small boxes of raisins (if using peanut butter)
Arrange celery with openings face up on a serving plate. If using peanut butter, place about ½ cup into a small bowl and mix in cocoa powder. Then, spread this into the openings of the celery, top with raisins, and serve. If using cream cheese, spread cream cheese into openings and serve. Add fresh chives, paprika, or hot sauce, as desired. Serve as is or enjoy the topping on an everything bagel.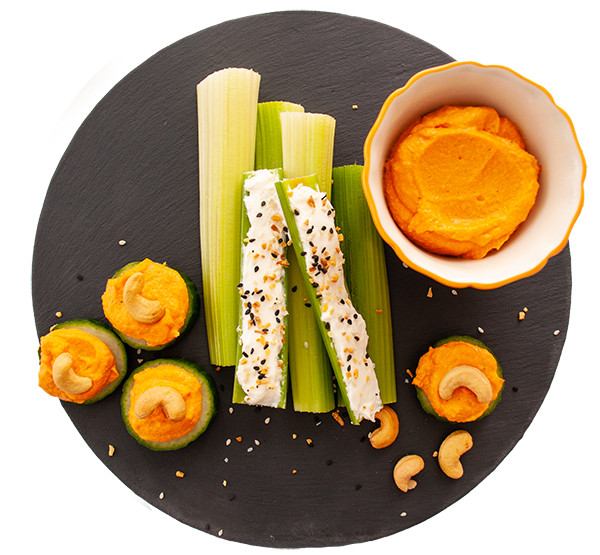 —Food styling and photography by Joanna Hackett