Success Story: Christina Mather '17, '18N
Success Story: Christina Mather '17, '18N
UR Nursing helped this alumna change careers. Now, it's part of her next chapter moving from Neurovirology researcher to wellness advocate.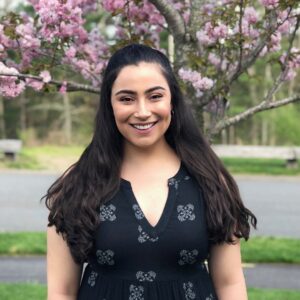 Christina Mather '17, '18N found an interest in health care while at the University of Rochester. She earned her first bachelor's degree in microbiology and immunology across the street at the School of Arts & Sciences, where she participated in neurovirology research studies as an undergraduate, but craved more personal connections in her daily work.
"I have always had an innate passion for healing others and wanted a hands-on job where I could do just that," Mather said.
Mather, who is originally from Rhode Island, knew the School of Nursing would be an excellent fit: "they welcomed diverse students like me from many different career paths in their program."
The accelerated bachelor's program helped Mather successfully start a career in the Neuromedicine ICU at Strong Memorial Hospital after graduation.
As an alumna, Mather found a supportive environment at the School of Nursing once again when she transitioned to a new role as a project nurse at the Center for Employee Wellness, and just recently, started to pursue her master's degree in the Family Nurse Practitioner specialty.
Being part of the Employee Wellness team has helped Christina channel her love for preventative medicine.
How did the School of Nursing prepare you for what you're doing at your current job?
The biggest lesson I learned from the School of Nursing is that nurses, first and foremost, are their patients' most prominent advocates. I aim to advocate and educate my patients in my everyday practice.
Why did you choose the University of Rochester Medical Center to start your nursing career?
My health assessment lab instructor, Jenna Gonillo-Davis '15N (MS), encouraged me to pursue a career in critical care nursing in Strong Memorial Hospital's Neuromedicine ICU, where she works as a nurse practitioner.
The Neuromedicine ICU welcomed me into my first nursing role and supported me through all the challenges that come with being a new bedside nurse. My preceptors, co-workers, and patients helped me foster strong critical thinking skills and inspired me to pursue a degree as an FNP in the future, hopefully specializing in neurological rehab.
Most importantly, URMC supported me after a severe car accident that shattered my right lower leg and left me physically unable to fulfill the role of a bedside ICU nurse. They provided me with both excellent medical care and job security, and connected me to new career opportunities when it became clear I could no longer work in the Neuromedicine ICU.
I never imagined that there could be so many different types of nursing careers out there. While grieving the loss of my identity as a bedside nurse, I wasn't sure what jobs would be physically feasible for me to pursue. The School of Nursing's Center for Employee Wellness helped reignite my passion for nursing and has supported me as I advance my education.
What do you find most rewarding about being a nurse?
I love that I can go home every day and feel like I have accomplished at least one tangible thing, whether it is helping educate a client on their risk factors for cardiovascular disease or even providing vaccinations to various clients the Center for Employee Wellness serves.