Success Story: Stephen Romas '20N
Success Story: Stephen Romas '20N
A Hand to Hold in Tough Times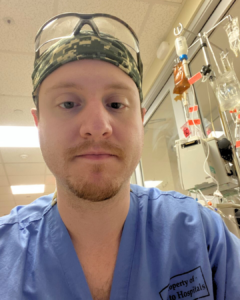 Stephen Romas '20N came to the University of Rochester Medical Center (URMC) as a lung biology researcher seven years ago after earning his bachelor's at Mercyhurst University.
Following a calling to make a difference at the bedside, he earned his second bachelor's through the accelerated program in 2020 and became a MICU nurse at Strong Memorial Hospital.
His experiences in the URMC community have affirmed his choice to pursue a new career in nursing.
"I love that nurses are the backbone and the heartbeat of the health care industry in this and many other countries," Romas said. "We are the advocates at the bedside for the patient and their families. We spend the most time with them. We know them best behind their family members and grow to feel responsible for them. I love those responsibilities and bonding that I am able to do with those patients as a bedside nurse."
Romas is now continuing his education as a graduate student in the Adult Gerontology Acute Care Nurse Practitioner program.
How did you know you wanted to become a nurse?
I had worked in lung biology research here at URMC after my first undergraduate degree. I knew I wanted to pursue some sort of clinical medicine but was unsure which track I wanted to pursue. I shadowed doctors, physician assistants, nurse practitioners, and registered nurses, and fell in love with the RN role, with the idea that I would advance to become an NP in the near future. I wanted to make a difference at the bedside.
What's the most rewarding part of being a nurse?
As a bedside ICU RN, I take pride in being there to help patients and families through some of the scariest and most emotionally fragile times in their lives and watching them build back up and move on from the ICU. Holding a patient's hand during a procedure and providing comfort, education, and treatment to them in all other aspects to the best of my ability is what I take pride in most.
What was the best part of your School of Nursing experience?
I enjoy feeling like I am prepared to do my job and that what I am learning has meaning. I often find that topics or case studies discussed in my NP classes show up the next day in my clinical practice as an RN. I am gaining a true broad perspective of acute care from the RN role and now the provider role on a daily basis.
Where can you most likely be found if you're not at work or school?
I am an avid golfer and lacrosse player. I played lacrosse in college and continue to play in men's leagues, pickup games, and tournaments. I also officiate Section V lacrosse here in Monroe County at all levels from youth to varsity. I love giving back to a game that has meant so much throughout my life! I am also big into comedy and see many stand-up shows per year and listen to many comedy podcasts. Lastly, I enjoy spending time with my girlfriend, mother and her two cats. They are my wonderful support system.
What are your favorite features of Rochester?
I was born in Pittsburgh, PA and we moved to Pittsford, NY when I was in elementary school. I grew up in this area and came back after my first college degree and haven't left since. I love spring and summer in Rochester, good golf, food, and beverage options in the area. I always recommend a garbage plate to anyone coming in from out of town!