Alumna Michelle Albert's Remarkable Firsts
Alumna Michelle Albert's Remarkable Firsts
Commencement Keynote Speaker Reflects on Challenges along the Way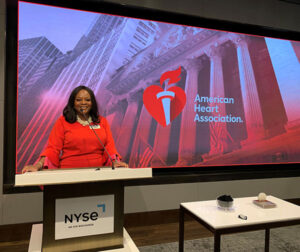 Physician-scientist Michelle A. Albert '94M (MD) is the first person in history to serve concurrently as president of the American Heart Association, the Association of University Cardiologists, and the Association of Black Cardiologists. She's also the first woman of color and Black woman to be president of the AHA and AUC (where she is now past president).
To be the "first" is noteworthy, but as Albert has found, it can also mean you must find ways to thrive when you feel alone.
While humbled and grateful to be asked to deliver the commencement keynote at her alma mater, Albert's time in medical school was no cakewalk. She recalls being one of only three Black students in her class of 90 students. Cardiology is also a field historically dominated by males, mostly white.
Luckily, she says that good mentors don't need to be exactly like you. They just need to be able to help you visualize a future that you can't see for yourself.
But at first, she had to visualize on her own. Albert was born and raised in Guyana, where she atnd her younger sister, Maxine, lived with their grandparents in a working-class community. Her father, Michael Albert, had received a government scholarship to study in England, where he and her mother, Carmen Albert, studied and worked to help support the family.
When Albert was 14, her grandfather collapsed from cardiac arrest. Where they lived, people didn't know CPR or have access to a portable defibrillator. Her grandfather died that day. It was a painful way for Albert to experience the impact of socioeconomics on historically under-resourced communities. But it lit the spark that set her career into motion.
Developing True Selves
Now, as a practicing clinician, researcher, and epidemiologist at the University of California at San Francisco (UCSF), she is in the position to mentor directly. She also serves as the dean of admissions for the UCSF School of Medicine and director of its NURTURE Center (CeNter for the StUdy of AdveRsiTy and CardiovascUlaR DiseasE).
Both roles have brought her full circle in many ways. She has chosen to recruit and retain a workforce that can address the unmet needs in health care. Part of her commitment is drawing more people of color into the field of cardiology. In 2022, Forbes magazine named her to its "50 Over 50" list for the impact she has made.
"Mentorship is a priority for me because I absolutely know that we all need mentors and sponsors to develop our true selves and have successful careers with authenticity," said Albert. "I know the sense of isolation that I felt early on, and I don't want to see the same thing perpetuated for others like me. Mentors allow us to stretch ourselves—because oftentimes we want to sit in the comfort zone. They help us see a different version of ourselves."
"She Just Opens Doors"
Those who have had Albert as a mentor point to the example she sets and the remarkable level of care she offers people.
"The cardiovascular workforce lacks representation of Black physicians, especially Black women, and can be very isolating," said Jonathan Butler, PhD, a social epidemiologist and minister at the NURTURE Center. He says watching Albert overcome many obstacles has inspired him. "I've never seen somebody so focused on work, no matter how many obstacles come her way."
Butler first met Albert when he was a postdoctoral fellow. He applied to the position after a mutual colleague suggested she would be a good fit with his research interests (social determinants of health and cardiovascular disease, to name just two). Albert, he said, embraced him with open arms.
She is more than a professional mentor; she is a trusted friend. Every major holiday or birthday, he receives a personalized gift from her, and he still has one of the first—a set of customized gold pencils.
"Frequently, we would celebrate a NURTURE team member's birthday," said Butler. "Michelle planned every detail, down to the seating chart; menu; and personalized, hand-wrapped gifts for each person who came." As he put it, "That's the caring and detail-oriented person Michelle is."
Melissa Burroughs, MD, credits Albert with guiding her on a long and winding road. They met when Burroughs was a medical student at Harvard and on track to become a cardiologist. For big career decisions, from choosing a residency program to getting her first job at UCSF, Burroughs, who left academics five years ago to become a noninvasive cardiologist in private practice, says Albert has been a constant source of support.
Burroughs was a resident at UCSF and returned to join the cardiology faculty in 2015. At the time, she and Albert had been only the first and second Black cardiologists on faculty.
"She's the only reason I took that job," Burroughs said, noting that the diversity of faculty and fellows has improved since then. She credits this to Albert's leadership and example. "She just opens doors. We all have obstacles we need to face, especially in medicine, but it's so much better when you have a more senior person opening doors for you."
Burroughs said she has learned from Albert how to combine rigor with creativity. The field of cardiology is based on exciting data, but the work doesn't stop there. "I learned from her that it's not always about the content; it's the approach," Burroughs said. "I think she brings all the best qualities we want in a physician and teaches them so well. All the skills she has, you can apply to whatever you do."
One of these skills includes compassion—both for your patients and the people you work alongside. Most important, for yourself. Burroughs says the rigor of medical training has a way of beating the compassion out of you, making it easy to fall into a trap of abandoning self-care in the process. Albert provided a voice of clarity when it was needed most.
"I called her when my father died," said Burroughs. Her advice was simple: Work is secondary. Send an email to work and book a flight home the next day. In those moments when you know what's most important, Burroughs reflects, "Sometimes you just need someone to give you permission."
Why Rochester?
It's no surprise that Albert, whose interest in social determinants of health inspired her to go into medicine, was drawn to the University's School of Medicine and Dentistry and its biopsychosocial model, which takes a holistic approach to health and looks beyond scientific presentation. Today, her research as a physician-scientist-epidemiologist explores those very questions.
"The medical school that you attend does have a significant influence on where you go in the future— through its perspectives that help shape you as a person," said Albert. "Rochester helped crystallize that for me over time. I've come to realize the impact that it has had on me. It's a process of being divinely drawn to certain things over time, resulting in my building a career around those building blocks, and Rochester was the place where the chips started falling into place."
Albert, who lives in the San Francisco Bay Area with her husband, Edward Brown, hasn't been back in more than two decades, despite spending years in the Northeast: She was chief medical resident at Columbia University and went on to complete a master's degree in public health at Harvard School of Public Health as well as fellowships at Harvard Medical School and Brigham and Women's Hospital, where she became a rising star.
She has won numerous awards and serves on national boards and committees through her affiliation with the AHA and American College of Cardiology (ACC). Her research has been featured on international media outlets, and she is an often-quoted expert on cardiovascular health, maternal health, and health equity. She is also an elected member of the National Academy of Medicine, one of the highest honors in medicine.
But she never set out to land leadership positions in the nation's most prestigious cardiology associations. Albert says she simply followed her interests and worked hard to seize opportunities that aligned with her desire to make a difference—on a large scale.
"I think, honestly, you're defeating yourself to start with a goal of being the president of an organization," she said. "Your goal should be about having an impact in things that are important to developing people, including the health of the population."
Find Your Mentor
Make connections with The Meliora Collective, an online platform for alumni, undergraduate and graduate students that fosters personal and professional exploration. Learn more about The Meliora Collective Mentorship Program, too, which runs twice each year, and matches individuals based on academic and career interests, affinities, and life experiences.