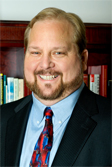 "Aspire, break bounds. Endeavor to be good, and better still, best."
— Robert Browning
I am thrilled to report that the University of Rochester again made history in fiscal year 2008, breaking all the records for philanthropic achievement that we set in fiscal year 2007.
Let me express my deepest gratitude to our generous donors, energetic president, Board of Trustees, Board development committee, volunteers, deans, faculty, advancement staff, and partners across the entire University community. They have worked tirelessly all year to make this record performance possible. People aligned with clear, shared goals are the key to great advancement work. We all should be proud that our teamwork, perseverance, and commitment exemplify the University's motto, Meliora, ever better.
Our historic achievements include:
$109.1 million in total cash compared to $84.7 million in the previous year, representing 28.7% growth year over year. Since we began Operation Advance, we are posting a 25% average annual growth rate.
$140.3 million in total commitments compared to $91.9 million, representing 52.7% growth. Our average annual growth rate during Operation Advance is approximately 47%.
Approximately $43 million in net new pledges added to our book of business.
More than 860 Charter Members of the George Eastman Circle who made five-year commitments totaling $18 million, far exceeding our original goals of 250 Charter Members and $10.5 million in pledges.
In recent years, much of our effort has been necessarily focused on building a state-of-the-art advancement operation for the University. We have worked hard to develop a new way of doing business and build stronger connections among supporters, including alumni, donors, friends, parents, and new prospects. A more robust volunteer network is emerging, which we will continue to expand and organize in the coming year. Two additional important highlights from the past year include:
OASIS Phase III (Gift, Biographic, Membership, and Stewardship modules) was deployed successfully within budget and on schedule on July 1.
Five National Councils have been formed thanks to the wonderful partnership among the Deans and school development officers. National Councils for the College, School of Medicine and Dentistry, Eastman, Simon, and Warner are scheduled to meet by the end of 2008.
We have made great strides in reaching out to our external community members. These relationships will be a foundation for future success. We are also beginning to establish a sustainable culture of advancement. The most visible examples of this movement are the extraordinary involvement and dedication of the trustees and the spectacular success of the George Eastman Circle, led by National Co-chairs Larry Bloch and Tom Sloan with the tremendous help of Gwen Greene, chair of annual giving programs, and their fellow volunteers. Our success is due to their leadership and a tremendous collaboration with the entire Advancement staff.
Our early successes, far exceeding projections, position us well for the challenges ahead. While we celebrate this year's financial performance, we must not lose sight of the fact that our real work — our true mission — is to build a great and enduring research university that offers the finest education, produces research and makes discoveries of the most profound importance, and ultimately serves humanity. As a reminder, Advancement numbers at all universities are by their nature variable and spiky, so each year's results will vary. The key is to focus on sustainable growth over time. Let us all stay inspired, disciplined, focused, and energized. We are just getting started.
I want to congratulate the Advancement staff and our growing volunteer network for working so hard to surpass our goals. It has been wonderful working with you this year. I look forward to celebrating more triumphs with you as the University of Rochester continues its evolution.
Meliora,
James D. Thompson
Senior Vice President
Chief Advancement Officer