Celebrating Commencement 2021
The University is conducting in-person commencement exercises for graduates on two consecutive weekends: May 14-16 and 20-23. While no guests or visitors are allowed at in-person events, ceremonies will be streamed live online.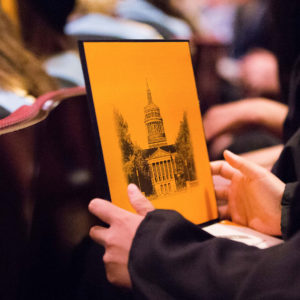 Latest updates
Commencement 2021 kicks off on May 14 and continues through May 23 with in-person ceremonies and events for this year's graduates.
All ceremonies will be live-streamed so parents, families, and friends can tune in virtually. To ensure the safety of our graduates, no guests are allowed for in-person events. Check this website for links to live streams on the day of each ceremony.
Get more details in this message sent to parents and families, as well as in our FAQs. And, reference this guide for celebration ideas and resources.
Let's celebrate #UR2021!
Visit the Class of 2021 website to get your graduation celebration started. The website includes a Celebration Toolkit full of printable signs, digital backgrounds, and more. We hope this toolkit will add to the celebration for you, your family, and your friends.
If you share on social, don't forget to use the hashtag #UR2021 and to tag us. We'll be spotlighting some of our favorite posts!
QUESTIONS?
How to contact us