Tuition for University of Rochester undergraduates in the College will increase by 3.7 percent to $52,974 for the 2018-19 academic year, and financial aid will rise 5.7 percent over the current year to $137 million. Room and board will increase 3.5 percent to $15,862.
Tuition for the Eastman School of Music will also increase by 3.7 percent to $53,340.
University Trustees approved the 2018-19 undergraduate tuition rates at a February meeting.
"We are sensitive to the rising costs of a University education and do our best to keep costs and tuition increases as small as possible.  Tuition increases help to preserve the high standards for faculty and student services, as well as to maintain our facilities," said Richard Waugh, interim dean of the Faculty of Arts, Sciences & Engineering.
Undergraduate tuition background
Annually, the University determines the undergraduate tuition rate based on the projected financial needs of Arts, Sciences and Engineering in the upcoming year, as well as the expected number of enrolled students. Tuition increases are driven by many factors, but largely it's a balance between the University's ability to provide and invest in the best instructional experiences for students, and keeping the cost affordable to students and families.
For 2018-19, tuition will cover about 66 percent of AS&E expenses, which are projected to rise in cost by 3.8 percent in the coming year. Tuition dollars go to the programs, services and facilities that benefit all AS&E undergraduates, regardless of whether students live on or off campus.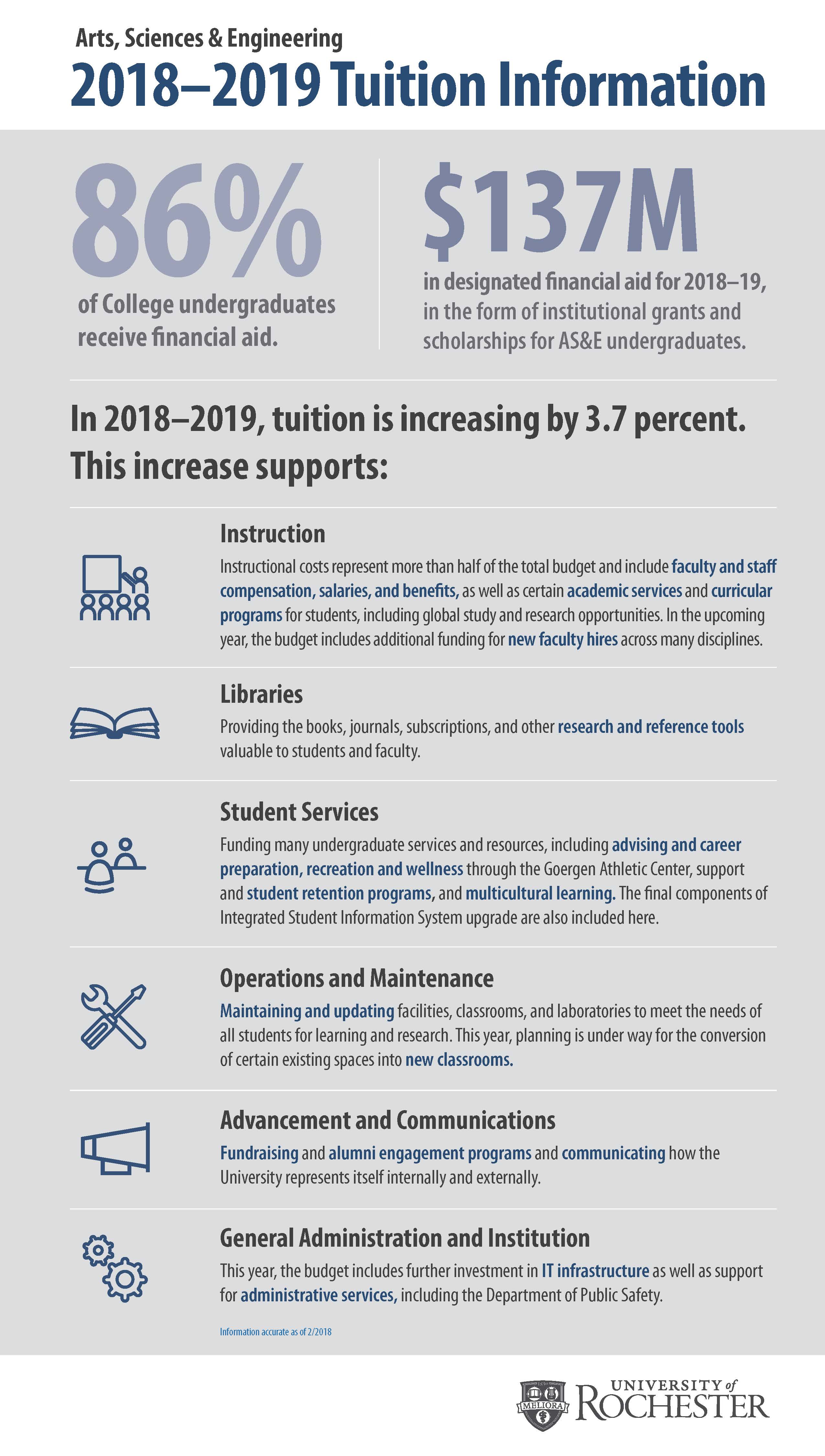 Financial aid increase
This year, institutional financial aid that supports AS&E undergraduates in attending the University until graduation is rising by 5.7 percent to $137 million—from $124 million in 2017-18. This $137 million is in the form of institutional grants and scholarships. The percent increase is higher than in recent years due in part to the loss of the federal Perkins Loan program in 2017, which provided subsidized, low-interest financing to students.  To assist previous Perkins Loan recipients in making up that difference, the University has increased aid and is providing the Rochester National Grant.
In 2017-18, more than $195 million in total aid—federal/state/outside grants/scholarships/loans, in addition to University grants and scholarships—was awarded.
Tuition at the University's professional schools
The Board of Trustees additionally approved the 2018-19 tuition rates at the University's professional schools:
Simon Business School:
MBA: $46,000, remaining the same for the third year in a row.
MS Finance: $78,000, a 1.3 percent increase
MS Accounting: $65,000, no change
MS Business Analytics and Marketing Analytics: $66,000, a 1.5 percent increase
School of Nursing's three semester accelerated program: $68,770, a 3.8 percent increase
Warner Graduate School of Education: $47,744, a 3.6 percent increase
School of Medicine and Dentistry (MD program): $56,800, a 4 percent increase
Category: University News