IN THE CLASSROOM
Speaking Stones

Mt. Hope Cemetery becomes a living museum for a class that explores one aspect of the human art of coming to terms with death.
By Scott Hauser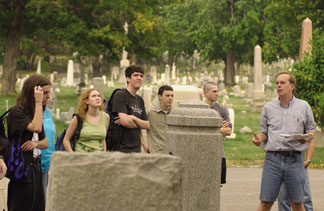 MARKING TIME: Students in Speaking Stones pause to reflect on a gravesite in Mt. Hope Cemetery as Emil Homerin, professor and chair of the Department of Religion and Classics (right) discusses iconography in funerary art.
As the College students form a semicircle around the Ellwanger gravesite in Mt. Hope Cemetery, a strong wind blows from the south and the sun dances in and out of darkening clouds. Atop a 10-foot marble base an Italianate statue of a young man sits impervious to the impending Rochester thunderstorm. The students, dressed as much for a long hike in a hilly park on a Friday afternoon as they are for a popular Rochester humanities course, draw close. Gathered for the fifth session of Speaking Stones, the class already is well versed in the appreciation of funerary art.
The students note the open book resting on the young manís left knee, and they know that the 18-inch tall bird peering from the nested folds of his robe is more than a touching detail.
They listen closely as Emil Homerin, chair of the Department of Religion and Classics and creator of the course, points out the quality of the sculptorís craftsmanship. He reminds the class that such high-quality statuary was often deliberately designed to serve as much as a cultural resource for the city as it was to mark the gravesite for one of Rochesterís wealthiest families of the early 20th century.
"Who is it?" Homerin asks, gesturing to the young man.
"Saint John," says one of the students.
"How do you know?"
"The eagle."
"Very good," Homerin says. "Thatís an eagle next to his leg. Each of the original four evangelists has a particular animal associated with him. And on his knee rests his gospel."
So begins another session of the four-credit-hour class that explores—quite literally—funerary art in the United States. This fall, as long as the weather was cooperative (a period that usually lasts until about Halloween), Homerin led the class through the sprawling, 192-acre Victorian cemetery adjacent to the eastern edge of the River Campus.
In between, students read a rigorous list of texts on the history, culture, and literature of burial practices from the ancient world to the modern as they examine what human beings try to express when they craft a physical reminder of their mortal presence.
As part of the course, students select a gravesite, research the history of who is buried thereóoften requiring a trip to city archives to pore over annals of birth, death, and burial recordsóand then put the siteís epitaphs, iconography, and symbolism into the context of the personís life and into the larger context of human culture.
Itís a piece of creative research that appeals to students like Brian Furniss í05, a political science major, who has often walked the cemeteryís 14.5 miles of road since arriving on campus as a freshman.
"What a particular dead person did while alive may not be interesting to some people, but it adds to the history of the city and to the history of the cemetery," Furniss says.
As he leads the class, Homerin weaves the imagery of art and religion together, casting an arc that ties obelisks (harking to ancient Egypt), mausoleums (ancient Greece), draped urns (ancient Rome), winged hourglasses (Puritan America), and three-dimensional tree trunks (Victorian and Transcendental America) in a timeline that describes a living community as much as a history of human attitudes toward death.
Dedicated in 1838 and designed by Silas Cornell, Mt. Hope was part of a larger trend in America to create municipal cemeteries that could serve as public "green spaces." In another American innovation, the municipal cemeteries were available to anyone who could afford a plot. (The University owns a small section, where many early campus leaders are buried, that has room for 25 more burials.)
Unusual for its time, Mt. Hope has never been a segregated cemetery, nor has it ever been closed to non-Christians.
It provides, Homerin says, an excellent resource to study one of the great questions of human culture, and one that lies near the heart of all religions: What is death?
"Death has always been a source of fascination for human beings," Homerin says. "These gravesites are a way of making sense of someoneís death, of trying to put it into a larger context."
"There is a wide variety and diversity of images and words and stones here," he says. "You can come back to the same place many times and see something different each time. All of it aims to keep lines between the living and the dead."
While Mt. Hope is the final resting place for such notables as Susan B. Anthony, Frederick Douglass, John Jacob Bausch and Henry Lomb (together even in death), and Rush Rhees, the class pauses longer at sites of people who were not famous in life.
During an early session, Homerin stops the class at the grave of Laura Knapp, who died in 1882 at the age of 3. Her life is memorialized by a marble statue of a three-foot-tall tree stump, covered with bas relief ivy, ferns, morning glories, and lilies—a work that symbolizes a life cut short while still clinging to the optimism of rebirth and an eternal springtime.
A child-sized basket of marble flowers rests on top.
"How do you connote, or explicitly denote, the absence of someone who is never coming back?" Homerin asks as his fingers wrap around the basketís handle.
"Itís life size," he says. "Itís as if the child has set her basket here."
The site was especially moving, Asha Khachane í06, an undeclared major, says later.
"This is an aspect of religion I had not thought about before," she says. "It really brings people to life."
For more on Speaking Stones, including examples of student projects, visit www.courses.rochester.edu/homerin/REL167.
Maintained by University Public Relations
Please send your comments and suggestions to:
Rochester Review.