AfterWords
A Walk Through Eire
What better way to see Ireland than by walking from one end of the island to the other, asks Robert Emmett Ginna '48. By Scott Hauser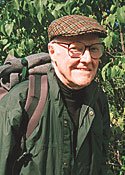 Robert Emmett Ginna '48
The story sounds like something from the myth-laden lore of Ireland itself: At age 74, a man perpetually young in spirit sets out to walk the entire length of the storied Emerald Isle, from the Malin Head promontory overlooking the North Atlantic to the serene beauty of the port town of Kinsale in the south.
As he walks the 350-mile route that takes him roughly along the River Shannon through the center of the island, he stops to talk to people on farms, in villages, and cities (and, of course, in pubs). He muses on the centuries of history that have shaped both the Republic of Ireland and the six-county region of Northern Ireland.
But mostly he enjoys the life of a traveler untied from a strict timetable.
For Robert Emmett Ginna '48, a writer, editor, filmmaker, and Harvard writing teacher who has closely observed Ireland's evolution over the past five decades, his real-life journey also was a practical and effective way to understand the much-romanticized country.
"I wanted to have a way to write about Ireland as it is today and how it got that way," he says. "I thought, what better way than walking and seeing it at eye level?"
The result is The Irish Way, Ginna's chronicle of his "walking tour" through a country that has undergone enormous change since he first visited in 1953 as a young reporter for Life magazine. Published last July, the book showcases Ginna's skills as a well-versed adventurer who enjoys sharing his knowledge.
Each ruined abbey, each megalithic tomb, each time-tossed castle that he encounters on his deliberately chosen, off-the-beaten-path route is a touchstone for Ginna to explore the complex history of the still-divided island.
"Ireland's past is very palpable," Ginna says. "I tried to weave the past into the present because the past is so crucial to understanding the present."
That present includes an unmistakable shift to industrialization, he says, and the Irish have begun to address the environmental fallout of unexpected economic growth.
"But in many ways the 'soul' of the Irish—the love of talk and the love of sport and the quiet love of life—that has not changed," Ginna says.
Ginna, who holds dual Irish and American citizenship, has had ample time to study the Irish outlook on life. The descendent of two sets of Irish grandparents, he—as is one member of his family in each generation—is named in honor of Robert Emmett, an Irish revolutionary who was executed by the British in 1803.
Ginna's family moved to Rochester when he was 6 years old, and at age 17, already admitted to Harvard, Ginna enlisted in the Navy. He was assigned for training at the V-12 unit at, of all places, Rochester.
"It turned out to be a blessing in all kinds of ways," Ginna says now of the assignment. "I had a wonderful time at Rochester."
A biology major who was planning to become a physician, Ginna was sent to the Pacific in 1945 and returned in 1946.
As he neared graduation, he had what he describes—with all credit to Irish writer James Joyce—as an epiphany.
"I realized that my emotional life was centered in the arts," he says. "If there is one theme that runs through my career, it's the idea of trying to reach people through words and pictures."
After earning a master's degree in art history from Harvard, Ginna wrote and edited for Life, Horizon, and Scientific American magazines, and later helped found People magazine. From there, he moved to Little, Brown publishing company, where he became editor-in-chief.
He returned to Harvard in 1988 to teach until his retirement last year.
Along the way, he wrote and produced feature and documentary films, including the 1965 movie Young Cassidy, based on the early life of Irish playwright Sean O'Casey.
An assignment to profile O'Casey first took Ginna to Ireland 50 years ago, and he has traveled there at least once every year since. It's a lifelong connection that he takes seriously but in stride.
"I'm quintessentially American," he says. "I would never pass as an Irishman."
1948: V-12
Walking the length of Ireland might seem daunting, but Charles Hoke '45 says Ginna was part of a group that looked forward to challenges.
Hoke, an optics major who made a career in the Navy before working in higher education administration, says his fellow V-12 student fit right in.
"He went after a challenge," Hoke says. "He was no slacker."