Features
With the President:
A Reporter's Story of 9/11
On September 11, 2001, White House correspondent Richard Keil '83 had just finished an early morning jog with President Bush, a small reporting coup on what promised to be an otherwise routine trip covering the president. Then came news that the day three years ago would be anything but routine.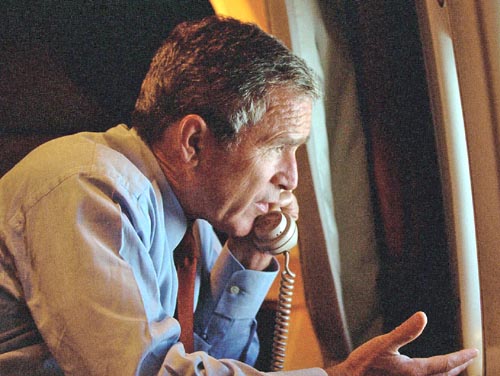 CONFERENCE CALL: President Bush talks with Vice President Dick Cheney aboard Air Force One on September 11, 2001. (Photo: AP Wide World Photos)
Standing in my room at the Colony Beach and Tennis Resort in Sarasota, Florida, I phoned my father at my parents' home on Cape Cod. It was about 8 a.m. on September 11, 2001. "Hey, Dad," I said. "How's it going?"
My father, sounding groggy, said hello, and then asked where I was.
A fair question. As a White House reporter for Bloomberg News, I'd developed a habit of calling my parents from stations around the country, and even around the globe. They always knew if I was in Rome or London, but I occasionally forgot to tell them that I was in Omaha or Seattle, traveling with the president. Such was the case today.
"Florida. Sarasota. Bush is doing an education speech today," I told him, glancing at my watch. I had 10 minutes to shower and dress. "Listen, I have to go, but I wanted to let you know—I went running with the president this morning. I . . . "
"You what?"
"Yeah, we finally went running," I told him. "Here's the deal—CNN filmed it, and it's a slow news day, so they'll be running the footage repeatedly. Just wanted to give you the heads up. Talk to you later."
I hung up and jumped into the shower, smiling at the thought of my retired parents hunkered down in front of the television, waiting to see the film of me running with George W. Bush.
The run had been in the works for months. During the early days of his bid for the White House, Bush cultivated all the reporters on his campaign plane, trying to find some common area of interest with all of us. Someone told the governor of Texas—a five-days-a-week runner—that I had earned All-American honors at Rochester. That intrigued him. On late-night plane flights, he'd ruminate with me about running, his training, my own, usually coming to the joking conclusion that I'd push him to run so fast that his health would be in danger.
"Reporters cover elections, they don't decide them," was my standard retort. "I'll go easy on you."
On the night of September 10, a colleague of mine dined with then White House Press Secretary Ari Fleischer, who told him that Bush planned a predawn run at a nearby golf course the next day. Within moments, an agreement had been worked out—I'd dress in running gear and join Bush.
By the time our 14-car motorcade got to the golf course and I jumped out of the press van—near the back of the entourage—Bush had already taken off. A Secret Service agent told me he'd be coming back past the clubhouse in a little while. So I sat down under a palm tree on the edge of the putting green and waited.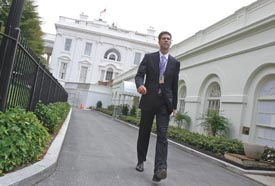 CAPITAL BEAT: As White House correspondent for Bloomberg News, Keil is on the road with the president—and during election seasons, with other candidates—up to 200 days of the year. (Photo: AP Wide World Photos)
Just as the first streaks of daylight were visible in the eastern sky, Bush came toward us, accompanied by a machine-gun toting Secret Service agent on a bicycle and another agent running right behind him.

"C'mon, Stretch," Bush called out, calling me by the nickname he'd bestowed upon me. "C'mon!"
I handed my newspapers and cup of coffee to colleagues and took off after the president, who had barely slowed down.
Almost immediately, he wanted to know how fast I thought we were running. One of the only remaining vestiges from my days as a track and cross-country runner at Rochester is an unerring internal clock. To this day, I can gauge my running pace to within five seconds a mile.
"Feels like we're going about 7:15, 7:20 a mile," I told him.
"Really? You think?"
Bush was thrilled. He said his goal for the fall was to get under seven minutes a mile for a three-mile run. There were no elections, no big events looming, he told me; the timing was perfect to focus on his workout routine, which he had come to value as an antidote to the pressures of his job.
I told him I thought he could achieve his goal, which touched off another flurry of questions about whether I was certain, and why.
"Because we're running almost that fast now, and you're talking normally while you run, no wheezing or gasping," I said. "If you can converse now, you could run seven minutes a mile if you'd just be quiet for a little bit."
He laughed, and then we passed a chalk mark on the cart path we were running on. The agent on the bicycle called out a time. It shocked me—the president had had the course marked out in distance intervals ahead of time, to gauge his pace.
"What's that work out to?" he wondered aloud before answering his own question: "That's 7:15 a mile!"
The rest of the run was spent on a mixture of a politics—a looming budget battle with Congress, his education plan—and personal matters.
My son Reid, then 9, had pitched in his first-ever Little League game two days before, striking out five of the six kids he faced in the two innings he was allowed to pitch.
"That's a proud moment for a papa," said Bush, who several months earlier had become the first president ever inducted into the Little League Hall of Fame. "What pitches does he throw?"
He mentioned his love for his Scottish Terrier, Barney, who was a birthday gift for his wife, Laura.
"Funny thing is, I got him for her, but that dog just follows me around—won't let me out of his sight," Bush said.
I told him about my black pug, Buddy Roo, whom I had adopted after the 2000 campaign. We joked about which of the two same-sized canines would prevail in a fight.
We finished our run by crossing a chalk line about 400 yards from the clubhouse. We continued talking, making our way back to the press pool that had accompanied Bush to the golf course.
"The representative of the press corps acquitted himself quite well," Bush announced as we came up to my colleagues.
"I was beggin' for mercy out there," I joked.
"Thank you, Stretch," Bush said with a wry smile.
A few minutes after I called my father, I was in the back of a van in the presidential motorcade, heading for Emma Booker Elementary School, where Bush would spend a few minutes reading to schoolchildren and urging Congress to pass his education reform package. Then, he and his entourage of aides, Secret Service agents, and reporters would make the 90-minute flight back to Andrews Air Force Base outside Washington.
I'd grown accustomed to casual encounters and conversations with Bush, but what had just happened to me was different, and had me excited like it was my first day on the job.
I called my best friend from college, Randy Whitestone '83, to tell him about it.
He answered on the first ring, his voice unnaturally high and tight. I knew instinctively something was wrong; I feared something bad had happened to his wife or children.
"Are you OK?" I asked, after saying hello.
"No," he said, his voice still a squeak. "A plane just hit the World Trade Center, and my brother-in-law's office is there, and I'm trying to find him."
"A big plane?"
"I don't know," Whitestone said. "TV is showing a lot of smoke."
"OK, I'll let you go," I said.
I hung up, and noticed other reporters and photographers staring at me. There's no privacy in the White House press pool.
"A plane just hit the World Trade Center," I told them.
Presidential press coverage means a lot of idle time in press vans and hotel ballrooms and holding areas, so, naturally, a healthy subculture of practical joking took hold long ago. Making phony announcements of impending doom and disaster is a staple of the genre. They blew me off with a string of four-letter epithets as we pulled up to the school.
Just then, our Secret Service agent's radio crackled to life. An operator, using code names, said that National Security Advisor Condoleezza Rice had an urgent call for Bush and would be waiting on a secure line the White House had set up inside.
Wordlessly, the three other reporters in the van dialed their offices. Within minutes, White House Chief of Staff Andy Card whispered in Bush's ear that the second plane had hit. The day—and the world as we knew it—was unraveling completely.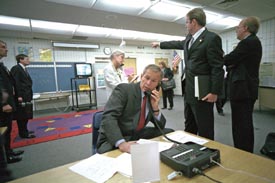 NEWS: Bush learns more about the attacks while at the Emma Booker Elementary School in Sarasota, Florida. Pointing to news reports on the television is then Deputy Assistant Dan Bartlett. Deborah Loewer, director of the White House Situation Room, is behind the president and senior advisor Karl Rove is at the far right. (Photo: Eric Draper/The White House)
Over the next several hours, the reporter in me did the best he could to push the sense of shock, horror, and disbelief away and concentrate on writing down everything I could. I kept a phone line open to an editor while we were on the ground, sensing that if the situation in New York were as bad as it seemed, phone lines might soon be overwhelmed.
We left the school for the airport. Typically, presidential motorcades travel—even on the freeways of Los Angeles—at no more than 30 miles an hour to allow onlookers a good glimpse of the presidential limousine and, perhaps, the leader of the free world behind the smoked windows.
Not this time. We were easily going 40 to 50 miles an hour, tires shrieking and squealing through turns. When we got to the airport, a dozen additional Secret Service agents had materialized, each with bomb-sniffing dogs. We usually have our bags inspected only once in the morning, as long as we remain inside the secure "bubble" in which the president travels. This time, everyone's bag had to be re-swept.
I was the last person up the steps of Air Force One, save for a Secret Service agent behind me, literally pushing my rear end, ordering me to get up the steps as fast as I could.
We were rolling down the runway even before I got into my seat in the press cabin. As I buckled my seatbelt, it seemed the engines were roaring louder than normal. What happened next I didn't confirm until nearly a year later, when I finally saw footage of those moments—the plane didn't take off, it lifted off. My head was pressed back against my seat by the gravitational forces; almost instantly, we were at 10,000 feet, beyond the range of any shoulder-fired missile.
For the first time that day, I felt the awful, sick feeling that comes from being afraid to be on the best-protected aircraft in the world.
We were heading east across Florida, which in my denial I thought a good thing. The flight path seemed routine: Go northeast to Jacksonville, then head due north up the Atlantic Coast. Things couldn't be that bad if we were flying home.
Someone turned on the television, and the plane's satellite receiver picked up flickering images of the chaos in New York. There was no question now what had happened. I turned to Reuters correspondent Arshad Mohammed, who was seated next to me.
"Al Qaeda or some Islamic group?"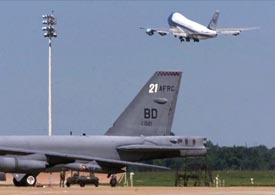 DEPARTURE: Bush departs Barksdale Air Force Base in Louisiana on the morning of September 11, leaving behind the reporters who usually travel with him. A military plane later arrived to take the reporters back to Washington. (Photo: Reuters)
Mohammed, a devout Muslim whose father was born in Pakistan, nodded wordlessly. I grabbed his hand and squeezed it a few times. He sighed.
"Thanks," he whispered.
There was nothing any of us could do, besides doublecheck with each other the basic facts that we knew so far—confirming the time of takeoff, the members of the president's staff who were traveling with him, and similar details. For the time being, we were doing what most Americans were doing—staring in horror at the television screen.
My notes from those moments include this notation, written in an atypically tiny, pinched script: "I will know people who died." (I did—two analysts I had met while working at Bloomberg, and Sigma Chi fraternity brother Aram Iskenderian '82, a Cantor Fitzgerald executive.)
Around the time the Pentagon was hit, we felt the plane banking west and climbing. We weren't heading to Washington any longer.
In the front cabin, Bush was talking with Vice President Dick Cheney about how to handle the unfolding crisis. Transportation Secretary Norman Mineta had already grounded all commercial air traffic, and Bush was giving the order that any civilian airliner could be shot down if it appeared headed toward the Capitol or White House.
A Secret Service agent I'd had a beer with 12 hours earlier walked back through our cabin, grim-faced.
"Where are we going?" I asked.
"I don't know," he said. "I couldn't tell you, anyhow, but I really don't know."
"How long will we be up here?"
He shrugged his shoulders.
"Could be for days, if necessary."
Behind him, two other agents were talking about a handful of planes that remained unaccounted for. It turned out that three were international flights not yet picked up on radar in U.S. airspace. The fourth was United Flight 93 that crashed near Shanksville, Pennsylvania.
The purity of sunlight coming in the windows now seemed unusual, so I looked out, and looked down. There were no recognizable landmarks below; the plane was now flying at 45,000 feet—10,000 feet higher than its normal cruising altitude. Others were looking out the windows, too.
"Is that the Mississippi River?" someone asked.
No one could tell for sure.
I announced, with a sense of sick certainty, that I'd be looking out my window for fighter jets.
Minutes later, as the plane began banking southeast and descending, an F-16 materialized off the right wing, so close that I could see the pilot's mouth move as he spoke over his radio. Another was off the left wing.
"The most powerful plane in the world, under fighter-jet escort," Mohammed said.
When we landed at Barksdale Air Force Base in Shreveport, Louisiana, Bush was whisked to a secure briefing room, while we were led to staff offices to use phones. Press aide Gordon Johndroe had told us not to use cell phones, fearing that well-equipped terrorists could use sophisticated tracking devices to pinpoint our location.
Bush gave a quick, halting statement to our group of reporters, then disappeared for more consultations.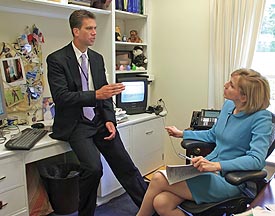 BRIEFING: One of only 14 reporters assigned to travel with the president, Keil has been a member of the White House press corps since 1997 and meets frequently with staffers like Claire Buchan, deputy White House press secretary. (Photo: AP Wide World Photos)
I quickly dictated the details of Bush's remarks to my office, revealing as well our location, because local television reporters had begun broadcasting footage of Air Force One's arrival. We were told that we could now use our cell phones.
Before turning mine on, I called my son's mother, suspecting that Reid's fourth-grade class was probably aware of what had happened.
She was on her way to school to pick him up because children were being sent home early. We talked for a moment about what to tell him.
"Say that I'm in the safest place I could possibly be—with the president," I said.
"OK," she replied. "Where are you going? And when are you coming home?"
"I really don't know," I said.
I turned on my cell phone. It took a minute for the service signal to activate because the system was so overloaded. When it did, the disembodied voice told me I had 17 voice mail messages—friends, old friends, people I hadn't spoken with in months instinctively had reached out to see if I was all right. I called my parents, who were incredibly relieved to hear from me but scared that I couldn't tell them where I was going next. My call to them was cut short when Johndroe came up.
"There are some changes," he said. "The president is flying on, and we're adding more security. A bunch of reporters, even the congressmen, are going to be left behind."
A military plane was coming from Andrews to pick us up, I was told.
Where in the World Is Richard Keil?
One of only 14 reporters assigned to travel with President Bush, Richard Keil '83 knew that his passport was going to get stamped often when he was named a member of the White House press pool in 1997. [
More
]
Several hours later, as we flew up the Potomac River past George Washington's home in Mount Vernon, I glanced out the window. Since airspace had been shut down, we flew right past Reagan National Airport and saw pinkish smoke belching from the Pentagon into the faultless blue sky. By stages, the scope of the tragedy was becoming clearer.
The Washington Beltway—routinely ranked by the American Automobile Association as one of the nation's most congested highways—was absolutely deserted when I entered it around 6:30 p.m. Electronic message boards that warn of traffic accidents, construction projects, and other delays bore a stark notice: "Major incident in Washington, D.C. Avoid metro area." I was topping 90 miles an hour trying to get home to my son, unconcerned about whether I would get a speeding ticket.
I held Reid tightly for far longer than normal, trying to process how much the world had changed since I had last hugged him after his Little League game two days ago. I thought of my morning conversation with the president.
Everything we discussed—routine domestic politics, baseball, children—seemed to come from another culture, another time.
The next few days were a blur. On Thursday morning, Bush welcomed federal employees back to work, and after he spoke, the staged event drifted to a close, and the television cameras were turned off. Walking ahead, Bush suddenly stopped and headed toward us. He reached for my hand.
"And to think, just two days ago, we were running together," he said softly, with a tone of sad wonder. "You were the last person I was with. Before—before we were attacked."
Reporters always try to keep a wall between themselves and those that they cover; objectivity is the coin of their realm. But these were not usual times, so I said something that would have been hard to imagine in any other circumstance.
"Just know, Mr. President, that I'm praying for you," I said, still gripping his hand. "Everyone is praying for you, sir."
He nodded his thanks, squeezed my hand, and turned to go.
Later that day, in the Oval Office, there was another event, this one a phone call to New York City Mayor Rudy Giuliani to tell Giuliani that Bush would visit Ground Zero the next day.
After the call ended, Bush took several questions from reporters.
Francine Kiefer of The Christian Science Monitor asked him the question the rest of us later said we wished we had thought to ask.
"How is this affecting you personally, sir," she asked, "and what are you praying for?"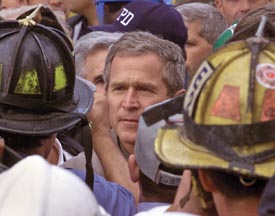 TOUR: Bush talks to firefighters at Ground Zero in New York City on September 14, 2001, during his first visit to the site of the terrorist attacks at the World Trade Center. (Photo: Reuters)
Bush, standing behind the desk that Franklin Roosevelt used as president, suddenly turned his head away, toward the South Lawn, his palms still planted firmly on the desk blotter.
He turned back to face us a few moments later, his eyes brimming.
"I'm not thinking of myself. I'm thinking of the families, all those children," he said, pausing to maintain his composure. "I think of myself as a loving guy, but I have a job to do."
I glanced around the room and noticed that everyone—Karen Hughes, his closest advisor; Johndroe; even the other reporters—had tears in their eyes.
Bush pushed past me to leave the Oval Office through his private study. He glanced at me, then hurriedly looked away. I'd been scribbling notes the whole time, and when I looked down at my notebook, I realized it was blotched with my own teardrops.
Flying to New York is one of the most exciting things about being a White House reporter. Air Force One normally flies into JFK International Airport, and, from there, to avoid having a motorcade tie up traffic, the president takes a helicopter to the Wall Street Landing Zone. Flying over Queens and the East River, he touches down on the banks of the river in the heart of the financial district.
Our trajectory this day was different. Because of the extraordinary security precautions, we flew to Fort McGuire in New Jersey, and then helicoptered from there.
Winds were from the north that Friday, with a sky as bright and sunny as it had been on Tuesday. A rainstorm the night before had done nothing to slake a fire that would burn nonstop for nearly three months longer; we could see the smoke drifting toward us. Just as we flew past the Statue of Liberty in New York Harbor, a particularly noxious smell penetrated the leaky fuselage of the Black Hawk. No one was speaking because of the noise of the rotors, but we all exchanged looks of sad disgust—the odor was a mixture of burning plastic, electrical wiring, and human flesh.
Rochester Alumni
On September 11, 2001, six alumni died in the terrorist attacks:

Brendan Dolan '86, senior vice president at Carr Futures, where he oversaw the firm's energy futures group.

Jeremy Glick '93, a sales manager for Vividence Inc. in
Hewitt, N.J., one of several passengers credited with trying
to overtake the hijackers aboard United Flight 93 that crashed
in rural Pennsylvania.

Aram Iskenderian '82, head of global risk management for the bond-trading company Cantor Fitzgerald.

Jean Hoadley Peterson '69N, a passenger on United Flight 93.
Jeffrey Smith '87, '88S (MBA), an equity research analyst for Sandler O'Neill & Partners, an investment banking firm.

Zhe (Zack) Zeng '95, '98S (MBA), a trained emergency medical technician who left his office at the Bank of America to see if he could help those who were not safe. He was not heard from again.

No one besides rescue workers had, at that point, been to Ground Zero. The entire area looked like a 21st-century update on the ruins of Pompeii. Graphic renderings of life interrupted: a deserted coffee vendor cart; a rack of dust-covered donuts sitting in a glass window; a car with its windows down, a dusty purse and cell phone on the passenger seat.

The only sound was the creaking and groaning of sagging metal and the beeping of earth movers backing up. An occasional fighter jet streaked overhead.

We turned the corner onto West Street, and the pile of ruins stood before us. I was dictating images to my office. I stopped.

"Are you still there? Are you still there?" my editor asked. I had warned the desk that cell service might be spotty, because the main antennas in the area had been atop the towers.

"Oh, Robin," I said quietly, staring at the pile. "No one is going to be coming out of there."

With the last bit of professional detachment I could muster, I tried to interview firefighters as we walked along. Every man I talked to had a close friend answer the emergency call, and all of them were still looking for their buddies.

I tried to do a crowd count estimate—always a fixture in a story like this. How many people turned out to watch? Normally, you look at windows of office buildings, counting those people, too. But these buildings were empty today, most of their windows blown out.

Finally, the president spoke, standing just steps in front of me, his arm draped around the shoulder of a firefighter I'd interviewed moments before.

I looked up behind him, way up. There, on the absolute top of the pile of debris, stood two rescue workers, hoping for a better view. Seven stories up, they were as small as ants.

We've been many places since, as a nation, and I'll leave it to others to debate whether the paths we have chosen were the right ones to take.

But my final, lasting memories of that day are tied, I think, to the things that make this nation great—our eternal optimism and grace. Near Ground Zero, someone had finger-written the letters "USA" on the window of a pizzeria. Beneath that, someone else had scratched, in a different hand, "We will survive."

Bush spent his final hours in New York comforting the families and friends of missing firefighters and police officers. I talked to a fire company whose members drove all the way from Sacramento, California, complete with high-speed state trooper escorts across a couple Great Plains states, to help look for survivors. They had only stopped "to pee and get more coffee," as one of them said.

"They would have come for us," another told me with a shrug of his shoulders. "We had to do it for them."

It was dark by the time the motorcade made its way back downtown toward the helicopter pad.

New Yorkers take many things in stride. A passing presidential motorcade, in a city accustomed to seeing celebrities and world leaders daily, can attract little attention.

Not so this night. Residents of Manhattan were lined up eight and nine deep behind blue NYPD barricades, holding candles, crying, clapping softly.

"I didn't vote for you," read one sign, "but thank you so much for coming."

The helicopter headed northwest as it took off, banking over the klieg-lit pile of rubble. I looked down, and at roughly the spot I'd been looking at hours before, I saw two rescue workers, looking skyward. They were saluting.
Where in the World Is Richard Keil?
One of only 14 reporters assigned to travel with President Bush, Richard Keil '83 knew that his passport was going to get stamped often when he was named a member of the White House press pool in 1997.
Keil, the White House correspondent for Bloomberg News, estimates that he's on the road—and often out of the country—up to 200 days a year. Since last fall, he was aboard Air Force One during trips to Baghdad for Bush's surprise Thanksgiving visit to the troops, to Normandy and Paris for the 60th anniversary of the D-Day invasion, and to Rome for Bush's audience with Pope John Paul II. Then it was back to Georgia for the G-8 summit.
As glamorous as that may sound, Keil thinks of the often grueling itinerary as an occupational hazard rather than a perk.
"My experience is that you don't get access unless you're constantly in the presence of these people," Keil says. "When I took the job, I said that I wanted to do it right, and that means travel."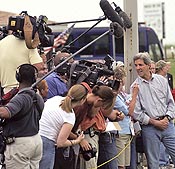 CROSS-PLATFORM: Keil traveled frequently last summer with Democratic presidential nominee John Kerry, shown here at a campaign stop in Wisconsin, to familiarize himself with the Massachusetts senator and his team. "I think it's important that we cross-pollinate as much as we can," Keil says. (Photo: AP Wide World Photos)
As White House correspondent, Keil splits his time between covering the president as well as other candidates running for the chief executive post. Last winter, he followed the Democratic hopefuls to Iowa and other early primary states. And during the summer of 2004, he often spent time traveling with Democratic nominee John Kerry to familiarize himself with the Massachusetts senator's team.
"I think it's important that we cross-pollinate as much as we can," Keil says.
Before joining Bloomberg, Keil was a longtime Washington, D.C.–based reporter for the Associated Press. Often considered one of the top jobs in political journalism, being a member of the press pool is part of a journalistic career that the former Rochester English major and Campus Times sports editor says began before he arrived on campus.
"I was probably unusual in that even in high school, I thought it would be great to do this for a living," Keil says. "It's still a source of amazement to me that I was able to make it work."
A 1998 inductee of the Athletics and Recreation Hall of Fame, Keil set several records in the 1,500-meter run as a member of the Rochester track team, including the school's then best time during the 1983 NCAA Division III championships, and he ran at four NCAA cross-country championships.
He still tries to run 95 out of every 100 days, a regimen that came in handy in the early morning hours of September 11, 2001, when the fitness-devoted president agreed to let Keil go running with him.
It was a scoop of a personal and professional sort. Keil says one of the key aspects of his job is making sure that the people he covers recognize he's willing to put in the extra time and effort so that both sides can become familiar with each other.
"It's unusual for a reporter to be asked to go on a run with the president," Keil says. "Typically, he doesn't go running with the ink-stained wretches of the fourth estate."
—Scott Hauser
---
Richard Keil '83 is White House correspondent for Bloomberg News.