Class Notes
CHANCE ENCOUNTERS
A Story of Music that Struck a Chord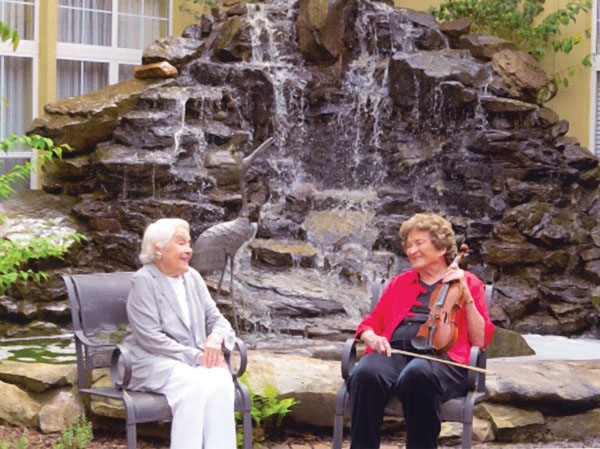 Last year, Ann Field Bell '48E and Dorothy Merriam Happel '48E came across the story "No Retirement from Music" (Rochester Review, May-June 2014). The story, shared by Alice Pillischer Kujala '48E, told of her reunion with John Fuyuume '48E, '50E (MM) and Horace (Hap) Apgar '49E at the Shannondell retirement community in Valley Forge, Pennsylvania. It prompted Ann and Dorothy to get together to share their own, similar story. Dorothy writes:
"By happenstance, Ann Field Bell and I met at the Deerfield Episcopal Retirement Community in Asheville, North Carolina. Ann and her husband, Mason, moved to Deerfield in 2002. I moved from New York to Deerfield in 2012. My husband, John, died in 2001. Ann and I had not seen each other since graduating from Eastman.
"Ann was a piano major. After graduation, she worked at the Carl Fisher Music Publishing Company in New York. She then taught piano and music appreciation at Greenbrier College for Women in Lewisburg, West Virginia. Ann and Mason were married in July 1951 and have lived in 10 states, all east of the Mississippi River. Wherever they lived, Ann volunteered with the local symphony orchestra. In Greenville, South Carolina, she volunteered with the Guild of the Greenville Symphony, a fundraising source for the orchestra. In Atlanta, she volunteered in the office of conductor Robert Shaw's executive secretary, Nola Frink. She has enjoyed living these past 12 years in Asheville with its wonderful climate and artistic ambiance.
"I graduated from Eastman as a student of violinist Jacques Gordon and continued my study with Louis Persinger at Juilliard. In 1948, I was the winner of the Naftzger Award, administered by the Wichita Symphony Orchestra, given to the most outstanding young artist of Kansas. In New York, I won appearances through the Concert Artists Guild and the American Artists Series at the Brooklyn Academy of Music, and gave the first performance of a plastic violin in recital at Weill Hall. "For 25 years, I was concertmaster of the Greenwich Symphony with David Gilbert '57E, '58E (MM), conductor, and with the Greenwich Symphony Chamber Players. I've been a soloist with more than a dozen symphony orchestras. Since leaving Eastman, I've had rewarding musical collaborations with more than 25 Eastman friends.
"Ann and I agree we're very fortunate to be Eastman alumni."r