In Review
Changing the Culture of Career Development
Alumni and others have new opportunities to be involved in students' career preparation.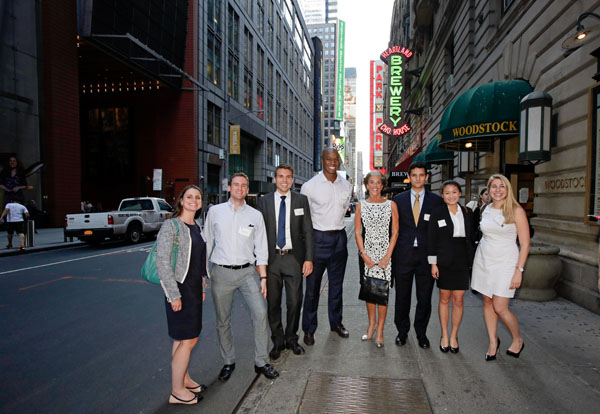 For college career centers, the name of the game these days is making connections. This fall, Rochester's Gwen M. Greene Career and Internship Center is launching new programs for alumni volunteers and others to do just that.
A fixture on college campuses since the postwar era, career centers have always changed shape with the times. They emerged at teacher-training colleges in the early 20th century as a way of helping teachers find posts. In the wake of the G.I. Bill, when they became more widespread and began working with a larger and more varied group of graduates, the emphasis moved to human development and the workplace as a psychological environment. In the booming U.S. economy of the 1980s, they became a convenient interviewing and hiring hub for employers.
"Now it's about connectivity, about facilitating and brokering relationships, and teaching students about how to make connections online as well as in person," says Joseph Testani, appointed last summer as executive director of the center.
As a result, he and his colleagues are introducing a range of programs that will bring students together with employers and alumni in venues such as industry- or location-based fairs, road trips that take students off campus to visit alumni in the workplace, and workshops.
Interacting with alumni will give students "more exposure to the possibilities of how they can apply their degrees in ways they probably haven't thought about," Testani says.
It's just one facet of a larger effort to reconceive career preparation. Although currently it's mostly juniors and seniors who use the center, Testani says he and his staff work with everyone from prospective students to graduate students, in every field connected to Arts, Sciences & Engineering.
And thinking about career possibilities and readiness is moving out of the center and into every facet of campus life. Building career skills is happening all the time, in classrooms, in student organizations, and in community experiences, says Testani.
Richard Feldman, dean of the College, calls the move a way of maximizing what the school provides students and says that "shifting the campus culture toward support of career development" is "exactly the right thing to do."
—Kathleen McGarvey
---
For more information, visit Rochester.edu/alumni/stay-connected/volunteering/arts-sciences-and-engineering-career-center.