Alumni Gazette
Army Captain, Team Captain, Gold Medalist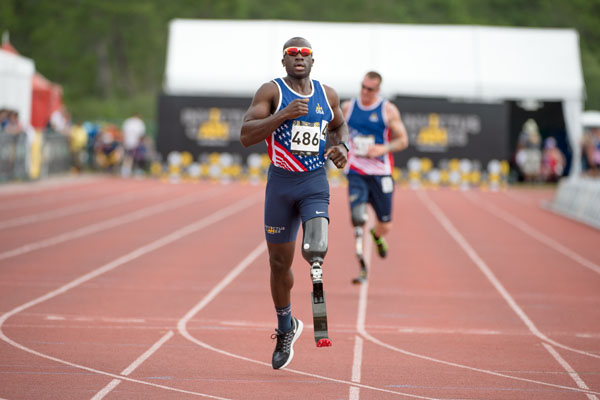 William (Will) Reynolds '10S (MBA) led the U.S. military team of 115 athletes in the 2016 Invictus Games held in May at the ESPN Wide World of Sports Complex in Orlando, Florida. The team captain also picked up four medals: two golds in the 100- and 1,500-meter track events, and two silvers in the 200- and 400-meters.
The Invictus Games were founded by Britain's Prince Harry, a veteran of the war in Afghanistan, in 2014. This year, close to 500 athletes, all wounded veterans or active duty servicemen and women in the militaries of 14 nations, competed in the games.
Reynolds was a captain in the Army serving in Baghdad when a remote-detonated explosive went off in his vicinity, shattering his left leg. The West Point graduate underwent 26 surgeries between 2004 and 2006. In 2013, he and his doctors decided to amputate his left leg at the knee.
It was a turning point in his recovery. Fitted with a prosthetic, he began training for the inaugural Invictus Games in London. He picked up four bronze medals in the competition.
Reynolds has lived in the Washington, D.C., area and worked for Deloitte since earning his MBA from the Simon Business School. In a statement to Army Public Affairs, Reynolds said: "When we all take the military oath, we prepare ourselves for the worst. As a result, some become wounded, ill, or injured. Having the opportunity to change the battlefield to a friendly competition field with international service members is a great honor. These athletes all have a common bond of striving to protect something larger than ourselves. Invictus Games provide the opportunity to show the world our resilience, our strength, and that we are not defined by our wounds."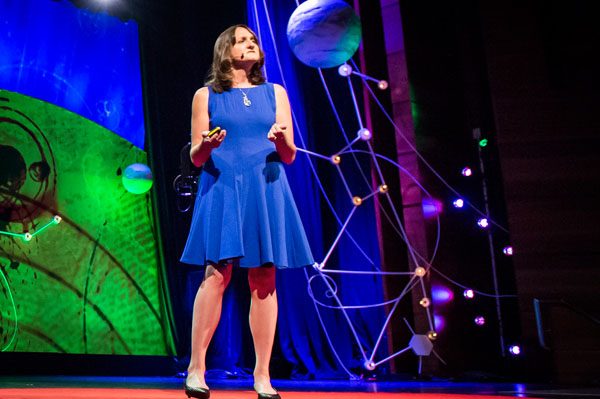 Stop Before You Diet Again
Neuroscientist and popular science writer Sandra Aamodt '94M (PhD) penned a lead article in the New York Times Sunday Review section in May on research detailed in her new book, Why Diets Make Us Fat: The Unintended Consequences of Our Obsession with Weight Loss (Penguin Random House).
Aamodt explains that the brain exerts a powerful influence over body weight, working to keep body weight within a given range. That range, called the set point, is determined by a combination of genetics and environment, and may, or may not, correspond to the dieter's ideal. As body weight drops, the brain retaliates with tools such as metabolic suppression—slowing the rate at which the body burns calories—and production of more hunger-stimulating hormones.
Aamodt's 2013 Global TED Talk, "Why Dieting Doesn't Usually Work," has received more than three million views. In addition, she has been interviewed on National Public Radio's Fresh Air, Weekend Edition, and All Things Considered, and speaks around the nation on a variety of topics in neuroscience, including the adolescent brain, the aging brain, intelligence, and the effects of exercise on the brain. Her 2009 book, Welcome to Your Brain: Why You Lose Your Car Keys but Never Forget How to Drive and Other Puzzles of Everyday Life (Bloomsbury), won the Young Adult Science Book of the Year award from the American Association for the Advancement of Science.
Heroes in the Battle Against PTSD
Tara Rider Galovski '94 and Terence (Terry) Keane '73, leaders in the field of post-traumatic stress disorder treatment and research, helped Secretary of Veterans Affairs Bob McDonald learn more about the condition when the secretary visited the VA Boston Healthcare System last winter. Galovski is director of the Women's Health Sciences Division, and Keane is director of the Behavioral Science Division, both within the Department of Veterans Affairs National Center for PTSD. Both are also faculty members in the psychiatry department at Boston University's medical school.
During his visit, McDonald also presented Keane with the VA's highest honor for clinical research, the John Blair Barnwell Award. Director of the National Center for PTSD behavioral science division since 1989, Keane played a key role in identifying symptoms of wartime trauma before PTSD was recognized as a diagnosis. His research helped lay the foundation for identifying PTSD as a serious mental health problem that could arise in both military and civilian contexts, and he cochaired a National Institute of Mental Health initiative to establish standards for the diagnosis and assessment of PTSD.