Class Notes
REUNION REDUX
Young Alumni Leaders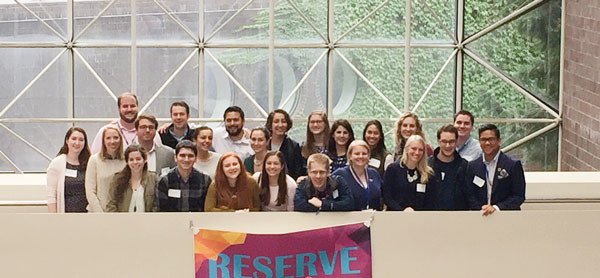 Members of the Young Alumni Council met for breakfast last October during Meliora Weekend. With representatives in 12 cities around the United States, the council works with the Office of Alumni Relations to help recent alumni stay connected to the University, and to connect to one another. In addition to organizing and hosting happy hours, network receptions, and community service outings, the council helps with signature events such as the George Eastman birthday celebrations held each July, and hosts the Zero Year Reunion for recent alumni each Meliora Weekend.
Pictured are:
Back row: Chris Young '11, John Kreckel '09, Eric Weissmann '10, Nazmia Alqadi Comrie '08, Caitlin Olfano '12, Caroline Jacobs '09, Lauren Forbes '12, '13M (MS), Lauren Bradley '11W (MS) (associate director of reunion and class programs), Zach Armstrong '12.
Middle row: Laura Zimmermann '11, Kelsey Griswold '11, Jon LoTempio '14, Kathryn Nave '06, Susan Talbot '16.
Front row: Alyson Manning '14, Matt Hershfield '15, Samantha Lish '16, Jessica Rose '16, Dan Gorman '14, Kayleigh Nutting Stampfler '08, Abby Zabrodsky '14, Scott Lamm '16, and Alvin Lomibao '09, '13 (MS).