Class Notes
KUDOS
Celebrating the Marimba Masters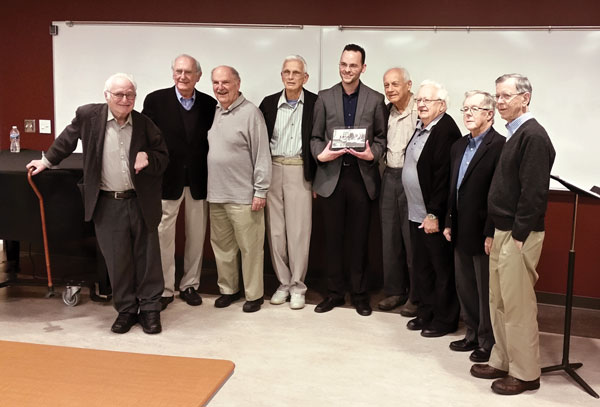 The 2016 "Celebrate Marimba" festival at Kutztown University in Pennsylvania—home to the Center for Mallet Percussion Research and the nation's largest collection of rare marimbas, xylophones, and vibraphones—honored the 1950s Eastman School of Music ensemble, the Marimba Masters. Nine original members appeared for a reunion performance and a panel discussion last November.
The Eastman Percussion Ensemble, directed by percussion professor Michael Burritt, also performed at the event.
The Marimba Masters formed at Eastman in 1954. Bill Cahn '68E, associate professor of percussion at Eastman and a member of the percussion group Nexus, offered an overview of the ensemble and the festival.
The group "included the most advanced percussion students from the studio of William Street," writes Cahn, adding that in the latter half of the 1950s, they gained widespread recognition through performances on national radio and television programs, including Arthur Godfrey's Talent Scouts and the Ed Sullivan Show.
The performances at the festival consisted primarily of transcriptions of orchestral classics arranged for marimba by Gordon Peters '56E, '62E (MM). Peters, who was a percussionist with the Chicago Symphony Orchestra for more than 40 years, "also organized and arranged much of the music for the original Marimba Masters," Cahn writes.